What is the latest update on sick actor Jamie Foxx? Learn all there is to know as Nick Cannon opened up on when Foxx might address his fans.
Regarded as a remarkable actor by many, Jamie Foxx is a noteworthy talent who possesses an outstanding ability to bring his roles to life effortlessly. The actor's dedication to his roles and his versatility to play different characters in a wide genre of films made him widely popular, gaining him millions of fans worldwide.
However, what set Foxx apart in the industry as an actor was his commitment to play his roles authentically, enabling him to deliver a standing ovation-worthy performance, and making an impact on the viewers' memory.
Recently, the actor had a medical emergency, and he has been hospitalized, while the cause of hospitalization has been kept a secret. As a result, fans are worried for the Django Unchained actor, and during this difficult time Nick Cannon, one of the close friends of Jamie Foxx has made a public statement regarding his friend's health update.
Nick Cannon is one of the closest friends of Jamie Foxx from Hollywood, and during the tough time for the actor and his family, the TV host has stepped up and issued a public statement with ExtraTV, calming the fans and giving updates on the actor's health.
What did Nick Cannon have to say about Foxx's health right now?
Though Cannon did not reveal too much about the cause of Foxx's condition, he begged fans to respect the actor's privacy.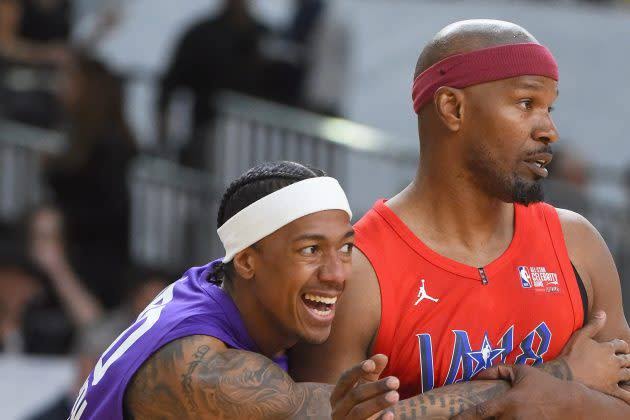 Cannon said: "One thing I've always respected about how Jamie's moved throughout his entire career, if you've noticed, he's always been somebody who is extremely professional and extremely private. I mean, you don't ever really hear anything other than just the great work that he puts forth as a professional and the fact that, you know, he's handled this situation with the same manner, you only can respect that."
"I believe when he's ready, he's going to address the awaiting fans in the world [about his health scare] the way that only he can. I'm probably in the same boat as you in that same sense of just knowing that, you know, as a friend, just being as respectful as I can, I don't pry. I don't ask any other questions. And other than the information that's given to me and, you know, what's asked of me."
More News:
• Madeline Argy – Central Cee rumoured girlfriend, net worth, career and more
• Elizabeth Holmes height: How tall is the former biotechnology entrepreneur?
• Eryk Anders Net Worth 2023, Salary, Fights, Endorsements, and more