La La Anthony a.k.a. Alani Nicole Anthony, popularly known as the ex-wife of Carmelo Anthony has stirred the internet with speculations about her new boyfriend. La La who broke off her ties with Carmelo in 2021, after over 10 years of marriage has been on the radar for her lifestyle and the split, given her career that seems to flourish well.
The straight-out-of-the-oven couple La La and the BMF Actor DaVinchi were seen holding hands, thereby attracting the camera's attention on them.
The sweet moment was made to the netizens and has been around until DaVinchi and La la Anthony opened about the viral instance on 'The Jason Lee Show'. The spicy pair has La la play the BMF lead role 'Markaisha Taylor' and DaVinchi play 'Terry Flenory', thus the lead cast.
La la when asked about the bond that she and DaVinchi share together spoke appreciatively saying that the chemistry they share on-set is mainly due to the off-set affection they have. However, DaVinchi told that shooting sex scenes makes him uncomfortable given his conservative nature. They explained the hand-holding scene saying that DaVinchi asked her if she lost balance and held her hand, being the gentleman that he actually is.
The rumors got to rest as the BMF lead La la put to words her aversion for sharing a co-star. She told how she didn't like things getting tricky as they mixed together professional and personal life.
A sneak-peek into La La Anthony's life and dating history
DaVinchi even said that he is 'married' and has nothing to do with the dating rumors between him and La la. Hailing from New York, La la is known for her lifestyle but also some amazing work she has done throughout her career history.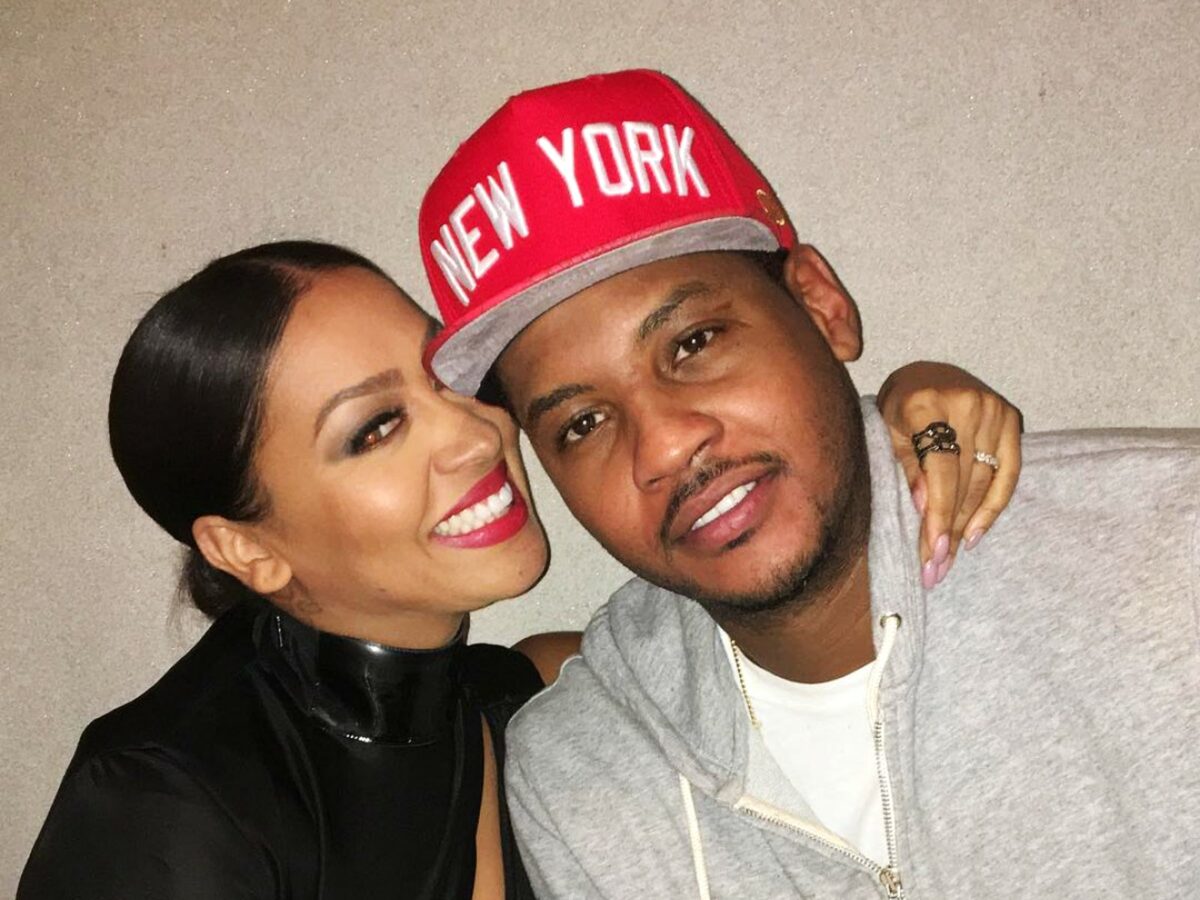 She is known for co-hosting MTV Total Request Live and Direct Effect. Her interactions and interviews with celebs have gained her the traction that she still enjoys. Her interviews with popular stars like Brad Pitt, Will Smith, Tom Cruise and Angelina Jolie still grace the internet. She has been active since 1996 and even went to Harvard for the course of her communication, but didn't graduate.
She has appeared on a variety of shows including a series made on her marriage with the NBA star and a chronicle on their life that followed. Two Can Play That Game, You Got Served, and Think Like a Man to name a few. She also has a history with VH1 hosting an array of reality shows for them including Flavor of Love, I Love New York, For the Love of Ray J, and Real Chance of Love, and presented a dean on the show Charm School with Ricki Lake.
The mother of one named Kiyan has a brief dating history with Memphis Bleek and R.L., both American Rappers, and her 10+ year marriage with Carmelo Anthony, the father of her child.
A Brief about Carmelo Anthony and La La
Carmelo Anthony is an American Basketball star famously known as the Denver Nuggets forward. He hails from New York, same as La la and has quite a dating history himself.
Talking briefly about the Lala-Carmelo relationship, the couple met back in 2003 and shortly after announced their engagement in 2004.
The 2007 announcement filled the fans with ecstasy as they made it official that they were expecting. The marriage, however, only took shape in 2010 at Capriani's in New York.
The wedding was quite an affair being officially aired on the VH1 as a part of a reality show, 'La La's Full Court Wedding' and followed by a series called 'La La's Full Court Life' as a continuation. La La however unfortunately filed for divorce in 2021.
Lala also spoke on her failed marriage asserting that she still cherished a lot from her relationship. She said, "We had some great times. We have a beautiful son, Kiyan, who's amazing. It wasn't all bad. We had great, great times. It ended bad, but we're still friends and we co-parent great…. Life is just about lessons and going through different phases, and that was a phase in my life, a chapter in my life."
She strives hard and calls Kiyan (her son) the biggest priority. Moreover, a skincare enthusiast, Lala is often seen endorsing and supporting nourish-full the mind, body, and soul.
More Entertainment News:
Ben Affleck details out the demands put-forth by Michael Jordan before directing "AIR"
Jeremy Clarkson's Net Worth, Salary, Career, and Personal Life
What did XXX Tentacion's killer do in court? Killer handed prison sentence but offends XXX Tentacion's family in court