Dwight Howard is an American professional basketball player and here is more about his net worth, salary, records, and endorsements
Dwight Howard is a name famously known for his extraordinary sportsmanship with the Orlando Magic, but his peak has been consistent mostly throughout his career. So let's know more about the whereabouts of Dwight Howard, his career, net worth, and more.
Dwight Howard Facts
Birth Place
Atlanta, Georgia, USA
Father's Name
Dwight Howard Sr.
Mother's Name
Sheryl Howard
Star Sign
Sagittarius
College
Southwest Atlanta Christian Academy
Net Worth (2023)
$160 Million
Age
37
Date of Birth
December 8, 1985
Height (ft.)
6 ft. 10 in (2.08 m)
Weight (kg)
120 kgs (264.5 lbs.)
Nationality
American
NBA Draft Year
2004
NBA Draft Pick
Round 1/ Pick: 1st overall
Playing Career
2004-present
Position
Center
Teams
Orlando Magic (2004-12)
Houston Rockets (2013-16)
Atlanta Hawks (2016-17)
Charlotte Hornets (2017-18)
Washington Wizards (2018-19)
Philadelphia 76ers (2020–2021)
Los Angeles Lakers (2012-13, 2019-20, 2021-22)
Taoyuan Leopards (2022-23)
Wife/Girlfriend
Tea Cooper (2019)
Marion Denise Douglas (2012)
Camilla Poindexter (2012)
Christina Vest (2011)
Royce Reed (2009)
Hope Alexa (2009)
Tiffany Render (2008) Emili
Children
Braylon, David, Jayde, Layla, Dwight III.
Endorsements
Adidas, McDonald's, Pixstory, Peak sports
Dwight Howard has been a star center player who started playing the field professionally, with Orlando Magic after being picked in the first overall draft by them. His career rocketed with the team, with him earning many achievements from being an NBA Champion to the Slam Dunk Champion in 2008. 
Throughout the course of his career, he has played for many teams starting the Orlando Magic, Houston Rockets, the Hawks, Hornets, and Washington Wizards, and now for the third run, he is with the Los Angeles Lakers. Apart from basketball, his devout Christian faith as he claims, as inspired him into a course of philanthropy where he has established foundations, to help him give back to society.
Dwight Howard Achievements
NBA champion (2020)
Olympic Gold Medal (2008)
3 × NBA Defensive Player of the Year (2009-11)
8  × NBA All-Star Selection (2007-14)
8 × All-NBA Selections (2008-12, 14, 2007,13)
6 × Conference Player of the Month
18 × Conference Player of the Week
NBA Slam Dunk Contest (2008)
NBA Community Assist Award (2007, 09, 10)
Dwight Howard Net Worth and Salary
According to sources, Howard has gathered a net worth of $160 Million as of 2021, mostly from the 17 years he has been playing with the many teams, remaining consistently a star achiever.
Howard also indulges in philanthropic opportunities, and his income has also been backed by the number of brand endorsements and deals his name has been signed with. Through the years, he has earned over 250 million USD with his career alone as a player, out of which 60 million came in solely from the contract he signed with the teams. In fact, his previous contract with the 76ers stood at 2 million USD.
Dwight Howard Personal Life
Dwight Sr. and Sheryl Howard, both highly achieved athletic people welcomed their soon-to-be star son Dwight David Howard II to the family in December, 1985. He went to Southwest Atlanta Christian Academy, a school with one of the best nation's basketball programs, where his father had been an athletic director.
Dwight played versatile positions as a player earning quite the recognition by becoming Mr. Georgia as well as receiving the Naismith Prep Player of the Year Honor and more. Howard did not complete his college and went for the 2004 NBA Draft where he was picked first by Orlando Magic with who he played till 2008. He has played for many teams throughout and is now currently employed with the Lakers.
Dwight has had mostly a messy dating life and has five children with five different women. Currently, he remains single and has never been confirmed to be engaged.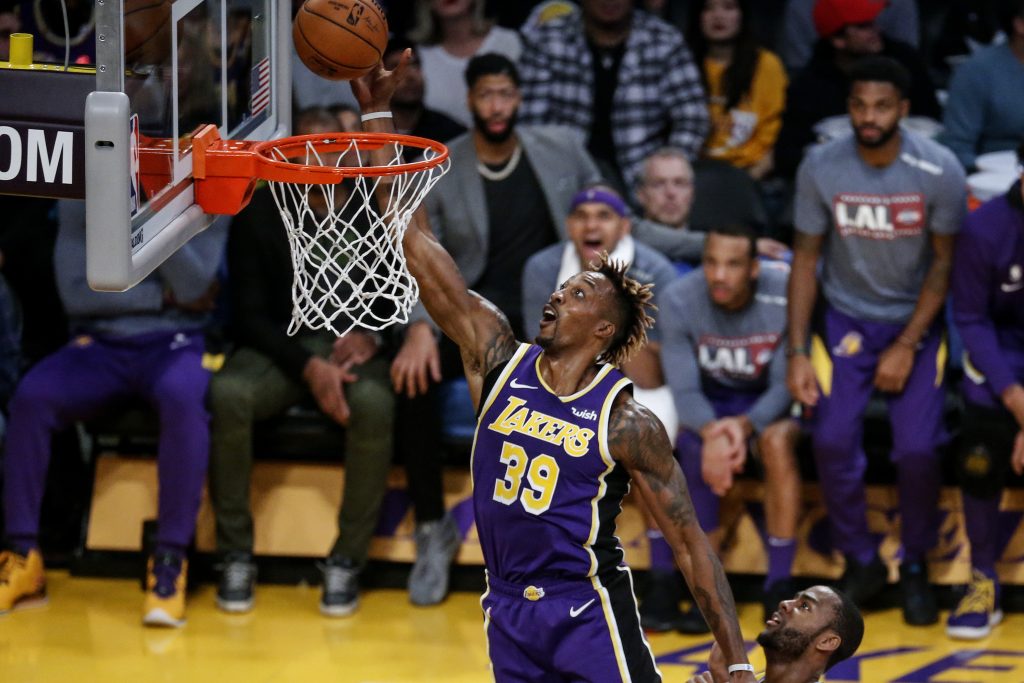 Dwight Howard gay rumors
Recently, Dwight Howard was accused of sexually assaulting a man named Stephen Harper whom he met on social media, way back in 2021.
Although, Howard has denied being gay, and the proof of the same is in one of the DM screenshots shown by Harper, there is no denying the fact the alleged sexual encounter with 'a man' took place.
One of the DMs read: "Now I want you to know I'm not like gay or anything. I'm jus a lil nasty sometimes. Ion wanna offend you."
Dwight Howard Endorsements
Dwight Howard once has had many endorsements starting with Adidas to Peak Sports, McDonald's, Pixstory, Tapiture, and more.  In fact, these are somewhat responsible, apart from his lump some earnings, for the lavish lifestyle he today affords.
FAQs about Dwight Howard
What is the age of Dwight Howard?
Dwight Howard is 37 years old and he was born on December 8, 1985.
Where was Dwight Howard born?
Dwight Howard was born in Atlanta, Georgia, USA.
How many times has Howard played for the Lakers?
Dwight Howard has been employed with the Lakers over three terms, gathering up to 2.3 million USD in earnings.
How many children does Dwight Howard have?
Howard is the father of 5 children.  
What is Dwight Howard's Net Worth?
Dwight Howard's net worth today is at $160 Million.  
More NBA Articles:
Follow our dedicated NBA page for more NBA articles and news updates