If you are brave enough to go down the rabbit hole of football discussion on social media platforms, you'll undoubtedly encounter a lot of back and forth between Liverpool and Manchester United fans. Mostly, it's good-natured, although it can become disturbingly abusive. At the moment, however, the main point of the debate seems to be the postponement of the Premier League season and the possibility that it could be cancelled. Manchester United fans are keen to point out that a cancellation would void Liverpool's title claims, or at least put an asterisk beside Liverpool's name in the Premier League roll of honour.
Much discussion has taken place around the beneficiaries of a voided season, but United fans would be wise not to gloat too much. The Red Devils were really starting to crank into gear before the Covid-19 outbreak suspended sport around the globe. United have conceded two goals since late January, going unbeaten and recording two 5-0 victories, one 6-0 win and defeats of Manchester City and Chelsea in that span. A season that looked dead and buried before Christmas, now looked full of possibility. Indeed, before the shutdown, United had something that was rarely seen since Alex Ferguson left – sustained momentum.
Europa League Grew In Importance for United
In saying that, United were running out of time to finish in a top-four spot in the Premier League. And, while an FA Cup victory would have been welcomed, it was the Europa League that represented the most desirable prize. Re-entry into the Champions League is, of course, the cherry on top of a Europa League Final victory, but the competition itself Is a worthy goal. Moreover, the experience of playing in a major European final would be quite useful for United's younger players.
At the moment, we do not know UEFA plans for a rescheduled Europa League tournament. A "task-force" has been set up to come up with a solution. And, even if a decision is made soon, it could be subject to change. Before the tournament was postponed, United had been placed as firm favourites. Many bookmakers have suspended markets on football, but the Bookies Offers compares all betting sites in the UK, and we used the site to discover live markets from 888sport and Sky Bet. United sit as 11/4 favourites with the former and 5/2 with the latter.
United Clear Favourites with Bookmakers
Of course, even were we to get a green light for a restarted tournament, United would have stiff competition. Wolves (6/1), Inter Milan (6/1), Bayer Leverkusen (6/1) and Sevilla (8/1) are all firmly in the picture. But the demolitions of LASK in the Last 16 and Club Brugge in the Last 32 really underlined that United were the deserved frontrunners in the competition.
Here's an overview of the tournament before postponement, with the latest Europa League odds from the Betfair Exchange:
| | | |
| --- | --- | --- |
| Team | Last 16 Opponent | Notes: |
| Manchester United (3/1) | LASK (156/1) | United lead 5-0 from 1st leg. |
| Olympiacos (53/1) | Wolves (6/1) | Tied at 1-1 after 1st leg in Athens. |
| Rangers (146/1) | Bayer Leverkusen (32/5) | Leverkusen lead 3-1 from 1st leg. |
| Wolfsburg (24/1) | Shakhtar Donetsk (93/5) | Shakhtar took a surprising 2-1 win in the 1st leg. |
| Getafe (22/1) | Inter Milan (6/1) | 1st leg was not played. |
| Sevilla (8/1) | Roma(83/5) | 1st leg was not played. |
| Eintracht Frankfurt (77/1) | Basel (26/1) | Basel impressively beat Frankfurt 3-0 away in the 1st leg. |
| Istanbul Basaksehir (53/1) | FC Copenhagen(97/1) | The Turkish side hold a slender 1-0 advantage. |
Rashford Set to Return Soon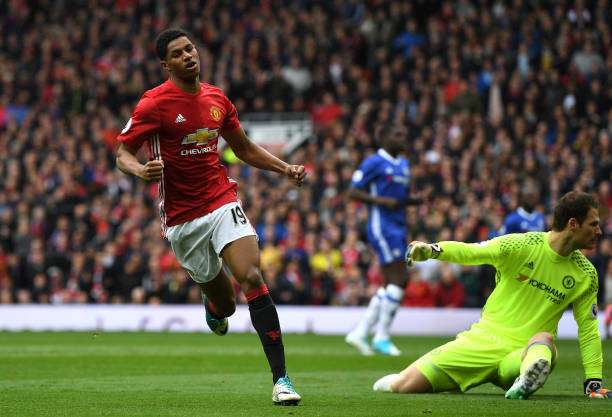 We shouldn't forget, though, that a rescheduled tournament, let's say in the summer, might actually suit United. While the team has been in wonderful form this year, fans will be quick to point out that this has been achieved without Marcus Rashford. The striker was the best player up until his January injury. It was always going to be unlikely to see him back in the domestic season, but a summer tournament might be possible for the striker. Yet, they might also lament the sudden halt in momentum.
Sure, other clubs have injuries too. And, who knows what the situation will be with the eligibility of players for a rescheduled tournament in the middle of the summer (it seems unlikely football will restart before June). Consider what might happen to the betting odds if United or Inter Milan suddenly splurge in the transfer market?  Another question is whether the 1st leg ties that have already been played in the Last 16 will be voided if a condensed mini-tournament is arranged? Teams like Eintracht Frankfurt, who trail 3-0 to Basel, would be thrown a lifeline, as would LASK and Rangers.
Yet, whatever form the competition takes and regardless of the stipulations, United fans, perhaps more than most, will hope that a date is set soon. The team grew into the tournament, and it really felt like a final in Gdansk was inevitable. That could still happen, but it might not be delivered in the way we first thought.