Devin Booker is one of the best shooting guards in the NBA and here is all about his net worth, salary, records and endorsements
Devin Booker Facts
| | |
| --- | --- |
| Birth Place | Grand Rapids, Michigan |
| Father's Name | Melvin Booker |
| Mother's Name | Veronica Gutiérrez |
| Star Sign | Scorpio |
| College | University of Kentucky |
| Net Worth (2022) | $30 million (estimated) |
| Salary (2022) | $31.6 million |
| Age | 25 |
| Date of Birth | October 30, 1996 |
| Height (cm) | 196 |
| Weight (kg) | 93 |
| Nationality | American |
| NBA Draft Year | 2015 |
| NBA Draft Pick | 13th overall |
| Playing Career | 2015-present |
| Position | Shooting Guard |
| Teams | Phoenix Suns (2015-present) |
| Achievements | 3x NBA All-Star |
| Wife/Girlfriend | Kendall Jenner |
| Children | None |
| Social Media | Instagram, Twitter |
| Endorsements | Finish Line, Nike |
Phoenix Suns' key man Devin Booker was born on the 30th of October in 1996. He is the son of former basketball player Melvin Booker and cosmetologist Veronica Gutierrez.
He was picked by the Phoenix Suns as the 13th overall in Round 1 of the 2015 NBA draft. Right from the very first season, Booker has been an integral part of the Suns. He is already a two-time NBA All-Star.
Devin Booker Stats
Final Appearances: Nil
Championship Rings: Nil
Season MVP: Nil
Finals MVP: Nil
All-Stars MVP: Nil
Devin Booker made his NBA debut for the Phoenix Suns on the 25th of June, 2015, just a couple of days before his 19th birthday. He was impressive from the very first year, with a PPG of almost 14.
Booker smashed numerous records – youngest Phoenix Suns player to record a double-double, youngest contestant to ever participate in the Three-point contest, third-youngest NBA player to record a 30-point game, and several others.
The next season he took his PPG up even higher. He scored 20 plus points in 16 consecutive games, which until today is the second-longest by any first-year or second-year player.
That very season Booker scored an astounding 70 points against the Bolton Celtics to become only the sixth player in NBA history to score 70 points and above in an NBA game.
The 17-18 season saw Booker turn up big yet again. He set the record for the third-most thirty point games before turning 21, only behind LeBron James and Kevin Durant. Booker also won the Three-point contest that year.
During the 2018-19 season Booker became the fifth-youngest player to reach 5000 career points. He scored 50 plus points in back-to-back games that year becoming the first player in Suns' history to do so.
In the 2019-20 season, Booker was on fire. He scored 30+ in seven straight games. During the NBA Bubble, he helped his team record 8 straight wins for the first time since the 2009-10 season. His performances got him into the NBA All-star team for the first time.
In the 2020-21 season, Booker started in 67 games and helped the Suns go up to the NBA Finals. They lost to the Milwaukee Bucks in the finals.
2021-22 was a good one too for Booker. Although the Suns did not go all the way to the finals – Booker and co made it to the Western Conference Semifinals.
Devin Booker Net Worth and Salary
The net worth of Devin Booker is approximately $30 million. He came in at number 62 on the Forbes List of the World's highest-paid athletes for the year 2020.
The Suns' shooting guard signed a 5-year contract extension in 2018- a contract worth $158 million, with an annual average salary of $32 million.
In the last year of his 5-year contact, Booker will be earning $36 million as his annual salary.
Devin Booker endorsements
According to Forbes, Booker earned $6 million from endorsements alone in the year 2020. Some of the notable brands he endorses are Nike and Finish Line.
Booker's 5-year contract worth $158 million is the richest deal in the history of Phoenix Suns' franchise.
Devin Booker Family
Devin Booker's mother Veronica Gutierrez is a cosmetologist who is from Puerto Rico. His father Melvin Booker was a basketball player, who played for the Grand Rapids Hoops in the Continental Basketball Association.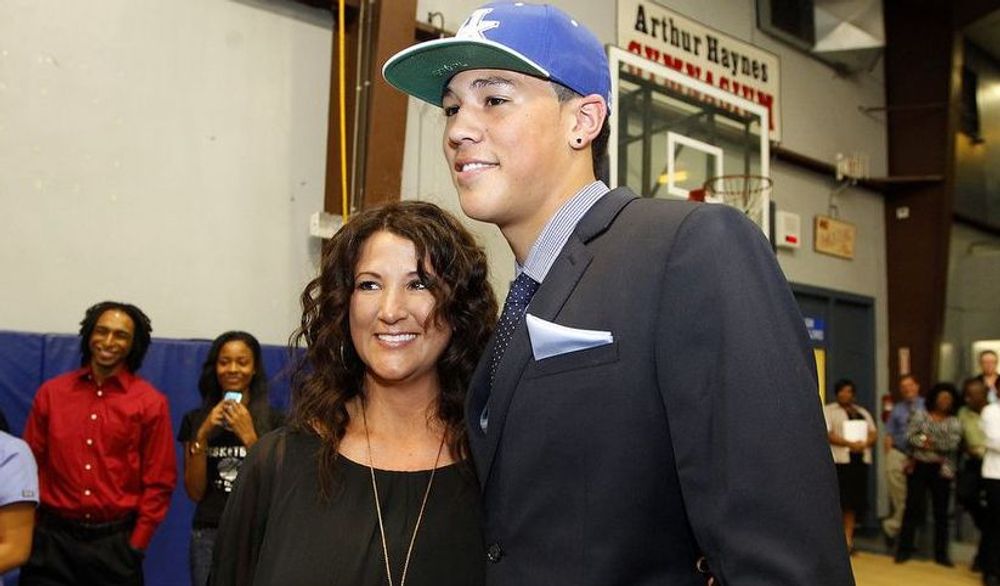 He has two siblings, a younger half-sister named Mya Powell and an older half-brother named Davon Wade.
Devin Booker Girlfriend
Devin Booker dated popular model Jordyn Woods in 2018. A close friend of the Kardashian sisters, Woods, and Booker famously went on a double-date with supermodel Kendall Jenner and her then-boyfriend Ben Simmons.
The pair split in 2019. And the very next year, Booker began dating Kendall Jenner. The couple recently celebrated their first anniversary together. Judging by their pictures, the couple are still going strong.
Devin Booker Sister
Devin Booker's half-sister Mya Powell is his younger sibling. She suffers from an ultra-rare condition called the microdeletion syndrome, which is caused by a chromosomal deletion smaller than 5 million base pairs.
Booker has been a pillar of support and strength for his sister, as he claims that she motivates him every day.
The love and affection Booker has for his sister has gone a long way in Booker supporting numerous people with disabilities through Special Olympics. He is also a Special Olympics Global Ambassador.
Devin Booker Shoes
Although, Booker does not have his own signature shoe line yet, he is bound to have one very soon. The Suns' shooting guard currently wears the late Kobe Bryant's Nike signature shoe line – Kobe V Protro.
Booker admires Bryant a lot. The young star got a pair of shoes signed by the then-retiring Bryant. Bryant had also written the words 'Be Legendary', and Booker had the words tattooed on his hands, following the Lakers great's death.
FAQs about Devin Booker
Is Devin Booker with Kendall Jenner?
Devin Booker and Kendall Jenner began dating in the summer of 2020, and the pair are still together.
Does Devin Booker have a child?
No, Devin Booker does not have a child.
What position does Devin Booker play in?
Devin Booker plays as a shooting guard for the Phoenix Suns.
What shoes does Devin Booker wear?
Devin Booker wears shoes from the late Kobe Bryant's signature shoe line Nike Kobe V Protro.
How tall is Devin Booker?
Devin Booker is 196cm tall.
How much does Devin Booker weigh?
Devin Booker weighs 93kgs.
More NBA news
Follow our dedicated NBA page for instant NBA news and updates