The result – a disappointing draw
Tottenham Hotspur travelled to St. James' Park on Sunday with a chance to go 4th in the table, ahead of Chelsea on goal difference. The Lilywhites, losing just once in their last 6 league games, were looking in great form ahead of the Premier League game against a struggling Newcastle.
Steve Bruce's Newcastle United have won just twice in their last 21 games in all competitions. But they sprung a surprise to snatch a late draw against the in-form Spurs. Newcastle scored first in the game but a Harry Kane double in a 4-minute span put Jose Mourinho's side 2-1 up. That lasted until the 85th minute when Joe Willock stole an equalizer.
But how did this happen? Were Spurs' tactics to blame? Was Mourinho at fault, or were the players not up to the mark? Was it just luck, or did Newcastle earn the point? Let's find out.
The start – formations and set-up
Son Heung-min's absence from the starting line-up meant that Spurs had to deviate from their tried and tested 4-2-3-1 formation to deploy a 4-4-2 with Carlos Vinicius and Harry Kane as the two target men. Giovani Lo Celso and Japhet Tanganga made for an unusual right flank.
This was the first time they played this formation this season and unfortunately for them, it did not bring home the 3 points. The Magpies, on the other hand, fielded a formation with a 5-man backline. This is a tactic they have usually used against big teams like Liverpool and Manchester City this season.
And the player's average positions in the game, in Image A, shows how the common pre-game expectations were met, at least for Spurs. Kane was playing on the shoulder of the last defender while Vinicius was dropping deep in the first half until he was replaced by Son later on.
The Spurs full-backs, Sergio Reguilon (3) and Tanganga (25) did not have as much freedom as their counterparts to go up the pitch as they were largely involved in the middle third of their respective flanks.
Their heatmaps in Image B tells a similar story. Pierre-Emile Hojbjerg often dropped back to become a shield for the back-two while Tanguy Ndombele had more attacking freedom (Image A).
An example of the Spurs tactics in the first half comes in Image C where it clearly shows how Tanganga and Reguilon (yellow circles) are not pushing as far up as they can and double up as wingers. Giovani Lo Celso (red circle) started as a right-midfielder but was often pushing inside to play as a right-central midfielder.
In control – Spurs take the lead after falling behind
One of the things Newcastle exploited early on was Spurs' willingness to pass at the back. The Lilywhites looked to build from the back but the Magpies pressed whenever they had the chance to.
Image D shows Newcastle United had a lower PPDA (passes per defensive action) than Spurs but they still made telling efforts when they pressed high up the pitch to steal the ball from Tottenham and score.
Image E has Newcastle players charging up the field and pressuring Spurs players. Jose Mourinho's side concede possession twice there, and Matt Ritchie then comes away with the ball.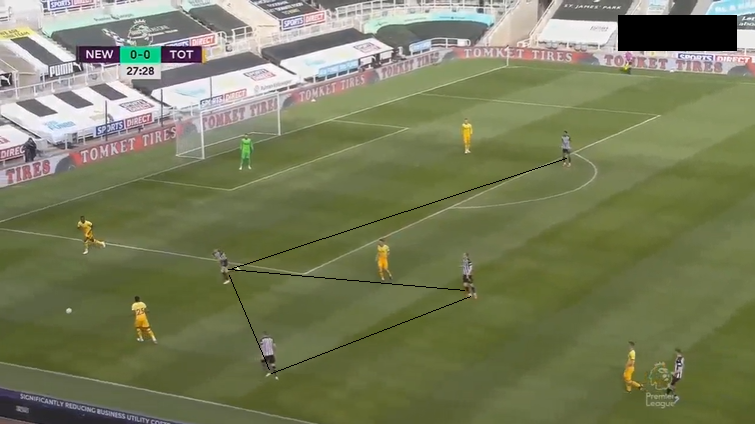 The ball finds Sean Longstaff (red circle in Image F), and as visible below, is played to Joelinton (black circle). The Brazilian is free in the box with not many Spurs players back to defend, and he scores with a well-placed shot. Catching out Spurs was the wisest tactic as they seemed to not commit men forward from midfield or the back.
But Spurs were quick to reply. Harry Kane struck a quickfire double to fire Tottenham in front. It showed the resilience instilled into the side by Mourinho and how deadly they were in front of goal when they want to be. The goal by Newcastle really woke Spurs up as they instantly committed men forward.
Image G shows the sheer overload of the box by Tottenham as they all ran at the Newcastle defence. What resulted was a through ball slid in by Le Celso (red circle) to Kane (yellow circle), who went on to score. The sheer number of players committed forward completely overwhelmed Newcastle there.
Image H shows how well Spurs were doing when they bombarded men forward. The picture shows the swarm of players in a yellow short just running forward to attack. This resulted in a great run by Kane, which was found by an inch-perfect pass. He shot across the goal to make it 2-1 in the 34th minute.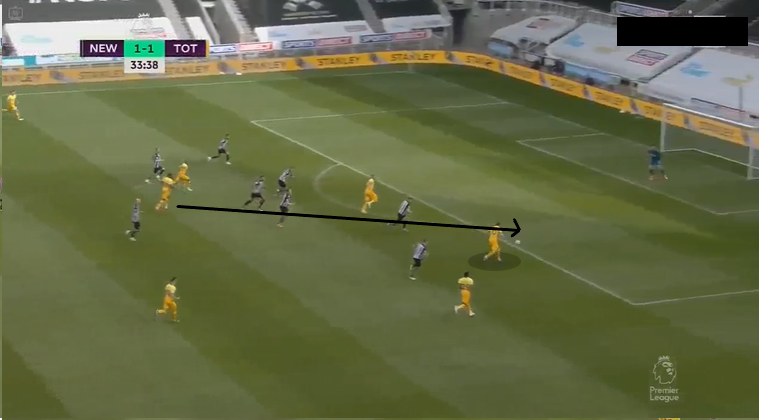 Change of mindset – defending the lead
When Spurs pushed forward, they scored twice. This was a tactic that was clearly working. But once they got into the lead, especially in the closing stages of the game, they just stopped doing it. From the time they scored until the 67th minute, they failed to register a single shot.
Meanwhile, Newcastle had 9 in that period (evident in Image I). This showed that Spurs were clearly sitting back and trying to ride out the middle third of the game. But this tactic invites pressure and sooner than later, one of those shots would go in.
Wasting chances
With Newcastle now pelting shots at them for fun, Spurs finally came out of their shell and had some gilt-edged chances to put the game to bed. Image J shows Kane (black circle) fluff a very good 1v1 chance while Image K highlights how Erik Lamela (black circle) made the wrong choice by not passing to Son (red circle). He passed to Kane (yellow circle) instead, who was pressured into taking a wayward shot.
The equalizer
Now what is most painful about Image K is that it happened a minute before Newcastle's equalizer. Spurs counter-attacked Newcastle for that chance but otherwise, they were really getting pressured by the Magpies. Mourinho's men wanted to play out the second half of the game.
Image L clearly highlights their intent of just keeping the ball aimlessly to kill time and get to the closing stages of the game. Newcastle had more passes in the final third from 45th minute to their equalizer in the 85th minute, while Spurs had more than double of Newcastle's passes in the middle third of the field.
And as expected, Newcastle's directness paid off. They were getting the ball in Spurs' defensive third at every chance they could. Image M shows how Spurs are committing men at the back and outnumber Newcastle's 5 men in the frame with their 9 yellow shirts.
The picture above shows a very sturdy defensive structure. The goal was itself the result of a far-post cross that was played into the box and kept alive for Joe Willock to rush into the box and tap in. But the mistake here lies in bad organization and not man-marking. Image N makes it clear that the Spurs defence lost track of Willock, who was left unmarked.
It's one thing inviting pressure, but it's a different thing losing concentration at vital moments. Defending during the latter stages isn't a bad thing. It's actually common sense that the team trailing will attack and the team leading will want to see the game out. But the mistake from Tottenham lies in trying to see out the game with a one-goal lead.
Verdict
Spurs defence did not seem like it's built for such prolonged periods of pressure and they succumbed right at the end. Had Kane scored his chances, we would be having a different conversation today. He could have not done more than score a brace, in all honesty.
But it was not good seeing Spurs trying to secure a one-goal lead from so early on in the game. Newcastle, who are fighting relegation, had more shots and more xG (expected goals) than Tottenham [Image D]. This should not be happening with the kind of attackers Spurs have and considering they were just the 2nd team in Europe this season to hit 100 goals.
So it seems like, just for this game, Mourinho regressed, even if it was for just this game. The Portuguese manager does not seem like he has his best defence sorted out, which became evident when Alan Shearer questioned his backline. (h/t Football.london)
"It's criticism of his players, he's basically saying that he's a good enough coach but his players aren't good enough [in response to Mourinho's 'same coach, different players' comment]. That's why he's made so many changes in the backline as he's still searching and trying for a formula. We said before the game that the back four was get-at-able and Newcastle should create chances against that, which they did."
Mourinho throwing his players under the bus makes it seem like there could be a dressing room split brewing. But until then, the club has a job to do and would know that they are at their best when they attack and should look to kill games rather than sit back and protect a one-goal lead until it's too late.