Damien Harris is a running back for the New England Patriots and he was drafted into the league in the third round of the 2019 NFL draft here, we learn more about his wife, net worth, contract, salary, and more.
The running back is 25 years old and is one of the best-valued running backs in the league with a lot of potential on the league. We will see the 25-year-old raise through the league.
Damien Harris Facts
| | |
| --- | --- |
| Birth Place | Richmond, Kentucky, United States |
| Father's Name | NA |
| Mother's Name | Lynn Harris |
| Star Sign | Aquarius |
| College | The University of Alabama |
| Net Worth | $3.6 million |
| Salary | $907,784 |
| Age | 25 |
| Date of Birth | February 11, 1997 |
| Height | 5 ft 11 in (1.80 m) |
| Weight | 213 lb (97 kg) |
| Nationality | American |
| NFL Draft Year | 2019 |
| NFL Draft Pick | Round 3 |
| Playing Career | 2019– Present |
| Position | Running back |
| Teams | New England Patriots (2019–present) |
| Wife/Girlfriend | Kayla McCarthy |
| Children | NA |
| Endorsements | Old Spice. |
Contract Details
| Current Contract: | 4 yr(s) / $3,631,136 |
| --- | --- |
| Signing Bonus | $886,136 |
| Average Salary | $907,784 |
| Guaranteed at Signing | $886,136 |
| Total Guarantees | $886,136 |
| Free Agent: | 2023 / UFA |
The 25-year-old is still in his rookie contract valued at 3.6 million dollars which includes an $886,136 signing bonus and an average annual salary of $907,784. Seems to be a solid entry-level contract for the running back but if he performs well enough on the field, he might earn a more lucrative deal in the future.
Damien Harris Net worth and Sponsorships
Damien Harris has a net worth estimated at 3.6 million dollars. The 25-year-old is still at the budding point of his career and he has a long way to go his performance on the field is directly proportional to increasing his net worth and gaining recognition from NFL fans.
The running back has landed a men's grooming giant Old Spice. Only a few details are known about the exact number of sponsors and endorsements. The running back will land more sponsors as time progresses and it will help him skyrocket his net worth.
Damien Harris Career from early days to the Patriots
Madison Southern High School is where the 25-year-old's football career ignited. An impressive career in high school has named him a five-star recruit. He recorded  6,748 yards with 122 touchdowns. He was one of the top running backs in the country of his class. He committed to playing college football for the University of Alabama.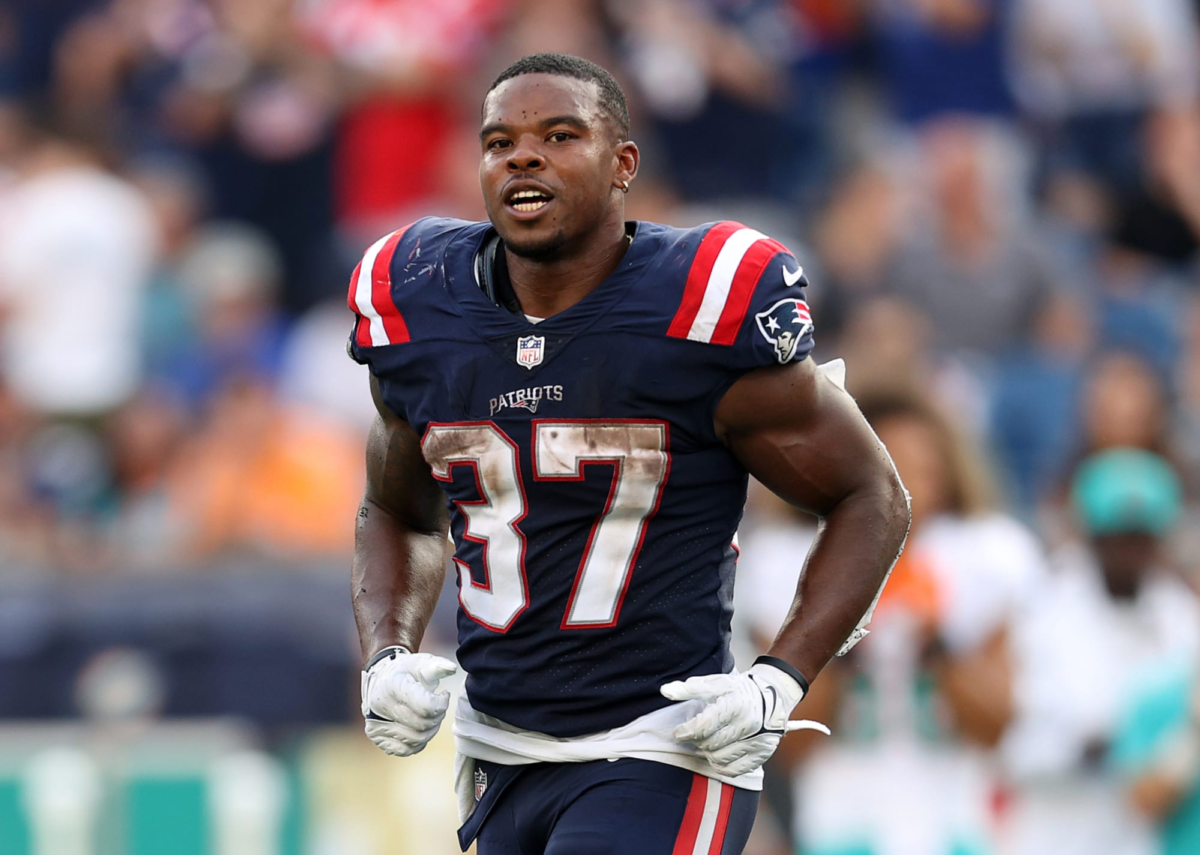 As a freshman at the University of Alabama, he played 12 games and rushed for 157 yards on 46 carries. During his time in college, he had many games that were his career best and put him on the map as one of the top-performing running backs in the country. He had four hundred-yard games in his college career. He jumped straight into the 2019 NFL draft.
The running back's dream came into existence when he was drafted by the Patriots in the third round 87th overall pick in the 2019 NFL draft. Wrapping up their career to date he has Damien Harris has played 4 seasons for the Patriots. He has 400 carries for 1,889 yards, 31 catches for 214 yards, and has scored 20 touchdowns.
Damien Harris Girlfriend
Kayla McCarthy is the girlfriend of the running back. The couple is seen together since 2017. Kayla McCarthy is an Instagram model but not your typical Instagram model, she studied Finance and Business Law at Boston University and is an intern at a marketing firm.
Damien Harris Waddle FAQs
What is the net worth of Damien Harris?
The net worth is estimated at $3.6 million
When was Damien Harris
drafted?
He was picked in the 3rd round, the 87th overall pick of the 2019 NFL Draft.
How old is Damien Harris?
Born on February 11, 1997, He is 25 years old.
How tall is Damien Harris?
He is 5 ft 11 in tall. 
At which position does Damien Harris play?
He is a Running back for the New England Patriots.
Is Damien Harris married?
No, he is in a relationship with Kayla McCarthy.