Damian Lillard is one of the best NBA players to have never won a ring and here are his net worth, salary, final records and endorsements
Damian Lillard Facts
| | |
| --- | --- |
| Birth Place | Oakland, California |
| Father's Name | Houston Lillard |
| Mother's Name | Gina Johnson |
| Star Sign | Cancer |
| College | Weber State University |
| Net Worth (2023) | $110 Million |
| Salary (2023) | $44,066,288 |
| Age | 32 |
| Date of Birth | July 15, 1990 |
| Height (cm) | 188 |
| Weight (kg) | 88 |
| Nationality | American |
| NBA Draft Year | 2012 |
| NBA Draft Pick | 6th overall |
| Playing Career | 2012-present |
| Position | Point Guard |
| Teams | Portland Trail Blazers |
| Achievements | 7x NBA All-Star, Rookie of the year (2013) |
| Wife |  Kay'La Hanson |
| Children | Damian Jr., Kali Emma Lee Lillard and Kalii Laheem Lillard |
| Social Media | Instagram, Twitter |
| Endorsements | Adidas, Spotify, Toyota, Panini, State Farm, Hulu |
Damian Lillard is one of the best NBA players ever to have never won a championship ring. The point guard has been the heart of the Portland Trail Blazers, ever since being picked by them as the 6th overall in the 2012 draft.
'Big Game Dame' often turns up clutch for his beloved Blazers and bails them out of tough situations.
Damian Lillard Stats
Final Appearances: Nil
Championship Rings: Nil
Season MVP: Nil
Finals MVP: Nil
All-Stars MVP: Nil
Lillard is someone who wears his heart on his sleeve. He has been with the Trail Blazers, ever since he was picked by them in 2012. He has been a part of the team through thick and thin.
In his very first year (2012-13) Lillard won the rookie of the year, although the Trail Blazers enjoyed only moderate success. He started all 82 games for his team that year.
The 2013-14 season saw him being inducted into the NBA All-Star team for the first time. Lillard worked tirelessly that season appearing in all 82 of the Trail Blazers' games.
Once again in the 2014-15 season, Lillard appeared in all 82 games, for the third time in a row. But his team always struggled to get past Playoffs Round 1.
Lillard enjoyed only moderate success in the 2016 and 2017 seasons. And, in the 2018 season, Lillard became the fastest Blazer to score 9000 points. He was also inducted into the All-NBA first team that year.
In the 2018-19 season, Blazers inspired by Lillard made it to the Western Conference Finals but were finished off by the on-fire Golden State Warriors. Lillard finished 6th in the NBA MVP voting that year.
And, in the 2019-20 season, Lillard scored 60 plus points, a whopping three times.
The 2020-21 season ended poorly for Lillard as he was ruled out with an injury.
However, in 2023, he has lifted Portland on course to a potential playoff spot. He scored an incredible 71 points against the Rockets in February.
Damian Lillard Net Worth and Salary
With a net worth of a staggering $110 million, Lillard is ranked number 30 in the list of Forbes' Highest-Paid Athletes for the year 2020.
His salary for the year 2020-21 is reported to be around $31 million. He is under contract with the Portland Trail Blazers until the 2024-25 season.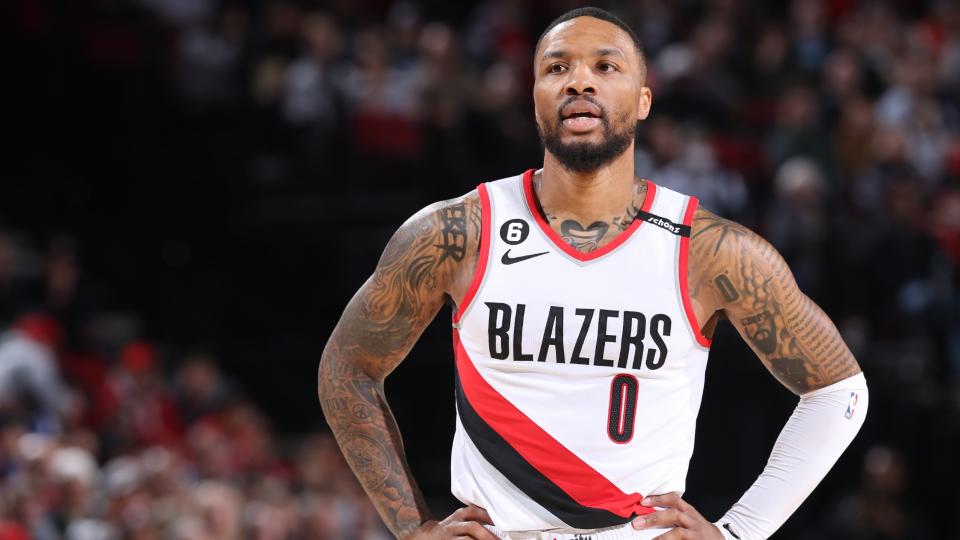 He is on course to earn a shade over $45 million in 2023.
Damian Lillard Family and Personal Life
Damian Lillard was born in Oakland, California on the 15th of July 1990 to Houston Lillard and Gina Johnson. He has a brother, Houston Lillard, and a sister Lanae Lillard. Despite being of relatively short stature, Lillard was into basketball right from his early childhood days.
Lillard is engaged to his long-time girlfriend Kay'La Hanson. The couple got engaged only last year, and together they have three children.
Their first child was born in 2018, a son named Damian Jr. And, earlier this year in January, Hanson gave birth to twins, a daughter named Kali Emma Lee Lillard and a son, Kalii Laheem Lillard.
Lillard is also a notable rapper, performing under the name Dame D.O.L.L.A.
Damian Lillard Endorsements
Lillard's top endorsement deal is with Adidas. He has a separate signature shoe line with the brand.
His contract with Adidas runs for 10 years and is worth around $100 million Lillard earns around $13 million from endorsements alone.
Besides this, Lillard has endorsement deals with Toyota, Spotify, Panini, Spalding, Hulu, and State Farm.
Damian Lillard Shoes
On the 14th of April 2014, Lillard signed a 10-year contract extension with Adidas, worth over $100 million.
And, in the very next year, his first signature shoes Dame 1's were released. As of 2021, he has 7 signature shoes to his name, with Dame 7's being the latest.
Lillard's signature shoe line is known for its simplicity and modest look. They might never look flashy, but they are never below par either.