Here is all you need to know about Claressa Shields including her net worth, salary, records and endorsements
Claressa Shields is one of the greatest boxers in the women's division in history. She has held multiple world championships -Light Middleweight Championship, Middleweight Championship and Super Middleweight Championship. Shields is the fastest fighter in history either male or female to become a three-division world champion.c
Claressa Shields Facts
| | |
| --- | --- |
| Birth Place | Flint, Michigan |
| Father's Name | Bo Shields |
| Mother's Name | Marcella Adams |
| Star Sign | Pisces |
| College | Olivet College |
| Net Worth (2022) | $4 Million |
| Salary (2022) | $800,000 |
| Age | 27 |
| Date of Birth | March 17, 1995 |
| Height (cm) | 178 |
| Weight (kg) | 154 lbs |
| Nationality | American |
| Team | Jackson Wink MMA Academy |
| Achievements | Light middleweight, Middleweight and Super Middleweight Champion |
| Wife/Girlfriend | Tony Richardson |
| Children | N/A |
| Social Media | Twitter |
| Endorsements | Audi, Powerade, Swimsuits for all |
Claressa Shields Stats
Professional Boxing Record
| | | |
| --- | --- | --- |
| 12 fights | 12 wins | 0 losses |
| By knockout | 2 | 0 |
| By decision | 10 | 0 |
MMA Record
| | | |
| --- | --- | --- |
| 2 fights | 1 win | 1 loss |
| By knockout | 1 | 0 |
Shields currently holds the record for becoming a two and three-weight world champion in the fewest professional fights. Shields won gold medals in the women's middleweight division at London and Rio, making her the first American boxer to win consecutive Olympic medals.
Last Updated: 06-06-2022
She is the first American woman to win an Olympic gold medal in boxing. Her first loss came to professional British boxer Savannah Marshall.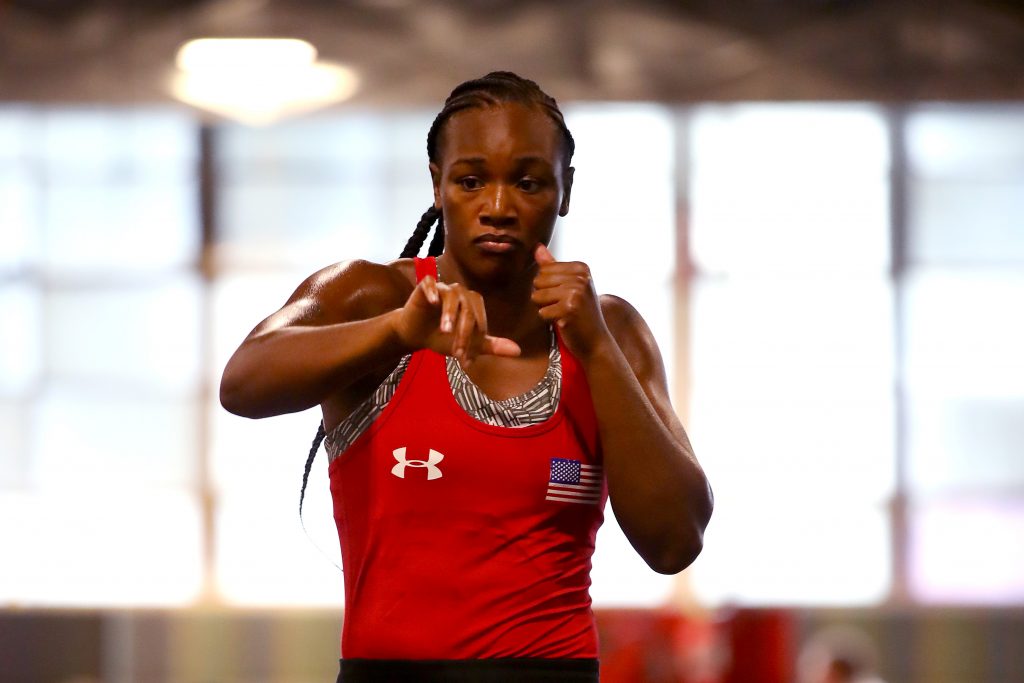 The American is also a former two-time Junior Olympic Champion. Shields calls herself the GWOAT, the Greatest Woman Of All Time. In 2016, Shields won the gold medal at the AMBC Olympic Qualifying tournament in Argentina.
Currently, she has signed a three-year contract with PFL and made her debut on June 10, 2021, against Brittney Elkin. She won the fight via technical knockout in the third round.
Shields suffered her first professional fighting career loss at PFL 10. She lost to Abigail Montes via. split decision.
Claressa Shields Net Worth and Salary
Her net worth is $4 million. The deal with PFL will be profitable for the American. They also report that boxing earned Shields $1.3 million.
The 'GWOAT' also earned $50,000 from social media sponsorships and $150,000 from public appearances.
Claressa Shields Family, Personal Life and Endorsements
Claressa Shields was born in Flint, Michigan, USA on March 17, 1995. Her parents named Marcella Adams and Bo Shields had four kids including her named Briana Shields, Artis Mack and Dusable Lewis.
When she was two years old, her father, Bo Shields, went to prison and he came out seven years later. She started training to be a boxer when she was eleven years old under Jason Crutchfield.
Claressa Shields is currently dating 34-year-old gym owner Tony Richardson. Richardson is an ISSA (International Sports Science Association) certified fitness trainer and founder of 'AT Fitness Gym' in Mt. Morris.
FAQs about Claressa Shields
What is Claressa Shields' net worth?
Claressa Shields has a net worth of approximately $4 million.
When was Claressa Shields born?
Claressa Shields was born on the 17th of March, 1995.
Where was Claressa Shields born?
Claressa Shields was born in Flint, Michigan.
When did Claressa Shields make her MMA debut?
Claressa Shields made her MMA debut on the 10th of June, 2021.
What is Claressa Shields' boxing record?
Claressa Shields boxing record is 12 wins and 0 losses.
More MMA news
Follow our dedicated MMA page for instant MMA news and updates