Charles Leclerc is positioned to be the future of Scuderia Ferrari and here is all about his net worth, family, career and his love life.
After a disappointing stint for a few seasons, Ferrari found a newborn hope named Charles Leclerc. Ever since joining Ferrari in 2019, Leclerc has been consistent with his noteworthy performances on the track. But how much is the Monegasque driver's net worth?
Charles Leclerc Facts
| | |
| --- | --- |
| Birth Place | Monte Carlo, Monaco |
| Father's Name | Hervé Leclerc |
| Mother's Name | Pascale Leclerc |
| Star Sign | Libra |
| Net Worth | $125 Million |
| Salary | $24 Million |
| Age | 25 |
| Date of Birth | October 16, 1997 |
| Height (cm) | 1.80m (5′ 9″) |
| Weight (kg) | 69kg |
| Nationality | Monegasque |
| F1 Debut | 2018 |
| Teams | Scuderia Ferrari (current), Sauber F1 |
| F1 Race Wins | 5 |
| F1 Pole Positions | 19 |
| F1 Championship Wins | 0 |
| Achievements | Winner of French PACA Championship(2005, 2006 and 20080, Junior Monaco Kart Cup(2010) |
| Girlfriend | Charlotte Sine |
| Social Media | Instagram, Twitter |
| Endorsements | Giorgio Armani, Scuderia Ferrari, Ferrari Driver's Academy |
Charles Leclerc is the future of Ferrari. With a million-dollar contract till 2024, he has certainly provided a reason to smile for the Italian-based F1 team by showing them his skills.
He made his much-awaited F1 debut in 2018 for the Alfa Romeo-Sauber team. Hailing from Monaco, he is only the fourth driver from the principality to make the drive in Formula One and the first since Olivier Beretta, who made his debut in 1994.
There were a lot of doubts regarding Ferrari's signing for 2019. Many people suspected Leclerc isn't ready and his much-experienced teammate, Sebastian Vettel, will undermine him in every way. However, he ended up coming out on top, bagging P4 in the Championship, ahead of his former teammate.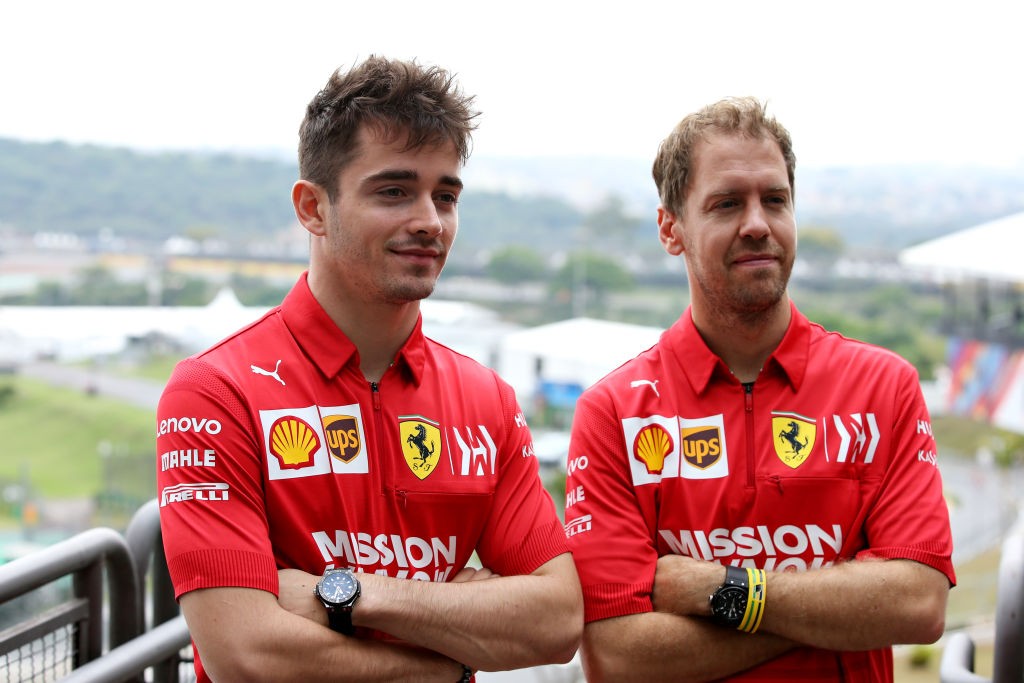 Leclerc is currently partnered at Ferrari with Carlos Sainz.
Charles Leclerc's net worth and salary
According to sources, it is estimated that Leclerc is on an annual salary of around a whopping $24 million. This figure excludes driver performance bonuses and personal sponsors. With various endorsements and sponsorships, Charles Leclerc's net worth is around a massive $125 million.
Charles Leclerc F1 career
Leclerc joined the Ferrari Driver Academy in 2016 where he acted as a development driver for Haas F1 Team and Scuderia Ferrari.
In 2018, Leclerc signed as a driver for the Sauber F1 Team, replacing Pascal Wehrlein and alongside Marcus Ericsson. This marked the first appearance of a Monegasque Formula One driver since Oliver Beretta in 1994. Leclerc managed to finish 13th in the 2018 championship with 39 points.
For the 2019 season, Leclerc was signed by Scuderia Ferrari, replacing 2007 World Champion Kimi Raikkonen. This new signing elevated the performance of Leclerc drastically. He secured 7 pole positions and even won two races, one including the prestigious Italian Grand Prix at Monza. He eventually finished fourth in the Driver's Championship of 2019.
However, the 2020 season was a rough ride for Leclerc as he won no races and finished eighth in the Driver's championship.
His poor performance was majorly the fault of Ferrari. The car did not have any pace to challenge the rivals. Meanwhile, his former teammate, Sebastian Vettel finished the Driver's Championship in thirteenth place in the same season.
2021 was pretty decent for the Monegasque driver. He finished seventh with 159 points with a best finish of P2 at Silverstone.
On the 20th of March, Leclerc registered his third career win in the first race of the F1 2022 season. Leclerc secured the first position in the 2022 Australian Grand Prix.
Charles Leclerc Personal Life
Leclerc is the son of Herve and Pascale Leclerc. His father, Herve was also a race driver who drove Formula 3 cars in the 1980s and 1990s. He was also the godson of F1 driver Jules Bianchi.
He has two siblings among whom he is the second oldest. The F1 star has an older brother named Lorenzo and a younger brother named Arthur Leclerc. Arthur currently races in the Formula Regional European Championship and is a part of the Ferrari junior program.
Despite growing up in one of the richest principalities around the world, Leclerc was not wealthy. Moreover, the Monegasque driver lost his close ones under tragic circumstances. His close friend and godfather, Jules Bianchi passed away following a heavy crash at the 2014 Japanese Grand Prix. Subsequently, his father passed away at the age of 54, following a long battle with an undisclosed illness.  
The Ferrari star is currently in a relationship with Charlotte Sine. Sineis a model and Instagram influencer from Monaco and is the daughter of Emmanuel Sine, the general manager of the Société des Bains de Mer.
He was previously in a relationship with Giada Gianni for a little over four years. In 2019, they broke up and it is believed that Leclerc maintains a good relationship with his ex-girlfriend.
Charles Leclerc endorsements
Giorgio Armani, Scuderia Ferrari, Ferrari Driver's Academy majorly sponsored Leclerc. He was also sponsored by Richard Mille in his junior days.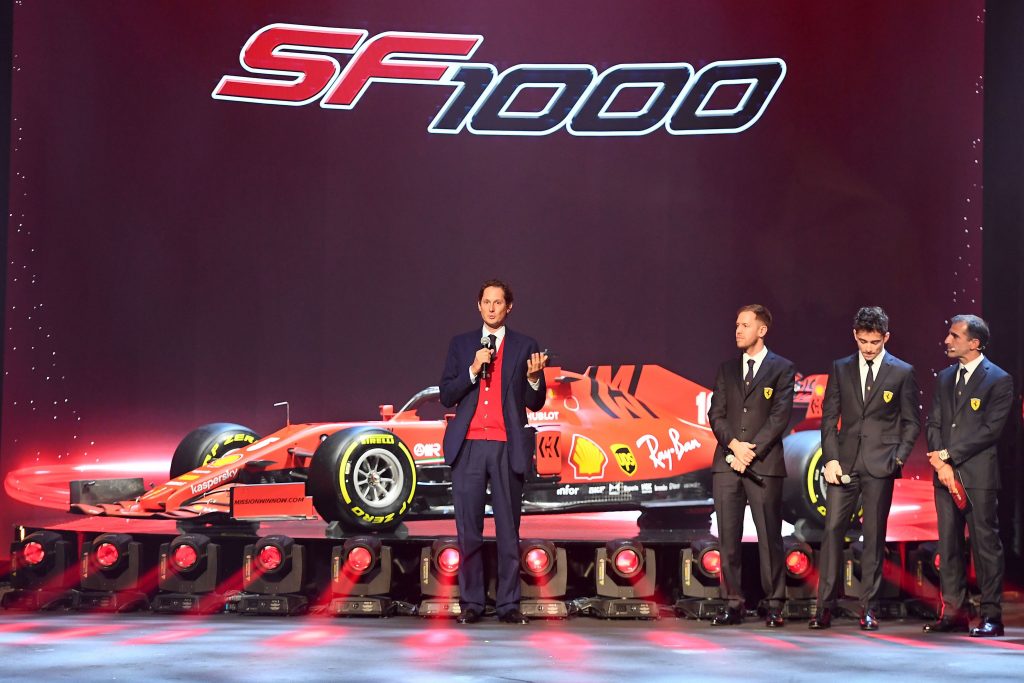 FAQs on Charles Leclerc
(Q) What is the age and date of birth of Charles Leclerc?  
Charles Leclerc is 25 years old and was born on October 16, 1997.
(Q) What is the net worth of Charles Leclerc?
Charles Leclerc has a net worth of $125 million.
(Q) What brands endorse Charles Leclerc?
Charles Leclerc has endorsement deals with Giorgio Armani, Scuderia Ferrari, Ferrari Driver's Academy
(Q) What is the nationality of Charles Leclerc?
Charles Leclerc is a Monegasque citizen.
(Q) Where was Charles Leclerc born?
Charles Leclerc was born in Monte Carlo, Monaco.
(Q) Does Charles Leclerc have a girlfriend?  
Charles Leclerc is in a relationship with Charlotte Sine.
(Q) How many F1 titles has Charles Leclerc won?
Charles Leclerc has not won any F1 titles.
More Formula One news:
Follow our dedicated Formula One page for instant Formula One news and updates