Here's everything you need to know about the children and family of former World No.1 Caroline Wozniacki
Caroline Wozniacki hails from Odense, Denmark, but her roots trace back to Poland. Her mother, Anna, showcased her talent as a volleyball player on Poland's national team, while her father, Piotr, pursued a career in professional football. The family's journey led them to Denmark when Piotr joined the Danish football club B1909. In addition to Caroline, her older brother Patrik Wozniacki also pursued a career in professional football in Denmark.
Wozniacki and her current husband, David Lee, are proud parents of two children. Their daughter, named Olivia Wozniacki Lee, was born on June 11, 2021.
Approximately a year later, on June 19, 2022, Caroline shared the exciting news of expecting their second child via her Instagram account. On October 24, 2022, she welcomed their son, James Wozniacki Lee, into the world. As of now, Olivia is two years old, and James is approaching his first birthday.
Caroline Wozniacki's daughter – Olivia
Caroline Wozniacki and David Lee celebrated the birth of their first child, daughter Olivia, on June 11, 2021. Both took to Instagram to share the joyful news of their baby girl's arrival.
Leading up to Olivia's birth, Wozniacki shared her pregnancy journey with her social media followers and also discussed her hopes and plans for raising her daughter in various interviews.
Fast forward to the nearly two years that have passed since Olivia's birth, and it seems that the apple doesn't fall far from the tree. At not even three years old, Olivia has already developed a keen interest in tennis, much to her mother's delight, who has noted that her daughter has become "obsessed" with the sport.
Since Olivia's birth, she has embarked on worldly adventures alongside her parents, and Caroline Wozniacki has been diligently chronicling these experiences.
From Olivia's inaugural flight to delightful family vacations in tropical destinations, and even enjoying courtside moments with her mother, these memories have been lovingly captured by Wozniacki. Wozniacki affectionately refers to Olivia as her "mini me," and in May 2022, she expressed her deep gratitude to her daughter with a heartfelt Instagram tribute: "To Olivia, thank you for choosing me to be your Mom and for bringing so much love and happiness into our lives!"
Caroline Wozniacki's son – James
Caroline Wozniacki and David Lee extended their family with the arrival of their second child, a son named James, born on October 24, 2022.
They shared the joyful news of his birth on Instagram a few days later, accompanied by a heartwarming photo capturing their then 16-month-old daughter Olivia joyfully overseeing her baby brother as he peacefully slept. Following the birth of James, Wozniacki surprised many by deciding to come out of retirement and pursue her professional tennis career once again.
Regarding James' interest in sports, Caroline Wozniacki shared in an interview that he might lean towards following in his dad's basketball-playing path rather than following his mom and big sister Olivia into tennis. Regardless of their chosen sports, Wozniacki holds hope that her children will embrace an active and athletic lifestyle.
Who is David Lee – the husband of Caroline Wozniacki?
David Lee and Caroline Wozniacki became engaged in 2017 and later exchanged wedding vows in 2019. Lee is the proud father of Olivia Wozniacki Lee and James Wozniacki Lee. He boasts a successful career as a former professional basketball player, with his achievements in the National Basketball Association (NBA). David Lee was born on April 29, 1983, in St. Louis, Missouri, United States.
David Lee's NBA career was marked by notable achievements and contributions to multiple teams. He entered the NBA in the 2005 Draft when he was selected as the 30th overall pick in the first round by the New York Knicks. During his five-year stint with the Knicks from 2005 to 2010, he made a name for himself as a productive power forward. In the 2009-2010 season, he achieved an impressive double-double average with 20.2 points and 11.7 rebounds per game, earning him his first NBA All-Star selection.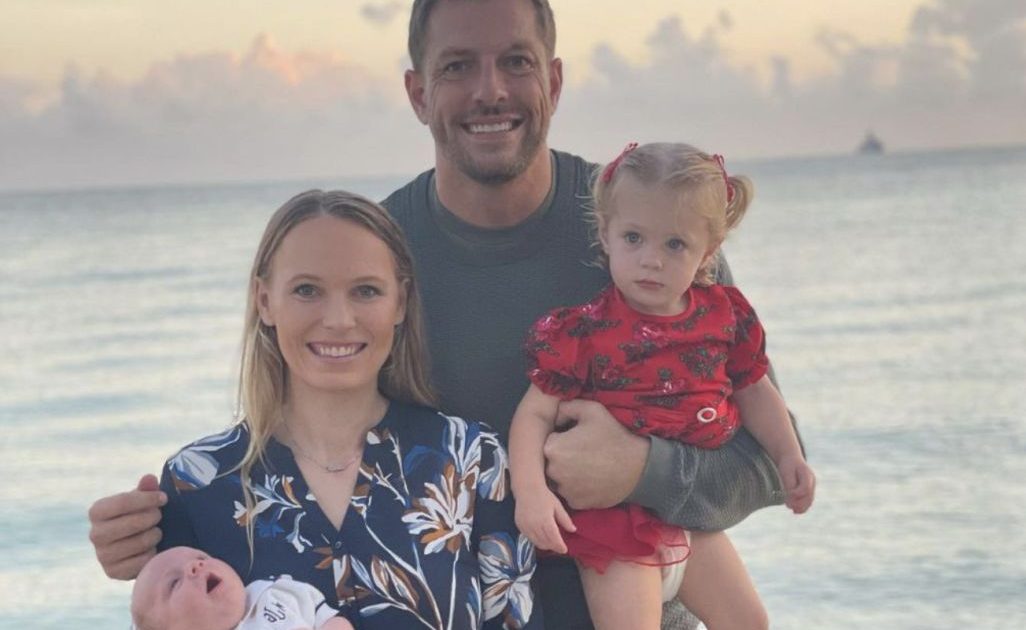 Lee's journey continued as he was traded to the Golden State Warriors in a sign-and-trade deal in July 2010. During his five seasons with the Warriors from 2010 to 2015, he played a crucial role in the team's success, contributing to their championship victory in 2015, although he was sidelined for most of the playoffs that year due to an injury.
After his tenure with the Warriors, Lee briefly played for the Boston Celtics during the 2015-2016 season before joining the San Antonio Spurs for the 2016-2017 season. Following that season, David Lee decided to retire from professional basketball.
More Tennis news
Follow our dedicated Tennis page for instant Tennis news and updates