Carmelo Anthony is a current American basketball player and here is more about his net worth, salary, records, and endorsements
Carmelo Anthony is a NBAan basketball player who last played for the Los Angeles Lakers. Let's know more about his net worth. Anthony plays the small forward position but is also versatile at the power forward position. Anthony is currently a free agent.
Carmelo Anthony Facts
| | |
| --- | --- |
| Birth Place | Brooklyn, New York |
| Father's Name | Carmelo Iriarte |
| Mother's Name | Mary Anthony |
| Star Sign | Gemini |
| College | Syracuse University |
| Net Worth | $130 million |
| Salary | Free Agent |
| Age | 38 |
| Date of Birth | 29 May 1984 |
| Height (ft) | 6 ft 6 in (2.01 m) |
| Weight (kg) | 109 kg |
| Nationality | American |
| NBA Draft Year | 2003 |
| NBA Draft Pick | Round 1/ Pick: 3rd overall |
| Playing Career | 2003-current |
| Position | Power forward / Small forward |
| Teams | Denver Nuggets, New York Knicks, Portland TrailBlazers, Houston Rockets, Oklahoma City Thunder, LA Lakers |
| Achievements | 10x NBA All Star, 10th Leading Scorer In NBA History, 4x Olympic medalist |
| Wife/Girlfriend | La La Anthony (m. 2009-2016) |
| Children | Kiyan Carmelo Anthony |
| Endorsements | Jordan Brand, Powercoco, Foot Locker, Isotonix and Haute Time |
The Denver Nuggets picked with the third overall pick of the 2003 NBA draft Anthony.  He was chosen after LeBron James (#1) and Darko Miličić (#2). In his debut year, he started every regular-season game, with an average of 36.5 minutes of playing time per game.
He earned gold medals for the USA in 2008, 2012, and 2016 as well as in the 2007 Americas Championship.
Carmelo Anthony Stats
| | |
| --- | --- |
| Points | 28189 (22.5 ppg) |
| Rebounds | 7,770 (6.2 rpg) |
| Assists | 3,414 (2.7 apg) |
Carmelo Anthony has played 18 seasons for 6 teams, averaging 22.5 points, 6.2 rebounds and 2.7 assists in 1,251 regular-season games. He was selected to play in 10 All-Star games.
He spent 8 seasons with the Denver Nuggets playing 564 games for them. He moved to his native New York signing for the Knicks, where he averaged 24.7 points per game.
Anthony continued working out after his failed move in Houston and signed with Portland in November 2019, starting all 58 games in the 2019/20 season. He was averaging 13.6 points as a sixth man, after agreeing to a bench role in the end of his career. Anthony moved to LA Lakers after agreeing to a one-year contract.
Carmelo Anthony Net Worth and Salary
In his first decade in the NBA, he earned just over $94 million in salary. His move to Portland earned him a contract worth $2.1 million. He earns an added $9 million a year from endorsements.
The New Yokrer has donated $1.5 million to the Living Classrooms Foundation in 2006 and $3 million to Syracuse University for a practice facility.
Carmelo Anthony Personal Life
Anthony got married MTV star La La Vasquez in July 2010. The couple were engaged since 2004. They had a son together named Kiyan Carmelo Anthony in March 2007.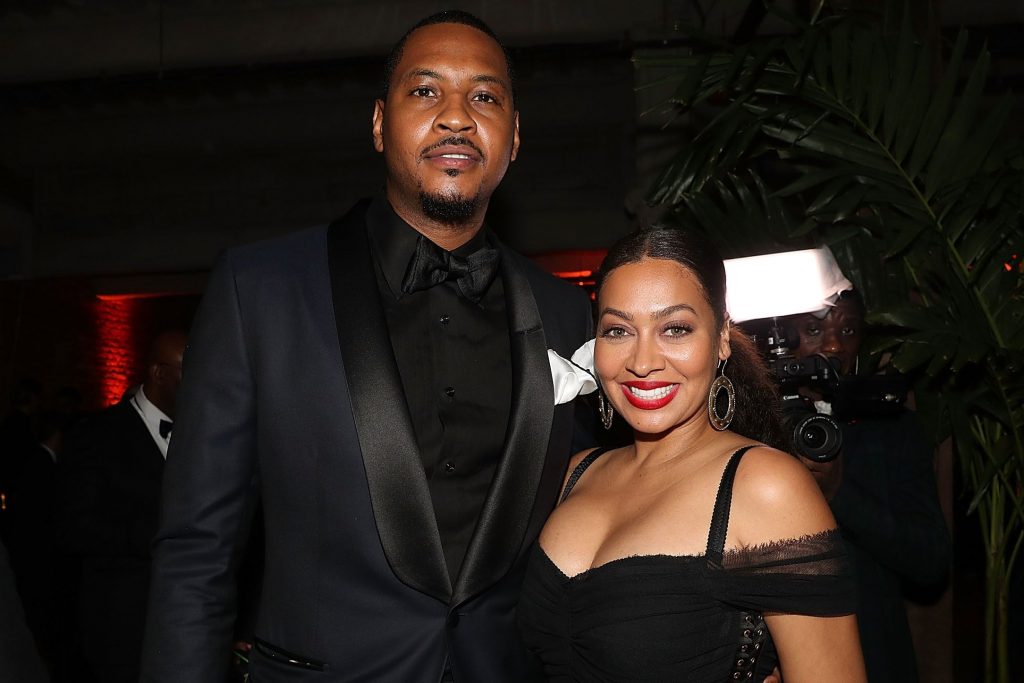 The couple were seperated after which he fathered a child with Mia Burks. The kid was named Genesis Harlo. Anthony was been there for Harlo financially and helped Burks in taking care of the child.
In June 2021, La La Vasquez filed for divorce from Anthony.
Carmelo Anthony Endorsements and Property
Anthony has endorsement deals with companies like Jordan Brand, Powercoco, Foot Locker, Isotonix and watch maker Haute Time.
Anthony was associated with Nike's Jordan brand and signed his original shoe deal in 2003. He was paid $3.5 million per year for the deal.
FAQs about Carmelo Anthony
What is the age of Carmelo Anthony?
Carmelo Anthony is 38 years old and was born on 29 May 1984
What is the net worth of Carmelo Anthony?
Carmelo Anthony has a net worth of $130 million.
Where was Carmelo Anthony born?
Carmelo Anthony was born in Brooklyn, New York.
What is the height of Carmelo Anthony?
Carmelo Anthony's height is 6 ft 6 in.
What is the weight of Lamar Odom?
Carmelo Anthony's weight is 109 kg.
Who was the wife of Carmelo Anthony?
Carmelo Anthony's wife was La La Vasquez
In which year was Carmelo Anthony drafted?
Carmelo Anthony was drafted in the year 2003/ Round 1/ Pick: 3rd overall
In what position did Carmelo Anthony play?
Carmelo Anthony played in the position of power forward / small forward.
How many NBA Championship did Carmelo Anthony win?
Carmelo Anthony has never won an NBA Championship.
More NBA Articles:
Follow our dedicated NBA page for more NBA articles and news updates