Andy Murray calls out Novak Djokovic on social media – here's everything you need to know
Andy Murray has responded to Novak Djokovic's recent comments regarding players hitting balls at their opponents during points.
Murray cited a video from the 2014 Shanghai Masters, in which Djokovic hit a shot directly at Roger Federer, who was positioned at the net. Interestingly, Federer did not react aggressively to Djokovic's shot and went on to win the match with a score of 6-4, 6-4. Murray's comment came in response to this video shared on social media, highlighting what some perceive as a discrepancy in Djokovic's stance on the issue.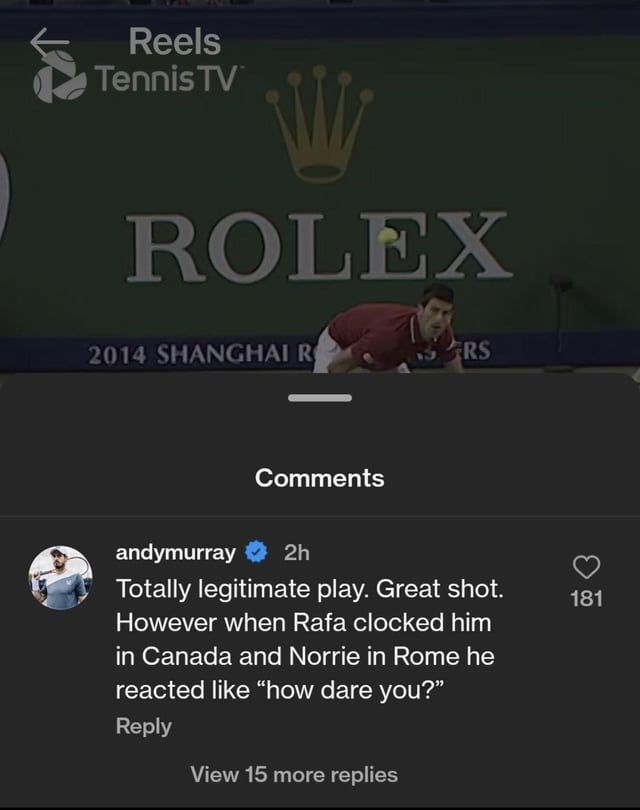 In response to the video's caption, which asked if such plays were "Legitimate," Andy Murray expressed the view that it is entirely fair for players to make shots like these. However, he raised questions about the consistency of the current World No. 1, Novak Djokovic, on this matter. Murray pointed out incidents from the past when Djokovic had reacted strongly and with frustration when opponents hit shots that connected with him during play. This highlights the potential inconsistency in Djokovic's stance on the issue.
Andy Murray's Instagram comment further elaborated on the issue, stating, "Totally legitimate play. Great shot. However, when Rafa clocked him in Canada and Norrie in Rome he reacted like 'how dare you?'" The first incident he referred to dates back to the 2013 Canadian Open when Rafael Nadal's shot unintentionally struck Novak Djokovic in the face. Despite Nadal's apology, Djokovic responded with an icy stare. Nadal eventually won the match with a score of 6-4, 3-6, 7-6 (2). Murray's comment highlights the contrasting reactions of Djokovic in different instances of similar incidents.
The second incident Murray referred to occurred at the 2023 Italian Open when Cameron Norrie, a fellow British player, hit a powerful smash that struck Novak Djokovic's leg. Despite Norrie's apology for the unintentional hit, the 24-time Grand Slam champion appeared visibly agitated. This example further illustrates the inconsistency in Djokovic's reactions to similar situations on the tennis court.
Fans react to Andy Murray calling out Novak Djokovic's hypocrisy
Andy Murray's comment went viral on social media platforms in no time. Reactions poured in from fans and quite understandably, opinions differed. Let us take a look at some of the reactions.
More Tennis news
Follow our dedicated Tennis page for instant Tennis news and updates