La Liga leaders Atletico Madrid are managed by Diego Simeone, who is widely known for his highly defensive tactics. This is probably the reason why his side managed just 51 goals in La Liga last season.
That means they were scoring at the rate of just 1.342 goals per game. They finished third, scoring 35 goals less than 2nd-placed Barcelona. And Colchoneros were the lowest-scoring top-seven side in the table. Their defence was, of course, as impeccable as ever as they conceded just 27 goals.
But things are different this season. Atletico have already scored 48 league goals in 25 league games, scoring at an average of almost 2 goals per game. In fact, they are the second-highest scoring team in the league at this point.
A more attacking approach?
So what seems to be the reason for their sudden rise in La Liga goals? Well, for starters, the team seems to be set up in a more attacking shape this season. This is despite them setting themselves up in different variants of the back-three at times this season than their usual 4-4-2 during last season.
The one way this has seemed to change Atletico's approach to games is the role of their fullbacks. Kieran Trippier has maintained his attacking touch as he continues to be an important source of creativity whenever he plays. He has 5 assists already this season, one more than what he managed in the whole of the last La Liga season.
But what is more telling is the change in the role of the left wing-back. Atletico often use Yannick Carrasco as a left-wing-back/left-midfielder in the games they play with 3 centre-backs.
This is obviously more helpful in the attacking sense, as he averages the most KP90 (key passes per 90 minutes) and xA90 (expected assists per 90 minutes (minimum 5 appearances) out of all Atletico players so far this season.
This brings us to our next point.
The use of Marcos Llorente
Marcos Llorente's versatility is well known. But last year, he was majorly used as a defensive midfielder. That would stifle any player's creativity, and he understandably did not have any goals or assists last season when he started in that position.
This season, however, he has had the chance to play in a more attacking position, courtesy of Simeone's flexibility with the formation. The Spaniard has often played as the right-wing-back/right-midfielder this season for Atletico.
The freeing up of Llorente from a defensive role is working wonders, as he already has a mammoth tally of 8 goals and 8 assists this season in the league.
New arrival
Carrasco arrived at the club in January last year and has made his impact known in an attacking sense. But the best attacking signing, perhaps in all of Europe arguably, has proven to be that of Luis Suarez. The Uruguayan striker signed from Barcelona for just £5.5million.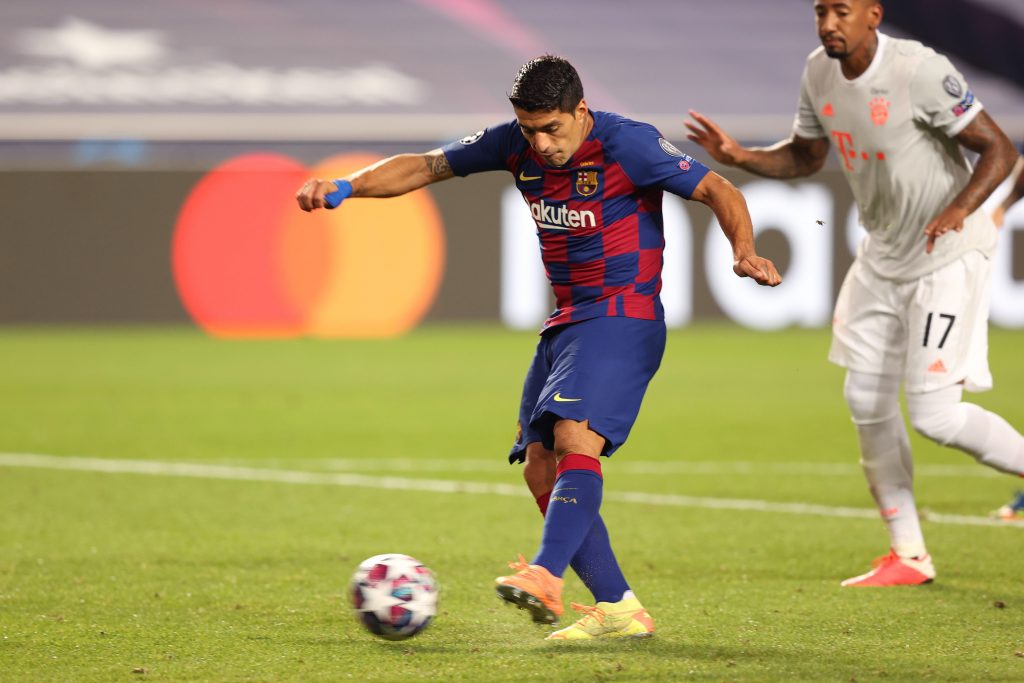 The potent striker, who was 33 years old at the time of signing, has taken the league by storm once again this season. He already has 17 goals and 2 assists this season, which is already 5 goals more than their top scorer in the La Liga last season.
The numbers prove a point
Clearly, Atletico are attacking better this season. Their focus from defence hasn't totally shifted either, as they have conceded the least goals in the league so far with 17.
But they have definitely found a way to attack more while also being defensively disciplined. This is clearly evident from the change in attacking numbers below.
Their shots per game and shots on target per game have gone up. Their strikers are converting more as well, and it has all resulted in more goals. This is clearly evident from the image above.
More control of the game
And along with an increase in attacking output, the statistical image above also shows how good they have been with the ball this season. Their average possession has gone up (52.2% from 48.4%). Moreover, they are also passing more, and their pass success rate has also gone up (refer to the image above).
This obviously means they have more control of the ball and hence, more time and chances to attack the opposition's goal. The image also shows that they are passing more in the opposition's box, which is obviously a sign of more activity in a more advanced, attacking position.
Verdict
Atletico are doing great in the attack. The team is shooting more, and are more deadly in front of goal. The players are more secure with the ball and seeing more possession than they did last season. Moreover, new signing Luis Suarez is working wonders.
It is good to see them play a more attacking brand of football and if they do win the La Liga season, not many would argue that they did not deserve it.