Tottenham Hotspur had a very healthy 2-0 home win against Dinamo Zagreb to take into the away leg of their UEFA Europa League round-of-16 tie. The match, held at Stadion Maksimir on 18th March, defied the odds and saw the Croatian side create history against the Premier League outfit.
Two goals in 90 minutes from Zagreb with no reply from the Lilywhites saw the game go into extra time. To put their Herculean task into context, their manager, Zoran Mamic, quit his job just a few days before the clash after he was sentenced to 4 years in prison.
But nothing seemed to affect the team. Mislav Orsic completed his hat-trick in extra-time to send Zagreb fans into euphoria. The club held onto the 3-0 scoreline and managed a 3-2 win on aggregate to go to the last-8 of the competition under their new manager, Damir Krznar.
Analysing the 2nd leg
The set-up
So how did the result come by? The new Dinamo boss lined his team up in an attacking variant of the 4-3-3 formation; a formation they haven't used a lot this season.
Tottenham, on the other hand, stuck with the 4-2-3-1 formation that has served them well under Jose Mourinho this season. But it was Dinamo's in-game fluid formation change that was interesting to see. We'll find out more about that as we go on in the article.
For now, it becomes evident in Image A that Zagreb broadly played in a set-up similar to Spurs. The average player positions, however, don't tell the whole story.

Off the ball – negating Tottenham's threat on the wing
Zagreb did not keep much of the ball. Spurs were bossing possession, completed more passes, and were taking more touches. These stats are mentioned in Image B and highlight the Croatian side's approach of wanting to make Tottenham do the work and make the most of possession whenever they can.

Zagreb's players put in the work off the ball, especially left-winger Mislav Orsic, who put in a brilliant shift down the left flank. He may have started as a left-winger, but he was helping out left-back Bartol Franjic, especially when marking Serge Aurier, a potent right-back who loves to attack.
This is evident in Image C where Orsic (red circle) is dropping back to defend and mark the Spurs players down the right-hand side. This paid dividends as Spurs only had 6% of their total shots from that flank, as evident in Image D.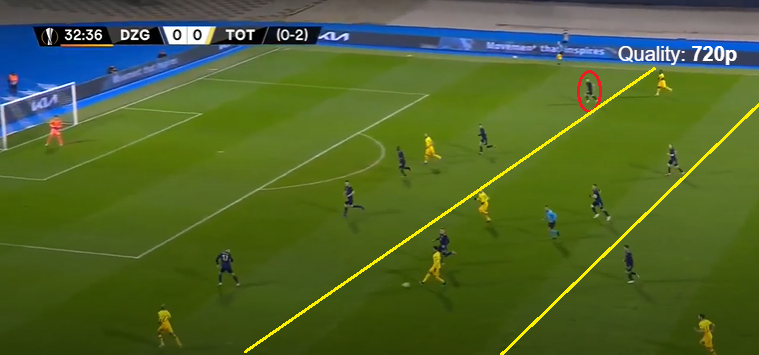 A job well done in defence. It would be easy to forget defensive duties when your team needs goals but not conceding was a big part as well and Zagreb players realized that. Moreover, they had Spurs' right-back on lock. Aurier was reduced to 0 shots on target and 1 successful cross, as shown in Image E.
In possession – Zagreb dragged Tottenham players out
Dinamo were assuming a formation where Orsic was dropping deeper than necessary, even in possession. This helped in one major way, which becomes clear in Image F. Aurier (yellow circle) was getting dragged up the pitch to mark Orsic (blue circle).
This created a lot of space (red circle) for Dinamo midfielders to run into and exploit. This particular play led to a very good attempt by Lovro Majer, which skimmed past the post.
This also played a part in Orsic's stunning opening goal, which is displayed in Image G. Aurier (red circle) tried to tackle Orsic very high up the pitch, but failed to do so successfully. The Croatian winger (blue circle) got up quickest and made a run down the Spurs right flank, which was now unguarded.
Tottenham's refusal to tackle at key moments
The situation above was still rescuable. Aurier managed to fall back and Orsic was 1v1 with him. But there was no Spurs player wanting to take the risk of bringing down the electric forward. And as Image G shows, he cut inside and curled one into the far corner. A goal of wonderful quality, but one which could have been prevented.
And in similar vein, this is how Zagreb scored the 3rd and crucial goal. Orsic was again on the run with the ball in the 106th minute, just seconds after the final half had started. And he was allowed a clear passage to goal, with a bunch of Spurs players just being spectators as he let his shot fly.
This is clear in Image H and Image I, where Orsic (blue circle) is seen free while the Spurs players are just watching him run past them. One intentional foul could have prevented an embarrassment for the London club, but it never came.
Zagreb wanted it more
Psychology plays an important part in any sport. And it did so here as well. Out of the two sides, it was clear that Zagreb wanted it more. Spurs seemed like they were either too confident of seeing the tie out with a 2-0 lead at home, or like the competition did not matter to them.
This is not just something that we are saying by ourselves, but it is what Jose Mourinho also concluded once the final whistle was gone. (h/t Mirror)
"They left everything there, they left sweat, they left energy, they left blood, at the end of the game they left even tears of happiness. Very humble, very committed and I have to praise them. On the other side, my team, and I repeat, my team, I am there, that didn't look like they were playing an important match."
This is an attitude that Mourinho said that he doesn't expect from his players, because the fans, and he himself, comes to expect more from the team.
The Portuguese manager insisted that he had clarified before the match about the dangers of getting caught flat-footed. But Spurs players apparently didn't pay heed and had to pay the ultimate price.
"Before the game I told the players the risks of a bad attitude. At half-time, even at 0-0, I told the players the risk of playing the way we were playing. And it happened, because I believe the players only realised the game was at risk when they scored the second goal and it went to extra-time."
The attack
Spurs had more possession and saw more of the ball, and that, by a big margin too (53% to Zagreb's 47%). But the Croatians were more lethal with the ball and were concentrated on attacking more. This is why (as shown in Image J), they had more shots at goal, equal shots on target, and more goals.
Moreover, they won more corners, committed more fouls (a sign of aggression), and in short, took the game right to their opponents.
Man of the Match performance from Mislav Orsic
Talking about attack, one man trumped everyone. Orsic had the most shots attempted, most shots on target, and of course, the most goals, as he scored a hat-trick. We saw above how he slotted as a left-back and as a left-midfielder. That paid dividends as he also made the most number of tackles on the pitch.
And apart from the two roles mentioned above, he was also roaming freely on the pitch whenever needed. This created immense confusion in the Spurs backline because he went undetected at times, most notably for the 2nd goal of the game.
The 28-year-old Orsic (blue circle), as shown in Image K, runs inside the box undetected. Even if he was detected, no one bothered to pick him up as he ran inside the box to finish a low cross from 6 yards out. 2-2 on aggregate in the 82nd minute, and the rest is history.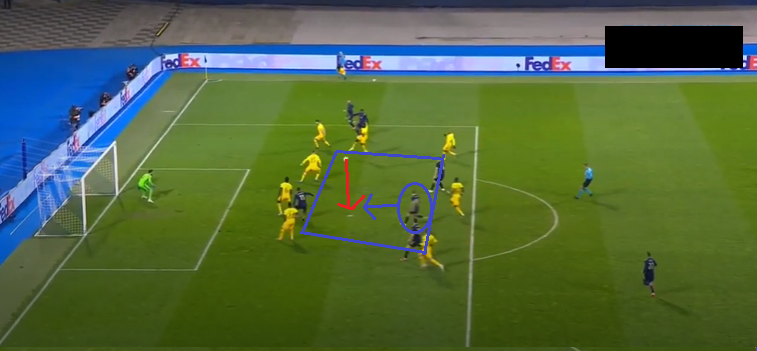 As compared to him, the Spurs team flopped in the sense that no one in their starting XI, apart from Harry Kane, had any shot on target. This unfortunate stat is reflected in Image L.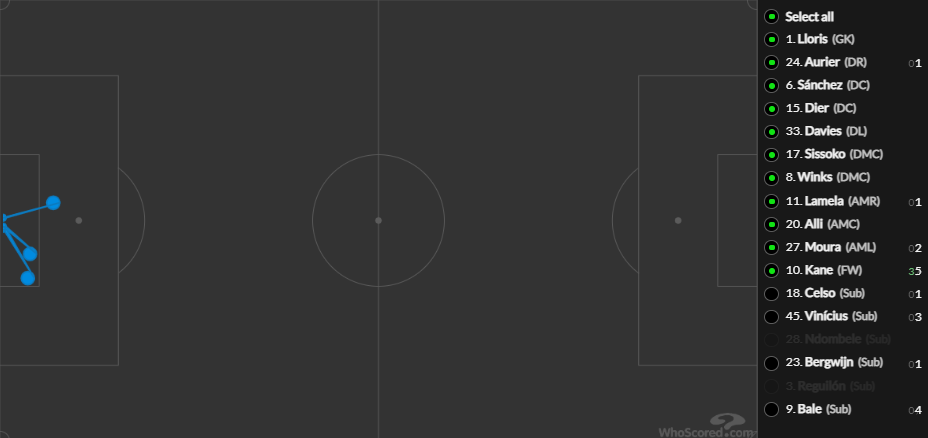 Verdict
Zagreb deserved the win as they put in a complete performance even with a new manager in charge of the club. The side knew that they had to limit Spurs from scoring.
The North London side were wasteful themselves, but Zagreb did the hard part of defending and then struck Spurs twice. Tottenham's shoulders started to drop after the hour mark.
Not just attack, Zagreb defended too. After going level on aggregate, they committed men in defence. This is evident in Image M, where Spurs players are nearly suffocated with the lack of space in the box.
And last but not the least, a complete performance from Mislav Orsic. If there was ever a perfect performance from a football player, this was it.