Akira Tozawa is a Japanese professional wrestler Here is everything you need to know about Akira Tozawa, including his net worth, personal life and more
Tozawa is a former WWE Cruiserweight champion and WWE 24/7 Champion. Let us look at this 16-times 24/7 Champion's net worth, career, records, and much more. 
Akira Tozawa Facts 
| | |
| --- | --- |
| Birth Place | Nishinomiya, Hyogo, Japan |
| Father's Name | NA  |
| Mother's Name | NA |
| Star Sign | Cancer  |
| Net Worth (2023) | $ 1.5 million |
| Age | 37 |
| Date of Birth | July 22, 1985  |
| High School | NA |
| Nationality | Japan |
| Wrestling Debut | 2005 |
| WWE Debut | 2016 |
| Finisher | Shining Wizard Bridging Snap German Suplex Diving Senton |
| Spouse | Not Available  |
| Children | NA |
| Nickname | Big Over, Sun of the Ring, The Stamina Monster  |
| Social Media | Instagram  |
Akira Tozawa Net Worth and Salary
Akira Tozawa has a net worth of approximately $1.5 million and makes around $200,000 in salary annually from WWE NXT and other wrestling pay-per-views. He also earns from endorsements and public appearances. 
Akira Tozawa Height and Body Measurements 
Tozawa was born on July 22, 1985, making him 38 years old in 2023. His height is listed as 5 feet 8 inches (173 cm) and his weight is listed as 157 pounds (71 kg).
Akira Tozawa Career 
Akira Tozawa is a Japanese professional wrestler. He is currently signed to WWE, where he performs on the Raw brand. He is a former 16-times WWE 24/7 Champion. He is also known for his year-long excursion to the United States, during which he performed for promotions such as Chikara, Dragon Gate USA, and Pro Wrestling Guerrilla.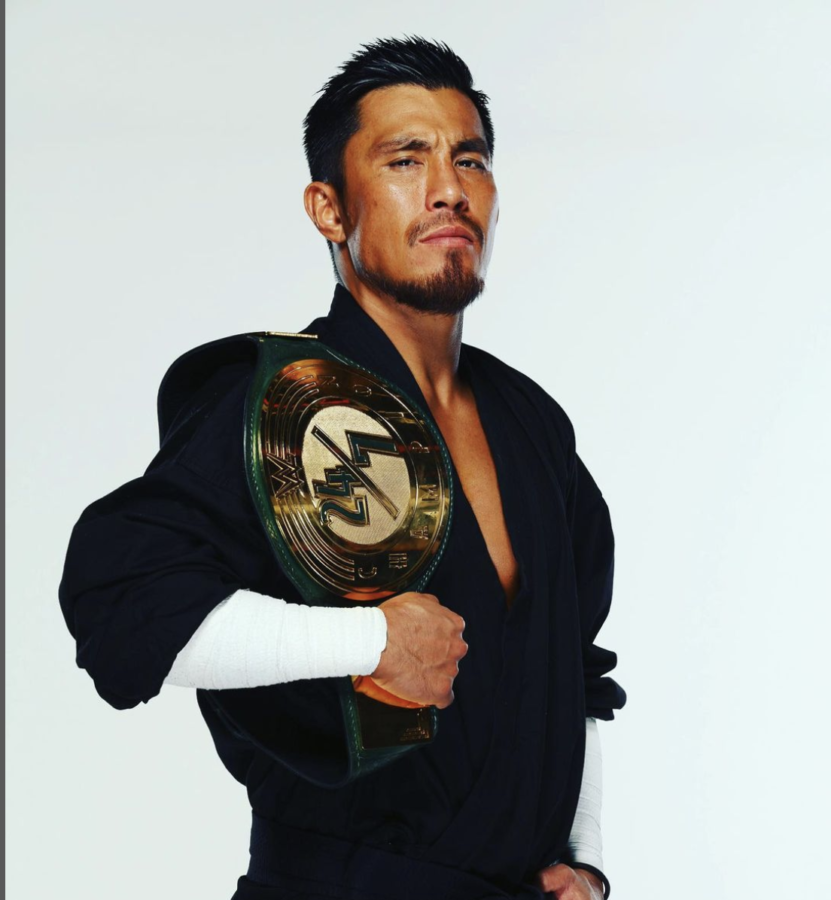 Akira Tozawa was the third graduate of the Dragon Gate dojo to debut. However, after losing all 10 matches in his trial series, he was sent back to the dojo. But later on, made a comeback and formed a stable called Tozawa-juku during the Brave Gate League.
He and fellow wrestler Yuki Ono formed the Metabolic Brothers tag team within Tozawa-juku, but injuries prevented them from achieving significant success. On July 11, 2008, Tozawa went on a diet after announcing it on a show and challenged Open the Triangle Gate Champions to a title match against him, Iwasa, and Arai. In May 2010, he embarked on an extended tour of the United States, leaving Japan behind.
Akira Tozawa joined Kamikaze USA in May 2010 and made his debut for Dragon Gate USA, Pro Wrestling Guerrilla (PWG), and Chikara's Young Lions Cup VIII. He had a successful run in PWG, defeating Scott Lost and Chris Sabin, Tozawa caught the attention of the Dragon Gate office and returned to PWG on December 11, 2010, but lost to Kevin Steen. He had his final weekend with PWG in May 2011, returning in 2015 and 2016, but losing his matches.
In 2011, Akira Tozawa returned to Dragon Gate and joined the stable Blood Warriors. He won several matches and championships, including the 2011 Summer Adventure Tag League and Open the Twin Gate Championship with BxB Hulk. Tozawa won the 2012 Summer Adventure Tag League and opened the Triangle Gate Championship with Hulk and Naoki Tanisaki. 
 In February 2015, Tozawa won his first singles title in Dragon Gate, the Open the Brave Gate Championship, and also won the Open the Owarai Gate Championship in March. He left Dragon Gate in November 2016 to work for WWE, losing his farewell match.
Tozawa participated in WWE's Cruiserweight Classic tournament in 2016, where he was eliminated in the quarterfinals. He joined WWE's cruiserweight division and later won the Cruiserweight Championship, but lost it to Neville after a short reign.
In 2019, Tozawa qualified for a fatal four-way match for the Cruiserweight Championship but was defeated by Buddy Murphy. He later became the number one contender for the championship but was again defeated by Murphy. Tozawa was drafted to Raw and made his debut on the brand in November, where he was defeated by Murphy again.
In 2020, he participated in the Interim NXT Cruiserweight Championship Tournament, winning two matches but failing to advance to the finals. He won the 24/7 Championship for the second, third, fourth, and fifth time, losing and regaining it multiple times to R-Truth and Reggie.
He briefly held the title after pinning Tamina during their kayfabe wedding ceremony but lost it to Dana Brooke. Tamina filed for divorce, and Tozawa later pinned her to win the title again On May 30, 2022, at Raw during Miz TV.
Tozawa turned face on the November 17th, 2022 episode of Raw after winning a game of cards against Baron Corbin and JBL. He would subsequently return to wearing more traditional ring gear as opposed to his ninja gi.
Akira Tozawa Family and Girlfriend 
Akira was born on July 22, 1985, in Nishinomiya, Hyogo, Japan There is not much information about her parents or siblings. 
Tozawa is a family man. He has been married to his lovely wife for many years now. They got married on 22nd December 2018. However, he has kept things very private and there is not much information about his wife. The couple recently welcomed their newborn baby girl into their family.
Akira posted a picture of his wife and the newborn on his Instagram and revealed the name of the baby "Ten".
FAQs about Akira Tozawa
What is Akira Tozawa's net worth?
Akira Tozawa has a net worth of approximately $1.5 million.
What is the real name of Akira Tozawa?
His real name is Akira Tozawa.
Who is the girlfriend of Akira Tozawa?
Akira is a married man but there is no information about his wife.
What are the measurements of Akira Tozawa?
Height- 5 feet 8 inches (173 cm) Weight-157 pounds (71 kg).

When is the birthday of Akira Tozawa?
Tozawa was born on July 22, 1985
More entertainment news: