On the rise
Jesse Lingard is on the rise at West Ham United ever since he joined the London-based club in January. Manchester United sanctioned a 6-month loan deal that saw the English midfielder leave OId Trafford for the London Stadium on a temporary basis.
Before that, he had played just 3 times for United this season. But he has been a completely different player since donning the West Ham kit. Lingard has 9 goals and 4 assists in his 10 games for the Hammers this season and has either scored or assisted in all but one league game so far. (h/t transfermarkt)
So what is the reason behind this sudden rise? And how is he impacting West Ham United? After all, the 28-year-old has already smashed his own goal-scoring record in the league after just 10 Premier League games at the Hammers.
More game time
It is obvious that if you play more, and in a regular manner, you have more opportunities to score and create for your team. And that has exactly been the case with Jesse Lingard at West Ham so far.
He has started in all but one of the 11 league games for the Hammers since his debut on 3rd February. This is the most number of league games he has started in a season since the end of the 2018/19 campaign.
In fact, he didn't feature for United in the Premier League since the start of this season. So the first thing that has changed for Lingard at London is the ample amount of playing time that he is getting.
The only game he didn't feature in was against the Red Devils, where he was not eligible to play against his parent club. But it is one thing being given the chance, and a whole different ball game making the most of it.
Attacking freedom
Lingard has started 9 out of 10 games for West Ham as an attacking midfielder. So, in simple terms, in 90% of the games he has played, he has featured in his preferred position. As compared to that, he played in that position for United less than 50% of the times in the league last season.
Moreover, Lingard has attacking freedom at West Ham. He does not necessarily have to track back as the double pivot if West Ham's 4-2-3-1 takes care of the opposition counter-attacks and ball-winning duties.
Image A shows Lingard's heatmap from his most recent Premier League match where he played in a very advanced position. It is evident that slowly, he is trusted with West Ham's attacking burden and is not required to fall back and defend.
Creating more chances and scoring more goals is the corollary of attacking freedom being given. And that has worked a treat in the case of West Ham. So while Tomas Soucek and Declan Rice take care of the dirty work in midfield, Lingard takes on a lot of the attacking responsibility for West Ham.
An example of this comes from the game against Newcastle United on 17th April. In Image B, Lingard (in red circle) is seen far removed from the Hammers' defensive efforts when the Magpies attacked them.
The sharp increase in attacking numbers
So now we have seen that Jesse Lingard is getting into attacking positions a lot this season. Image C is the overall season heatmap of Lingard in the Premier League so far this campaign. And it is evident that he undertakes a very attacking role down the left-hand side, with a lot of action also coming in and around the box.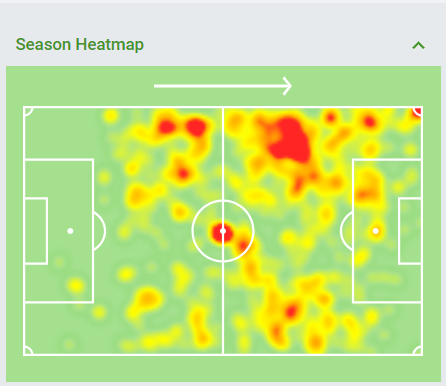 This has led to some amazing attacking numbers for Lingard. Image D also goes on to show that Lingard is indeed improving his Premier League attacking statistics at West Ham United.
As compared to last season at Manchester United, Lingard has close to 5 times more shots per game and a vastly better scoring accuracy. If you take more shots, you have the chance to score more goals.
Now let us look at what he is doing with the chances he is getting at West Ham. Long story short, he is finishing them with greater accuracy than he did last season in the league at United. Image E highlights in detail how lethal Lingard has been, especially with chances inside the box. It seems like the England international has his finishing boots back on.
Self-confidence and the trust of his manager
It is important for a player to believe that his manager trusts his abilities. This has a major impact on their self-confidence, where they can strut their stuff and bring out their best versions. And this is what has happened with Jesse Lingard at the London Stadium.
In David Moyes, he has found a manager who is really backing him with complete trust and understands how he has to be used on the pitch. Moyes, even before Lingard kicked a ball at West Ham, said the following words about the midfielder when the club signed him:
"I've seen him play as a young boy when he was still a wide player on the right, and I've seen him play off the left. He's played for England as a number 10, he's played for England as a number eight, and I actually think if we needed him as a false nine, he could do that as well.

We're bringing in that versatility, I've wanted to try to get an energetic team at the moment and Jesse has been known for his work rate and effort, so I think he'll fit in nicely with what we've got."
On top of that, Lingard says he has now started to believe in himself. Speaking to the BBC podcast (h/t football.london) last week, he said:
"It's about being positive in any outcome but still working hard and believing in yourself, that was the main thing, having that belief to get back to where I was a few years ago"
That is what happens when you get a manager that plays you regularly instead of one that threatens to remove you for losing the ball on the pitch once, as Ole Gunnar Solskjaer did with Lingard last year against Manchester City.
That might have been a comment made in the heat of the moment but it came to sum up the collective frustration of the staff and fans towards him. A change of scenery was just what the doctor ordered.
Positive impact on West Ham
Lingard is not just an attacking midfielder but he doubles as a winger down the left-hand side, or makes runs akin to that of a striker, offering West Ham the luxury of having an agile player who can handle a variety of positions in the opposition's final third.
Take Image F and Image G for example. Both situations come from West Ham's 3-2 Premier League win against Wolverhampton Wanderers this year. In Image F, Lingard (red circle) made a solo run straight down the middle to score the first goal for his team.
And in the next image, he is seen playing as a left-winger. His wing-play resulted in a delicious ball for Michail Antonio.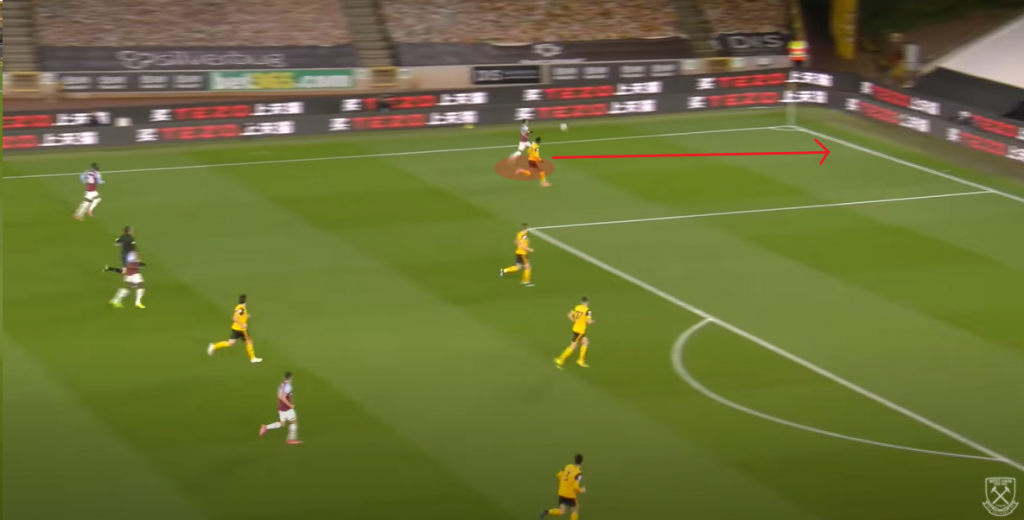 Coming to raw statistics, West Ham are flying with Lingard in their team. They now average 2.2 points per game since his debut, which is way more than the 1.6 points they averaged before him. Their goals-per-game has risen to 2.2 from 1.4, and they now have a win percentage of 67% compared to the 46% they had before Lingard. (h/t Sky Sports)
Image H displays how he has effortlessly become one of the deadliest players at the club without even having a lot of time to settle in. Since making his Hammers debut, he leads the club statistics of taking the most shots per 90 minutes and has the second-best xG90 (expected goals per 90 minutes) and xG90+xA90 (expected goals + assists per 90 minutes).
Just how good is that for making an impact? He has single-handedly taken the club to within touching distance of a top-4 finish in the Premier League this season. Jesse Lingard is their main man, and the man who the opposition should watch out for whenever they face the Hammers next.
Verdict
Lingard is thriving at West Ham and it is no surprise that West Ham are ready to do everything they can to make a deal for him permanent once this season ends. His recent run of form even saw him get the long-awaited call-up to Gareth Southgate's English national team.
And he really looks like a player who should, and could realistically make the Three Lions squad in the UEFA European Championship in the summer. As for United, they would surely be eager to have him back at the club. And if not that, the club would hope that his loan spell has driven his transfer value up in the market.
From the perspective of a neutral fan, it seems Lingard is best suited to a club like West Ham. A club that has quality players around him and where there are not too many eyes on Lingard like there were during his time at Old Trafford. It still remains to be seen what happens with his future, but his immediate concern would be to keep replicating his form and carry West Ham to a top-4 finish at the end of this season.