As Sergio Aguero departs Manchester City, here's a look at his footballing journey so far
Sergio Aguero has left Manchester City to join Barcelona. The Argentine striker was in the last few days of his City deal and has now joined the La Liga giants as a free agent.
Aguero has become a name synonymous with the Premier League in the last decade. He reached the greatest heights of his footballing career on the blue side of Manchester and here, we look at the glittering moments of the career of one of the greatest strikers the Premier League has seen.
The beginnings
Aguero joined Buenos Aires-based club Independiente at the age of 9 and started to make a serious impression in Argentina. When he made his debut for the Argentine side at the age of 15 in 2003, he broke the record for the youngest debutant in the league – a record once held by Diego Maradona. (h/t BBC)
There, he managed 18 goals in 38 games. The hype was starting to build around the teenager as he also won the U-20 World Cup twice with Argentina (2005, 2007). It was during this time that he was snapped by Atletico Madrid for a then club-record fee of £20million. This was just the beginning.
In his first season, Aguero was used by manager Javier Aguirre as a supporting centre-forward playing just behind another prodigal forward, Fernando Torres, in a 4-4-2. By the next season, in 2007, Torres had gone but Aguero played as a second striker with partner Diego Forlan in the same system.
This system continued for the entirety of his career at Atletico, where he played in a two-striker formation in a 4-4-2, rarely ever playing solely up front even under Quique Sanchez Flores.
He racked up a humongous tally of 100 goals and 46 assists in 230 appearances for the club, with an average of a goal every 172 minutes. A big move was bound to come. (h/t transfermarkt)
His peak years
And so it did. Aguero caught the eye of Roberto Mancini and the 23-year-old striker made the journey from Madrid to Manchester in the summer of 2011 for a £35million fee. What happened next would change the course of Manchester City's history. In his debut season in England, it seemed Mancini did not have an idea of which position he wanted to play Aguero in.
This was probably because of the level of talent at the club already. Edin Dzeko and Carlos Tevez were established strikers at the club and the Italian manager had a thing for playing the 4-3-3 or 4-2-3-1 formation – basically a system with one man up top. So Aguero had to adjust.
The 2010 UEFA Europa League and 2011 UEFA Super Cup winner (both with Atletico) Sergio Aguero was then challenged with playing in multiple roles – as a left-winger, a right-winger, a second striker, or as a centre forward. And needless to say, he excelled.
The Argentine came away with 30 goals and 12 assists in his first season in England and scored the winning goal in an enthralling 3-2 win against QPR on the final day of the season to land Manchester City's first-ever Premier League title since rebranding.
Despite his heroics, the struggle to cement Aguero in one position continued next season, with City having a plethora of attackers in their team. The Argentine's 'stop-start surge of pace' was something that was utilized by City on the wings and behind other strikers who played as the true No.9. By his standards, Aguero had an average season considering he made just 22 starts in the league.
But things changed the very next year. Aguero was now utilized as a central striker and played in a partnership with players like Alvaro Negredo and Edin Dzeko – players with a big frame. Despite his injury struggles, he scored 28 times and assisted 14 goals in the 2013-14 Premier League winning season under Manuel Pellegrini, who had adopted a two-striker system like Mancini.
City would not win the Premier League for the next three seasons but it was not because of Aguero – the striker kept up his scoring rate and scored an astounding 94 goals in those three campaigns in all competitions, cementing himself as one of the best strikers in the world.
It was during this time that Pep Guardiola took over in the summer of 2016 and transformed the team, doing away with Mancini and Pellegrini's system and instilling a new 4-3-3 system with Aguero as the sole striker.
His last few years at City
After a few seasons under Guardiola, Aguero was the established No.9 in the team. The attacking system revolved around him and he was not letting his team down. In 2018 and 2019, City won back-to-back Premier League titles for the first time in their history, and this marked the first time Aguero made the PFA Team of the Year as well (2018, 2019), highlighting his major contribution in the wins.
Aguero, who was then 31 by the start of the 2019/20 season, started seeing less and less game time, mainly because of injuries. One word that has separated Aguero from reaching his astronomical potential, it's 'injury'.
He has achieved almost everything there is to achieve, but it still could have been way more if he kept fit. He only started a total of 25 league games in the 2019/20 and 2020/21 seasons.
Aguero missed 106 games during his 10 years at City (10.6 games missed per season) due to injuries and was having fitness issues almost every season. That is something that can be attributed to him starting his playing career so early and defenders targeting his small frame more. His dribbling ability and small stature attracted a lot of tackles, something which he himself spoke about as a 20-year-old in this interview with BBC.
"This is a risk and a fear [injuries] that most professional athletes try to avoid but I try not to think about it too much. Of course, a striker is more vulnerable to getting hurt but I like to think that the defenders never attack with bad intention. I never try to think of injuries during a game because that would hold me back from attacking."
"I try to anticipate challenges in order to dodge players or at least manage to get fouled in a way that isn't dangerous to my physical condition."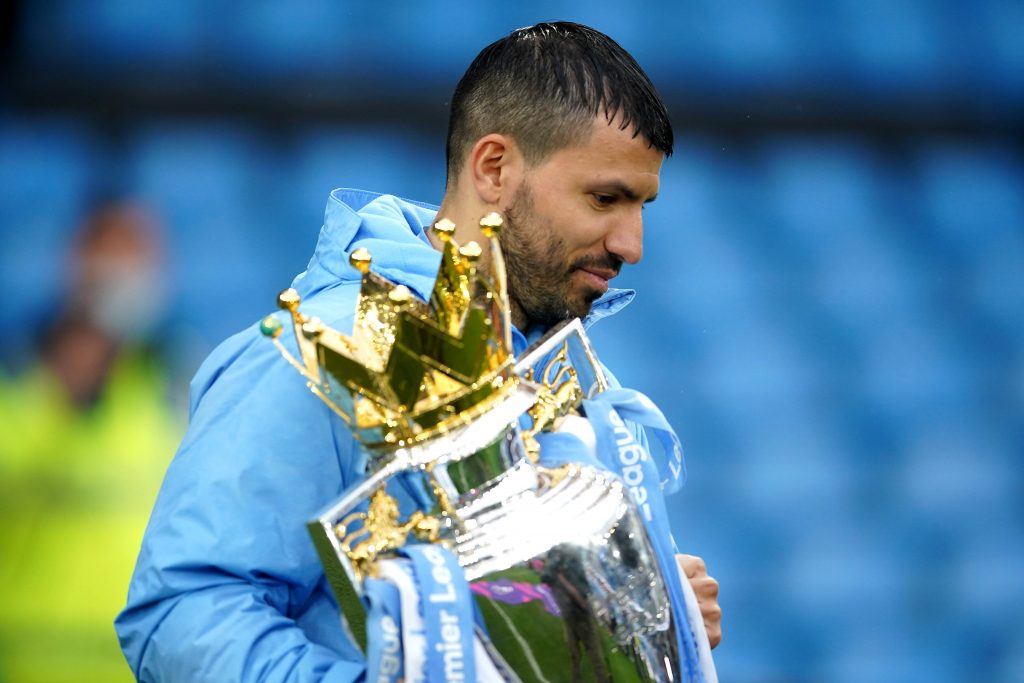 Verdict
Aguero has now called it a day with 5 League trophies at Manchester City, 1x Premier League Golden Boot (2015, 26 goals), 6 League Cup titles and 1 FA Cup trophy. (h/t transfermarkt)
He is also the club's all-time record goalscorer with 260 goals to his name. With his two goals against Everton on the last day of the 2020/21 season, he also overtook Wayne Rooney as the player with the most Premier League goals for one club (184).
Back in 2014, he said that he will stay at Manchester City until he wins the Champions League. This is the only jewel missing from the crown of the 2014 FIFA World Cup finalist with Argentina.
City started with a number of players, such as Phil Foden, Kevin de Bruyne, or Gabriel Jesus as strikers this season as Aguero lost his place due to injuries and fitness. This is why their top two goalscorers this season are midfielders. But as City look to adapt without him, he should look to adapt without them too.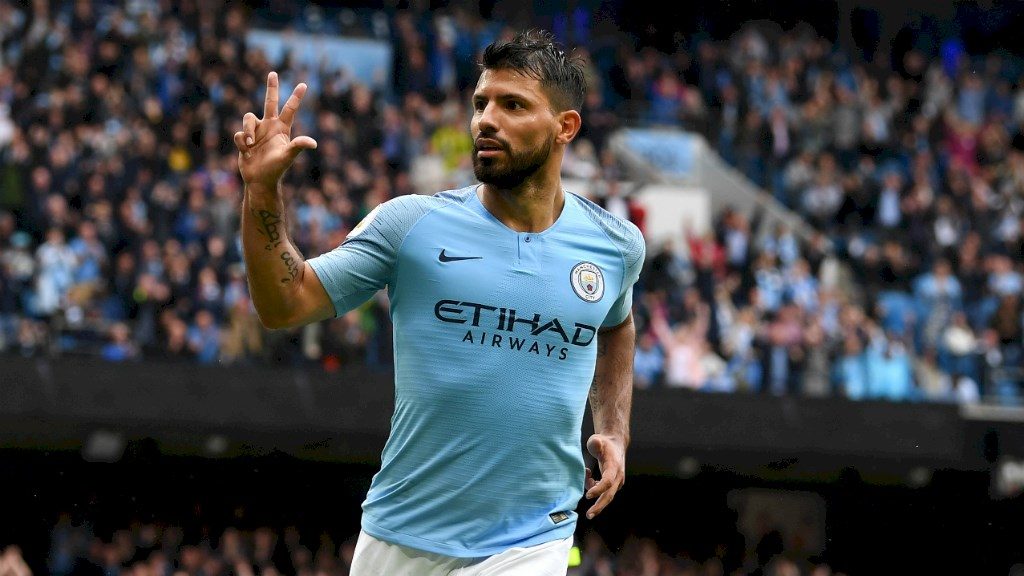 32 is not the age for any striker to call it a day – just see Robert Lewandowski and Luis Suarez this season. Injuries have taken their toll on Aguero but those who watch him can tell that he is a big threat up front.
He has now moved to Barcelona and we can expect to see Aguero add more silverware to his already loaded trophy cabinet.