At £40m, this young PL star would be a useful signing for Leicester next season
Leicester City want Tammy Abraham
According to Leicester Live, Tammy Abraham is one of the many names linked to Leicester City recently. The Chelsea striker has come through the Blues' academy and impressed at the big stage with the senior team over the past couple of seasons. And now it seems like the Foxes have their eyes set on the English international.
Abraham was not included in the matchday squads of Chelsea's two cup finals this season – the FA Cup and the UEFA Champions League. It is evident that he would get more playing time at Leicester. But it remains to be seen if such a move actually transpires. If it does happen, Leicester City would be making the right move. Let us find out why.
Tammy Abraham is a top striker
Abraham's goal-scoring pedigree can be called underrated. The Chelsea striker was flourishing under Frank Lampard earlier this season, as well as the last. In fact, before Lampard's sacking in January 2021, Abraham had 11 goals and 6 assists in all competitions for the Blues.
That was a continuation of the 18 goals and 6 assists he managed for Chelsea in the 2019/20 season under the Englishman. Of course, after the appointment of Thomas Tuchel, Abraham was pushed way down the pecking order. But that shouldn't undermine the striker's goal-scoring ability at such a young age for a top club like Chelsea.
Tammy Abraham will be a sensible purchase
Apart from the goals that he would bring to the King Power Stadium, Leicester could even have the next Didier Drogba on their hands. And this is not just us saying that; ex-Tottenham Hotspur and Manchester United player Garth Crooks wrote in his BBC column (h/t football.london) how Abraham was leading the line similar to Drogba during his Chelsea days.
Adding to that in an interview with BT Sport (h/t The Express), a Premier League legend in Rio Ferdinand also compared Abraham to Drogba after his stellar Champions League against Lille in the 2019/20 season. Also, he is still just 23 years old and has a long way to go before reaching his full potential.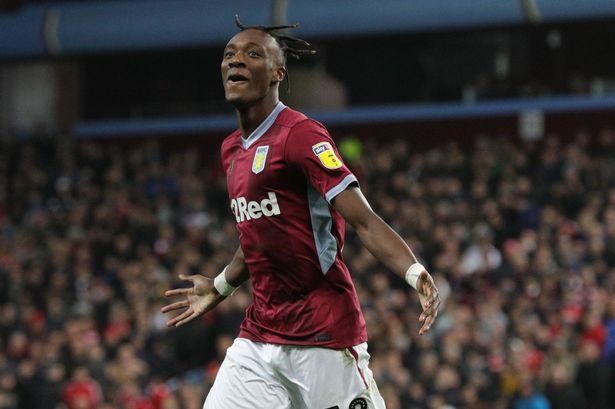 When these things are considered, the £40million price tag placed on him by the Blues does not seem like a ridiculous demand at all. While Brendan Rodgers may want to drive that price down, it still comes across as a reasonable figure for a Premier League striker who has proved his worth at a club like Chelsea.
One for now and the future
There is no doubt that Brendan Rodgers was warming up to the idea of playing two strikers up top by the end of this season. Kelechi Iheanacho and Jamie Vardy featured prominently but the two remain as the only recognized No.9s at the club. And a team like the Foxes need depth up front if they are to target the top-4 next season again.
Read More:
Iheanacho had a great season and Vardy was impressive too, but the latter cannot keep playing forever. He is 34 years old now and the Foxes must think of a long-term replacement for him, which they would get in Abraham, who is 11 years younger.