Charles Oliveira joined a glorious list featuring Khabib Nurmagomedov, Conor McGregor and others as he became the 11th lightweight champion
Oliveira switched on like a hotspot. He was down and out in the first round. In fact he was almost knocked out by Michael Chandler's flurry of bombs midway through round 1.
But he came back from God-knows-where to beat 'Iron Mike' with his own fists of fury, just 19 seconds into the second round.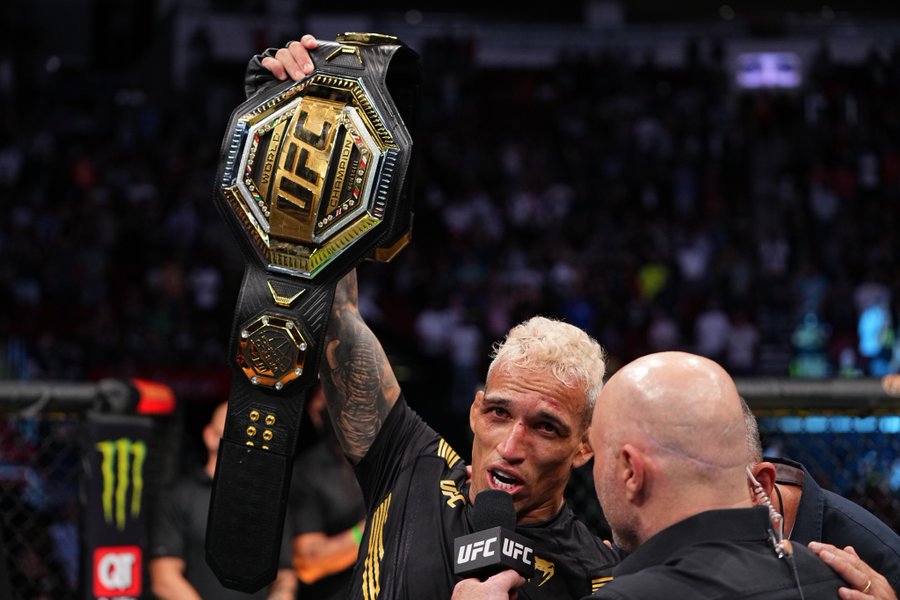 With that win, Oliveira became the 11th lightweight champion, and the first Brazilian to win it since Rafael Dos Anjos in 2015. And what's more? He joined the lightweight glitterati featuring Khabib Nurmagomedov, Conor McGregor, Anthony Pettis and others.
At a post-fight interview with Brett Okamoto of ESPN, Oliveira was asked if he could go on to do something spectacular, which might probably entice even Khabib Nurmagomedov to come back.
Oliveira had a simple answer to that, he said:
"Everybody talks about Khabib. He is a great champion. 29 fights, never lost. But now it's a new era. The Charles Oliveira era."
Charles Oliveira breaks long-standing Michael Bisping record after UFC 262 win
Oliveira broke a long-standing UFC record that belonged to UFC Hall of Famer Michael Bisping for quite a long time.
He became the fighter needing the most fights to claim a title in the UFC. He needed 28. Michael Bisping needed 26, and he achieved it when he famously knocked out Luke Rockhold at UFC 199.
Oliveira is expected to face the winner of, Dustin Poirier and Conor McGregor at UFC 264.
More UFC news
Follow our dedicated UFC page for instant UFC news and updates