Michael Chandler is a top-ranked lightweight in the UFC, and here is all about his net worth, salary, MMA record, endorsements and more
Michael Chandler Facts
| | |
| --- | --- |
| Birth Place | Missouri, America |
| Father's Name | Michael Chandler Sr. |
| Mother's Name | Betty Chandler |
| Star Sign | Taurus |
| Net Worth (2021) | $2 million |
| Last Fight Earnings | $253,500 |
| Age | 35 |
| Date of Birth | April 24, 1986 |
| Education | University of Missouri |
| Nationality | American |
| MMA Debut | August 8, 2009 |
| MMA Record | 22-6 |
| Divisions | Welterweight (2009-2010), Lightweight (2011-2021) |
| Achievements | Three-time Bellator Lightweight Champion |
| Wife | Brie Willett |
| Children | Hap Whitaker (adopted) |
| Endorsements | Coin Lion Cryptocurrency, Dymatize Protein |
| Social Media | Instagram, Twitter |
Michael Chandler popularly known as 'Iron Mike', was born on the 6th of January, 1986 in Missouri. Competing in collegiate wrestling during his time at the University of Missouri, he earned NCAA Division I All-American honours.
An impressive football and wrestling career in his early days spurred him on to take up Mixed Martial Arts.
He made his MMA debut on August 8, 2009, going on to become a three-time Bellator Lightweight champion. Chandler currently plies his trade in the UFC's lightweight division.
Net Worth and Payouts
Michael Chandler has an impressive net worth of around $2million, earned entirely from his fighting career. Since he was plying his trade in the Bellator, earnings and fight purse are not much available in the web.
However, he earned a whopping $253,500 for his win over Dan Hooker at UFC 257, on his debut. The previous highest fight purse of Chandler was at Bellator 106 when he lost to Eddie Alvarez via. split decision. He took home a massive $95,000 that day.
MMA and UFC Record
Chandler boasts a formidable MMA record. He has 22 wins and 6 losses to his name. 'Iron Mike' made his MMA debut as a welterweight, in August 2009 at First Blood OFC. He immediately moved to the Strikeforce following his victory on debut.
Following back-to-back victories at Strikeforce, Chandler moved to Bellator, where he began facing some of the world's best. In his eighth fight, he took on Eddie Alvarez and beat him via. submission, to win the Bellator Lightweight Championship.
Alvarez would then go on to inflict Chandler's first ever MMA defeat, winning via. split decision at Bellator 106 in November 2013.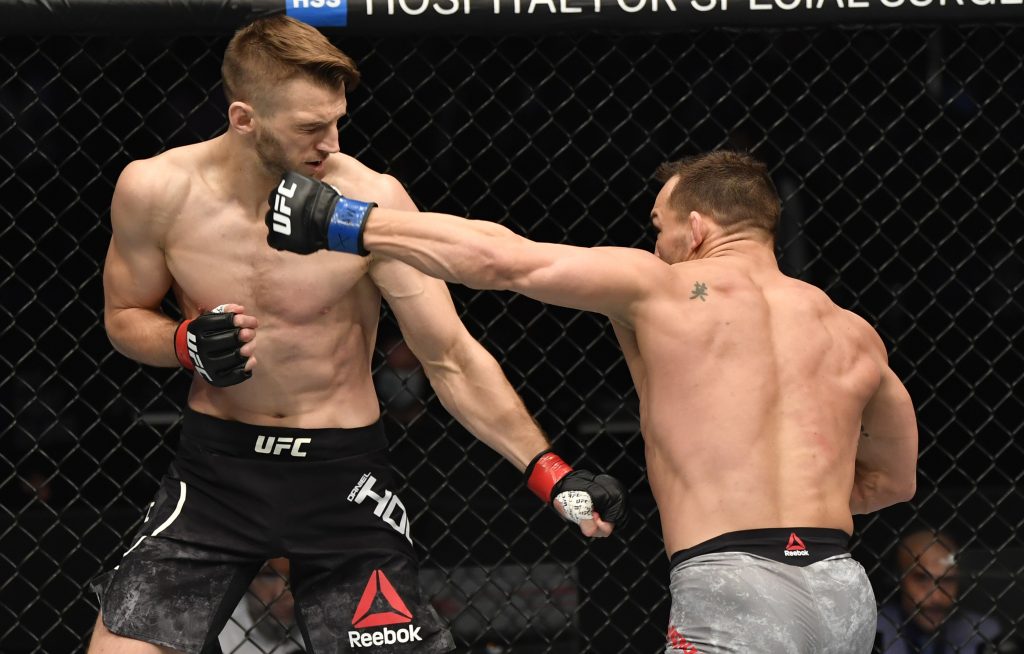 Chandler then began a rivalry with Will Brooks. The pair fought in back-to-back fights, with Chandler unable to get past Brooks on both occasions. He lost the first won via. a narrow split decision, but was comprehensively beaten in the next – via. TKO.
'Iron Mike' then got back on form, winning his next four fights, which also saw him win the lightweight title for the second time, against Patricky Freire.
He then lost his title to Brent Primus at Bellator NYC in June 2017, only to reclaim it in the rematch 18 months later. Chandler then took on Patricio Freire and lost his title once again.
Almost a year and a half later, he joined the UFC, and is already 1-0 up in the world's largest MMA promotion, after beating Dan Hooker at UFC 257.
However, that became 1-1 after losing his next fight at UFC 262.
Wife, Family and Endorsements
Michael Chandler is a family man. He is married to Brie Willett since 2014. Chandler began dating her in 2013, after emailing for almost 2 years. The pair adopted a son named Hap Whitaker in 2018.
Chandler was born to Michael Chandler Sr. and Betty Chandler in Missouri. He is the second of four children. Not much is known about his family, otherwise.
As far as his endorsements are concerned, Chandler landed a cryptocurrency endorsement deal from a company called CoinLion. He is also endorsed by Whey Protein brand Dymatize Protein.
Next Fight
Michael Chandler took on Charles Oliveira on the 15th of May at UFC 262. The fight was for the vacant lightweight title. Chandler could have found himself as the lightweight champion in only his second fight in the UFC.
His opponent, Oliveira is no less, however; the Brazilian is on a hot win streak of 8 wins, and it looks like he just wouldn't stop. 'Olives' last victory over Tony Ferguson is something Chandler would have to watch over ad over again, before he takes centerstage at UFC 262.
However, it was not to be for Chandler. He was knocked out in the second round but promised to come back and claim the gold in a year.
More UFC news
Follow our dedicated UFC page for instant UFC news and updates