Beneil Dariush is a veteran UFC lightweight mixed martial artist and here is his net worth, salary, and more
Beneil Dariush Facts
Birth Place
Urmia, Iran
Father's Name
N/A
Mother's Name
Doris Khobier
Star Sign
Taurus
Net Worth (2021)
~$1.5million
Last Fight Earnings
$220,000
Age
32
Date of Birth
May 6, 1989
College
N/A
Nationality
American
MMA Debut
November 20, 2009
MMA Record
21-4-1
Divisions
Lightweight
Achievements
RITC Lightweight Championship (One time),
One successful title defence
Wife
Victoria
Children
Yes, 2
Endorsements
Alienware, Hayabusa MMA, Auto Shopper,
Sevjet (last verified- 2014)
Social Media
Instagram, Twitter
Beneil Dariush was born in Urmia, Iran and shifted to the United States of America at the age of 9, where he had a large extended family. He did not speak English at that time because he was raised on an Iranian farm but picked up on the language quickly.
The Assyrian-American began training in Brazilian jiu-jitsu as an 18-year-old in 2007 and took just 5 years to become a black belt. He also entered MMA a couple of years later and made his professional debut at Respect in the Cage 2 in November 2009.
For the first four and a half years of his career, he was undefeated, with 7 consecutive wins. He won the RITC lightweight championship in January 2013 and went on to defend his belt successfully once after that, before he was called up to the UFC in 2014.
Net Worth and Payouts
As of 2021, Beneil Dariush reportedly has an approximate net worth of $1.5million, which is not bad at all for the career he has had. Almost all of it could be attributed to his exploits inside the UFC ocatagon.
Dariush has also had some pretty big paydays in the promotion. The 32-year-old took home an impressive $220,00 after his last fight against Carlos Diego Ferreira at UFC Fight Night 184, a fight which he won.
He had another big payday at UFC 248 after he beat Drakkar Klose comprehensively via a round 2 knockout, where Dariush earned $200,000 which included fight bonuses, sponsorship money, and win bonus. He reportedly has a $1.3million career earning just with the UFC.
MMA and UFC Record
Dariush has a really solid professional MMA record of 21-4-1 and a UFC record of 14-4-1. He did not lose once during his 6 fights before his UFC debut. His first outing for Dana White's promotion came against Charles Brenneman at UFC Fight Night 35 in January 2014.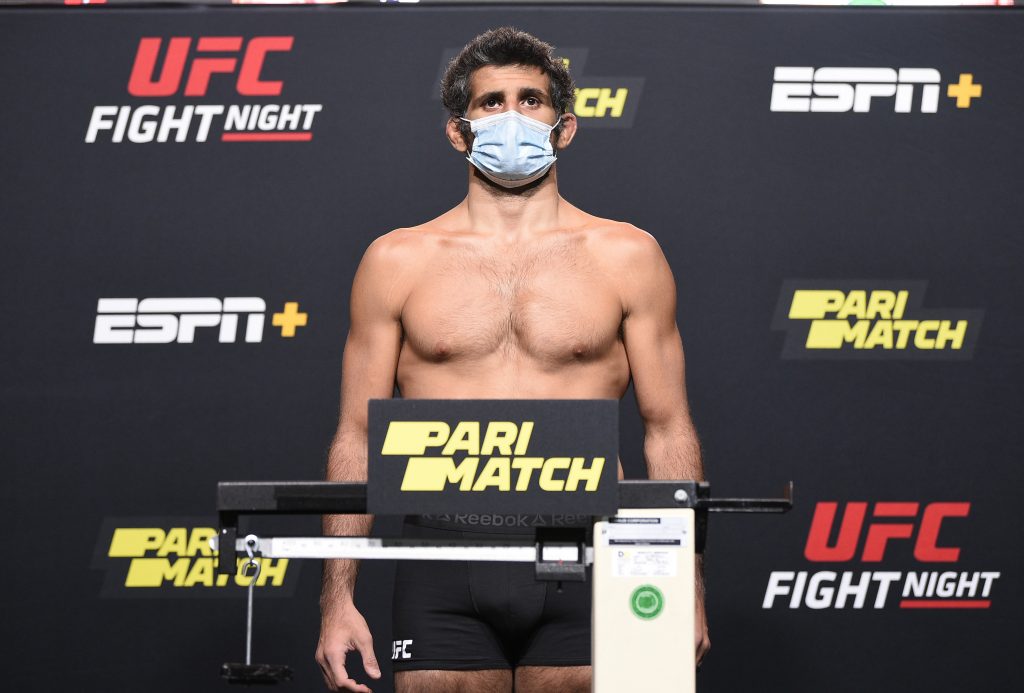 He won via submission but lost his next fight against Ramsey Nijem at UFC Fight Night 39, which was also the first loss of his professional MMA career. His only career draw came against Evan Durham at UFC 2016.
Currently, Dariush is on the up with 7 straight UFC wins, with his last loss coming against Alexander Hernandez at UFC 222.
Wife, Family, Endorsements
'Benny' is married to his wife Victoria, but the date of their wedding is not made public. From Dariush's social media account, it seems that the couple have two young daughters together.
Dariush keeps his family life private despite posting photos with them regularly. The names and age of his children are not know. It is best we respect his privacy because that's how he intends it to be.
As for his endorsements, there is not much available that indicates any major brand sponsoring him. According to a post made a few years back, he is sponsored by Alienware, Hayabusa MMA, Auto Shopper, and Sevjet. He currently trains with Kings MMA.
Next Fight
Dariush's next fight was a big one- actually, it is the biggest of his 12-year MMA career so far. He faces Tony 'El Cucuy' Ferguson in a lightweight bout scheduled for UFC 262 on May 15th, 2021.
Dariush could no longer be ignored by White after his impressive run of wins and the #9 lightweight contender in the promotion now has the chance to really make a mark and push for the top 5 spot in the most loaded weight class in UFC.
Dariush put on a clinic as he dominated El Cucuy with his wrestling and got the win. There is no update on who he fights after this.
More UFC News:
Follow our dedicated UFC page for instant UFC news and updates