Russell Westbrook is one of the best players in NBA and here are his net worth, salary, final records and endorsements
| | |
| --- | --- |
| Birth Place | Long Beach, California |
| Father's Name | Russell Westbrook Jr. |
| Mother's Name | Shannon Westbrook |
| Star Sign | Scorpio |
| College | UCLA |
| Net Worth (2021) | $170 Million |
| Salary (2021) | $41 Million |
| Age | 32 |
| Date of Birth | November 12, 1988 |
| Height (cm) | 191 |
| Weight (kg) | 91 |
| Nationality | American |
| NBA Draft Year | 2008 |
| NBA Draft Pick | 4th overall |
| Playing Career | 2008-present |
| Position | Point Guard |
| Teams | Oklahoma City Thunder (2008-19), Houston Rockets (2019-20), Washington Wizards (2020-present) |
| Achievements | 1x NBA MVP, 9x NBA All-Star, 2x NBA All-Star game MVP |
| Wife/Girlfriend | Nina Westbrook(2015) |
| Children | Noah, Skye and Jordyn |
| Social Media | Instagram, Twitter |
| Endorsements | Jordan, Nike, PepsiCo, Samsung |
Washington Wizards' point guard Russell Westbrook is one of the most athletic players in the NBA. Known for his never-ending gas tank, he has the ability to shift gears whenever required for the majority of his playing time.
Westbrook only joined the Wizards this year, having been a part of Houston Rockets between 2019-2020.
Before that, he was a long-standing player for the Oklahoma City Thunder, with whom he won the MVP in 2017.
Russell Westbrook Stats
Final Appearances: 1
Championship Rings: 0
Season MVP: 1
Finals MVP: Nil
All-Stars MVP: 2
Picked as the 4th overall in the 2008 draft; by back when Oklahoma City Thunder were Seattle Supersonics, Westbrook quickly made a name for himself, as he recorded his first career triple-double the very same year.
He led his team to their first final since the franchise relocated Oklahoma. However they fell at the final hurdle to a soaring Miami Heat led by LeBron James and Dwyane Wade.
Westbrook's best season came in 2016-2017. Westbrook was just scoring triple-doubles for fun. Forty-one games into the season, Westbrook became the latest anyone had averaged a triple-double since Oscar Robertson in 1966–67.
Without even making it to the finals of the 2016-17 season, Westbrook won the Most Valuable Player of the season award. Such was the goodness of his performance that year.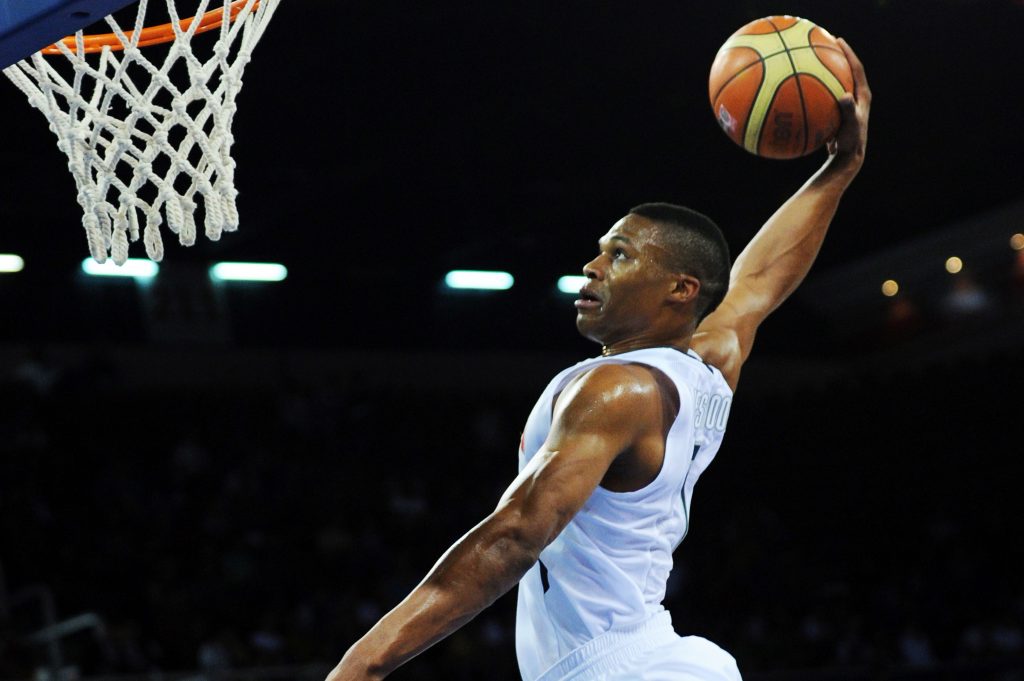 Russell Westbrook Net Worth and Salary
Westbrook has a staggering net worth of $170 million. He is currently number 12 in the Forbes List of the highest paid athletes in the world, for the year 2020.
Westbrook earns a whopping $41 million as his salary. He is also quite involved in Real Estate businesses.
Russell Westbrook Family and Personal Life
The Westbrook family is one of the most popular families in the NBA scene. It comprises of Russell Westbrook's parents Russell Westbrook Jr. and Shannon Westbrook. He has a brother named Raynard.
Westbrook is married to Nina Westbrook, previously known as Nina Earl. She has played college basketball for the UCLA Bruins.
The couple have three children – Noah their eldest son, and twin daughters – Skye and Jordyn.
Russell Westbrook Endorsements
In 2012 October, Westbrook signed with the Jordan Brand on a 5-year deal. And in 2017, he extended it the deal whether signing a 10-year extension.
Besides this, he signed with Kings and Jax Boxer Briefs in November 2013, as he is a man very much into fashion.
Westbrook is also endorsed by Nike, PepsiCo and Samsung. It is reported that his endorsements account to $18 million of his earnings.
More NBA Articles:
Follow our dedicated NBA page for more NBA articles and news updates