Luka Doncic is a rising star and already one of the biggest up and coming names in basketball right now and here is his net worth, salary, final records and more
Luke Doncic Facts
Birth Place
Ljubljana, Slovenia
Father's Name
Sasa Doncic
Mother's Name
Mirjam Poterbin
Star Sign
Pisces
College
Osnovna sola Mirana Jarca / Real Madrid
Net Worth (2021)
$5million
Salary (2021)
$8.1million
Age
22
Date of Birth
February 28, 1999
Height (cm)
201
Weight (kg)
104
Nationality
Slovenian
NBA Draft Year
2018
NBA Draft Pick
3rd Overall
Playing Career
2015- Present
Position
Power Forward / Center
Teams
Real Madrid, Dallas Mavericks
Achievements
2x NBA All-Star, All-NBA First Team 2020,
NBA Rookie of the Year 2019, EuroLeague Champion 2018,
Euro League MVP 2018
Girlfriend
Anamaria Goltes
Children
None
Social Media
Instagram, Twitter
Endorsements
Nike, Air Jordan, BioSteel Sports
Luka Doncic is one of the hottest names in NBA right now. At just 22 years of age, he has taken the league by a storm. Doncic started his professional career by signing with Real Madrid in 2015 where he played in the EuroLeague.
He was the MVP in 2018 and won the EuroLeague in the same year. His exploits in Spain had the big fishes in American circling around him when the 2018 NBA Draft commenced. There, Doncic was the 3rd overall pick for Atalanta Hawks.
However, he was traded to Dallas Mavericks in a draft-day trade which saw Trae Young go the other way. Both of them have had a sparkling career at their respective franchises but Doncic is unarguably the bigger of the two stars when it comes to name, game, and fame.
Luke Doncic Stats
Final Appearances: 0
Championship Rings: 0
Playoff Appearances: 1
NBA All-Star Appearances: 2
Finals MVP: 0
We have to cut Doncic some slack here. The kid is just 22 and for that age, he has one of the most impressive CVs in the sport. Doncic won the EuroLeague in 2018 and was crowned the MVP. In his first season in the NBA, the Slovenian won the Rookie of the Year, amassing 8 triple-doubles.
He became just the 5th player in NBA history to average at least 20 points, 5 rebounds and 5 assists in his rookie year. The next season was the one where he finally made a playoff appearance after an average regular season for the Mavericks where they finished 7th.
Doncic really hit beast mode in game 4 against LA Clippers in their playoffs where he posted 43 points, 17 assists and 13 rebounds. With that, Doncic became the 2nd player in NBA history to record at least 43 points, 17 rebounds, and 13 assists in a game behind Wilt Chamberlain.
The Forward-Guard currently averages 28.5 PPG (points per game), 8.1 RPG (rebounds per game) and 8.9 APG (assists per game). That is certainly impressive for someone who is yet to reach his peak.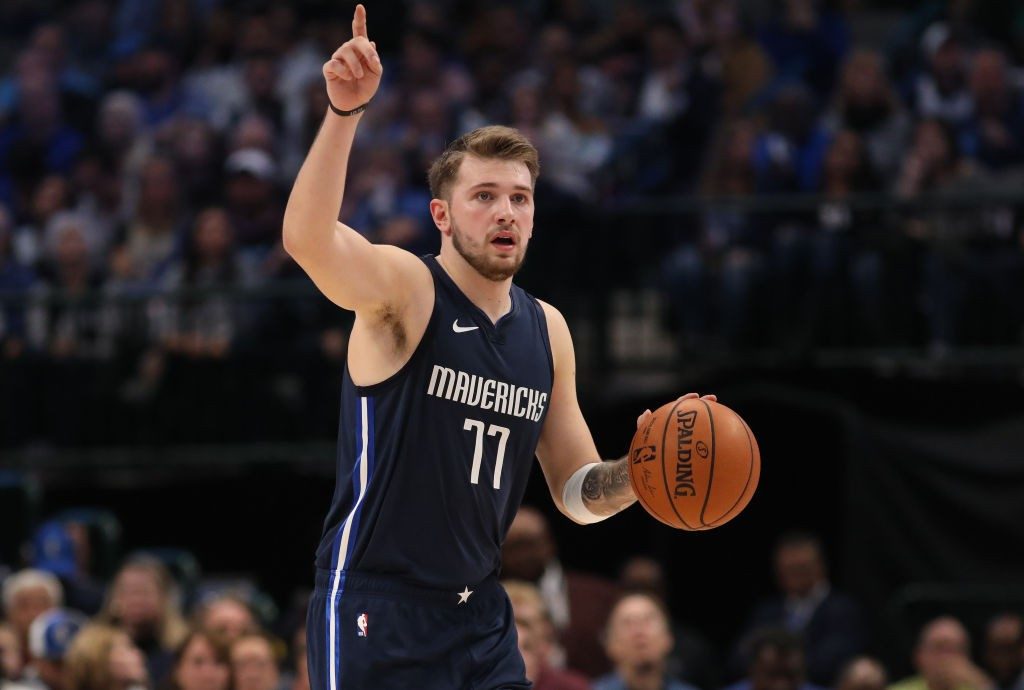 Luka Doncic Net Worth and Salary 2021
As of 2021, Luka Doncic has a net worth of approximately $5million. That is solely down to his time in the NBA but you can expect that number to multiply in the coming years considering he is just getting started.
The Slovenian is currently on his rookie contract with Mavericks which runs until 2022, when he will become a free agent. The contract is worth approximately $32million which sees Doncic have a salary of $8.1million per year just through his contract alone.
You can expect his new contract to be close to the $150million mark because he is one star that the Mavericks cannot afford to let go. Apart from that, he has lucrative deals with Nike and Air Jordan.
Luka Doncic Family, Girlfriend and Personal Life
Doncic was born to Sasa Doncic and Mirjam Poterbin in 1999. His parents divorced in 2008 and his mother was awarded Luka's guardianship. His father is Slovenian of Serbian descent from Kosovo while his mother is a Serbian.
Doncic has been dating his childhood sweetheart, Anamaria Goltes, since 2016. She revealed that the two met on a beach in Croatia as 12-year-olds. The two are yet to tie the know and do not have any children together as of now.
Doncic can speak 4 languages- Slovenian, Serbian, English, Spanish. Doncic seems to be the only child of his parents with no reports of him having a brother or a sister.
Luka Doncic Endorsements
A player of Doncic's stature is bound to have some of the biggest companies behind him. He signed a 2-year-deal with Nike in 2017 when he was at Real Madrid. Then later on, in 2019, it was announced that Doncic secured a sneaker deal with Air Jordan.
He also signed a deal with BioSteel Sports that manufacture fitness food. The financial terms of his Nike or Jordan deals are not out in the open but we can expect it to be pretty big considering it is a multi-year deal.
Luka Doncic Shoes
As mentioned above, Doncic had a sneaker deal with Air Jordan back in December 2019. That means your own line of shoes… how cool. And not just that, but the money is akin to signing a second contract with your NBA team.
As a sneaker free agent, Doncic wore a lot of high-profile Nike shoes such as those in Steph Curry or Kobe Bryant's line. But after his deal, he was headlining the most important Air Jordan series of that time- Air Jordan 35.
More NBA Articles:
Follow our dedicated NBA page for more NBA articles and news updates