Kevin Durant is one of the greatest NBA players of all time and here are his net worth, salary, final records and endorsements
Kevin Durant Facts
| | |
| --- | --- |
| Birth Place | Washington, D. C |
| Father's Name | Wayne Pratt |
| Mother's Name | Wanda Durant |
| Star Sign | Libra |
| Education | National Christian Academy, Oak Hill Academy, Montrose Christian School |
| Net Worth (2021) | $170 Million |
| Salary (2021) | $40 Million |
| Age | 32 |
| Date of Birth | September 29, 1988 |
| Height (cm) | 208 |
| Weight (kg) | 109 |
| Nationality | American |
| NBA Draft Year | 2007 |
| NBA Draft Pick | 2nd overall |
| Playing Career | 2007-present |
| Position | Small Forward |
| Teams | Seattle SuperSonics, Oklahoma City Thunder (2007-16), Golden State Warriors (2016-19), Brooklyn Nets (2019-21) |
| Achievements | NBA Champion(2x), NBA All-Star(11x), NBA MVP(2014), NBA Finals MVP (2x) |
| Wife/Girlfriend | Apryl Jones(Ex), Cassandra Anderson(Ex), Monica Wright(Ex) |
| Children | Nil |
| Social Media | Instagram, Twitter |
| Endorsements | Nike, Panini, Sprint, Google, SkullCandy |
Kevin Durant is one of the modern-days NBA greats. He plays as a small forward for the Brooklyn Nets. The 32-year old was selected by the Seattle SuperSonics (now Oklahoma City Thunder) with the second overall pick in the 2007 NBA draft.
In his very first season he was named the rookie of the year, and there was no looking back from there.
Having featured in 9 long seasons for the Oklahoma City Thunder, KD moved to the Golden State Warriors where he enjoyed phenomenal success, winning the championship twice.
He then made a switch to the Brooklyn Nets in 2019, playing as a small forward.
Kevin Durant Stats
Final Appearances: 4
Championship Rings: 2
Season MVP: 2014
Finals MVP: 2
All-Stars MVP: 2
Kevin Durant's first final appearance came in the year 2012, when he and OKC went up against the dreaded trio of a prime LeBron James, Dwyane Wade and Chris Bosh from Miami Heat. After taking the lead in the series, they lost the next four games, as the Heat took the finals 4-1.
The 2013-14 season was exceptional for Durant as he averaged 35.9 points per game while scoring 30 or more points in 12 straight games. He also went past Michael Jordan's record for consecutive games scoring 25 points or more (41 games). He went on to win the season MVP that year despite the Thunder not making it to the finals.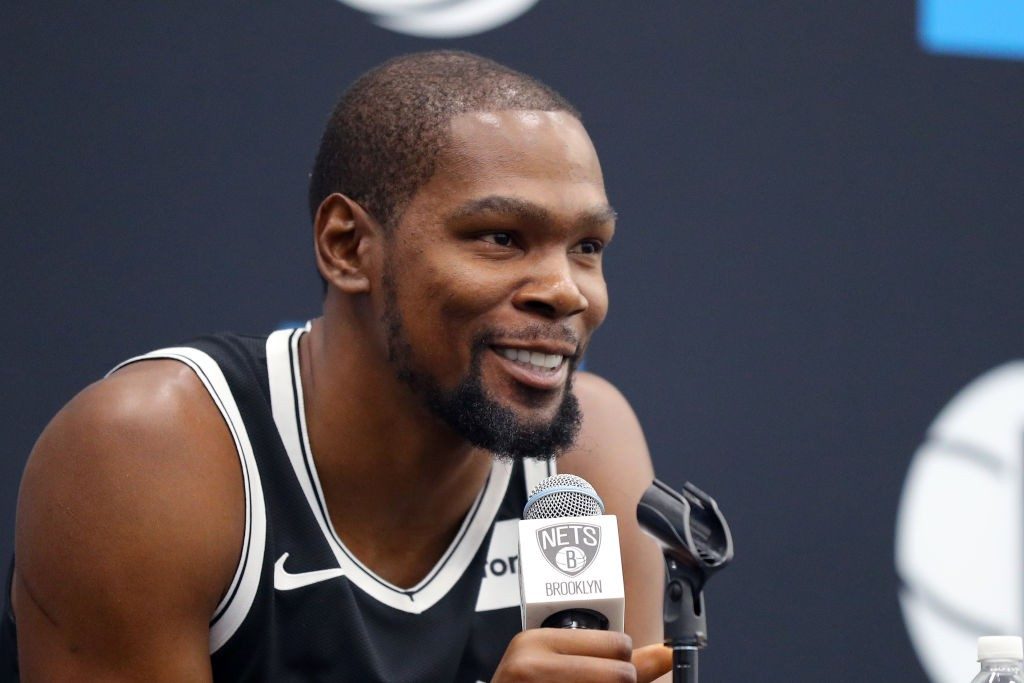 His first season with the Golden State Warriors was a massive hit. The GSW made the finals in his very first year, and they breezed past Cleveland Cavaliers in the finals, 4-1. Durant was named the finals MVP.
The 2018 finals was a repeat of the 2017 finals. This time the Warriors won in four straight games, with Durant once again being named the finals MVP.
Besides this, Durant has also won the All-Star MVP in the year 2012 and 2019.

Kevin Durant Rings
Kevin Durant has two NBA rings to his name. He acquired them both after making the switch to the Golden State Warriors in the year 2016 for the 16-17 season.
Both the years KD was named the finals MVP, as GSW made light work of the Cleveland Cavaliers in the 2017 and 2018 finals.
GSW won 4-1 in 2017 and they steamrolled the Cavaliers in 2018, 4-0.
Kevin Durant Net Worth and Salary
Durant has a massive net worth of $170 million, thanks to his 14-year playing career. KD is ranked a staggering number 7 in the Forbes List of World's Highest-Paid Athletes for the year 2020.
Durant earns a salary of around $40 million a year. He signed with the Brooklyn Nets in 2019 in a sign-and-trade deal.
Kevin Durant Family and Personal Life
Born to Wanda Durant and Wayne Pratt, on September 29, 1988, Kevin Durant saw his father desert their family at a very young age. He was raised by his grandmother. However, when he was 13 his father reentered his life and travelled along with him to various tournaments.
Durant has two brothers Tony and Rayvonne Pratt, and a sister Brianna Pratt.
Durant has had a plethora of girlfriends. He was engaged to WNBA Player Monica Wright in 2013, but then it fell through. KD then dated Cassandra Anderson and Apryl Jones. He is currently single now.

Kevin Durant Endorsements
A large part of Kevin Durant's earnings have been from his endorsements. He signed a 10 year deal with Nike in 2014, a contract worth a whopping $300 million.
KD featured in a commercial for Google in the year 2014. He became the brand ambassador of BBVA bank in 2013 and American Family Insurance in 2015.
Besides these, he also has endorsement deals with Panini, NBA 2K, Skullcandy.
Kevin Durant Shoes
Kevin Durant's Nike Shoes have a separate fanbase. They have been in the market for more than 10 years.
Growing up with very few shoes, and having to wear just a pair of Jordans wherever he went, spurred KD to set up his own signature line.
His signature line is cheaper when compared to those of LeBron James and Kyrie Irving.
Nike recently released the KD 14 signature shoes. Only LeBron James and Michael Jordan have as many signature shoes.
More NBA Articles:
Follow our dedicated NBA page for more NBA articles and news updates