Veteran UFC referee Herb Dean weighed-in on the controversy still looming largely over Petr Yan's DQ vs Aljamain Sterling
The first title bout in the UFC 259 was going smoothly for three rounds until Petr Yan decided to illegally knee a helpless and grounded Aljamain Sterling.
Yan was disqualified and his bantamweight title was handed to Sterling. Sterling thereby became the first fighter in UFC to win a title by disqualification.
Many felt that it was unfair for a title fight to be decided like that. Even Sterling mentioned at the post-fight interview that, he did not deserve to get the belt, that way (although he was later seen celebrating that day).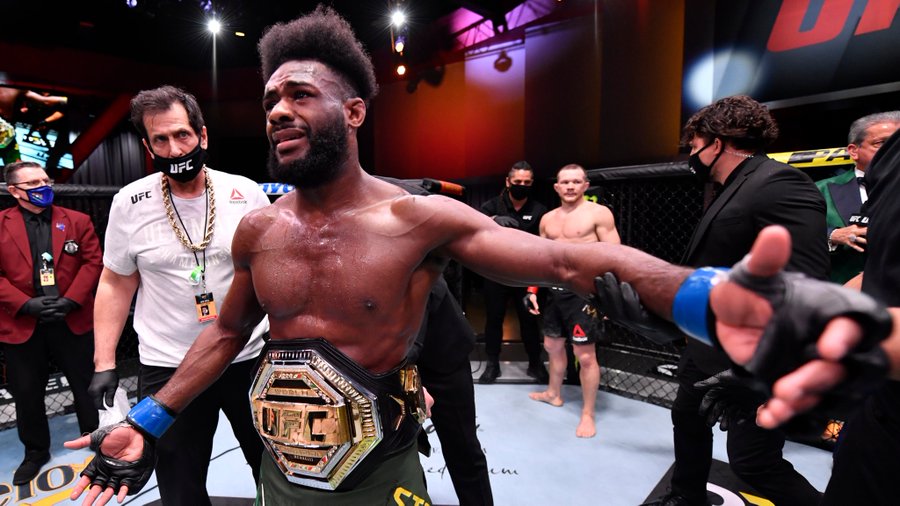 With the controversy surrounding the situation still raging on, veteran UFC referee Herb Dean caught up with Helen Yee to give his insights on 'that' disqualification.
Dean said it was really difficult for a referee to quickly come to a conclusion in such a situation. He went on to say that each individual's interpretation of such incidents would be different and hence wanted more rules to be set up so that the referees do not dilly-dally.
And, just like everybody else, Dean felt it was unfortunate for a championship fight to end like that.
Dean told Helen Yee:
"There is a lot going on with that situation. One is, the way the rules are written, there is a part of it that is an interpretation of the official. But there are somethings in the rules, there is a must and you have to…Every situation is far from black & white. Every time you are in there, you're getting a touch or a different spin on a situation…So, I think we have to set up the rules in such a way that the referees can have more choices. I just think it was an unfortunate way for a championship fight to end."
Aljamain Sterling confused why Yoel Romero vs Anthony Johnson got cancelled
The much awaited Bellator debut of Yoel Romero was cancelled since he failed a medical screening.
'The Soldier of God' was set to take on Anthony 'Rumble' Johnson in the Bellator Light Heavyweight World Grand Prix, on the 7th of May at UFC 258.
A lot of people were confused as to what failing a medical screening meant, and so was Aljamain Sterling.
He tweeted:
Romero will be given time to pass the medical screening again, but he wouldn't be able to compete at UFC 258. He was replaced by Jose Augusto, who will be taking on Anthony Johnson.
More UFC News:
Follow our dedicated UFC page for instant UFC news and updates