Cesaro reacts to horrible SmackDown after seeing Daniel Bryan suffer conchairto
Cesaro tried to save Daniel Bryan from a conchairto but was unable to do the same
This week's WWE SmackDown had a huge main event with Daniel Bryan putting it all on the line.
The former champion took on Roman Reigns and the WWE Universal title was on the line. However, Bryan also put his SmackDown future on the line and if he were to lose, he would have been banished from the brand.
Things didn't work out in his favour as Reigns defeated his rival. However, more was to come as Reigns and Jey Uso decided to destroy Bryan.
The pair set up a conchairto but Cesaro came out to try and save his friend. The Swiss Superman's effort was in vain as he didn't save Bryan from his fate.
Reigns smashed Bryan's head in between two chairs and he left SmackDown not only as the champion but he also sent Cesaro a message.
Bryan is now banished from SmackDown and his future is up in the air. Cesaro, for his part, was left upset at all this and posted a small update on social media.
Cesaro to get his revenge on someone else?
While this was a bit of a blot for Cesaro on Friday, he will have his chance at revenge next week. The Swiss Superman faces Seth Rollins and there is no doubt he will be charged up for this battle.
Cesaro starred at WrestleMania 37 and it will be interesting to see how this clash goes. Rollins has praised Reigns since his return to SmackDown and there could be some shenanigans from the champion.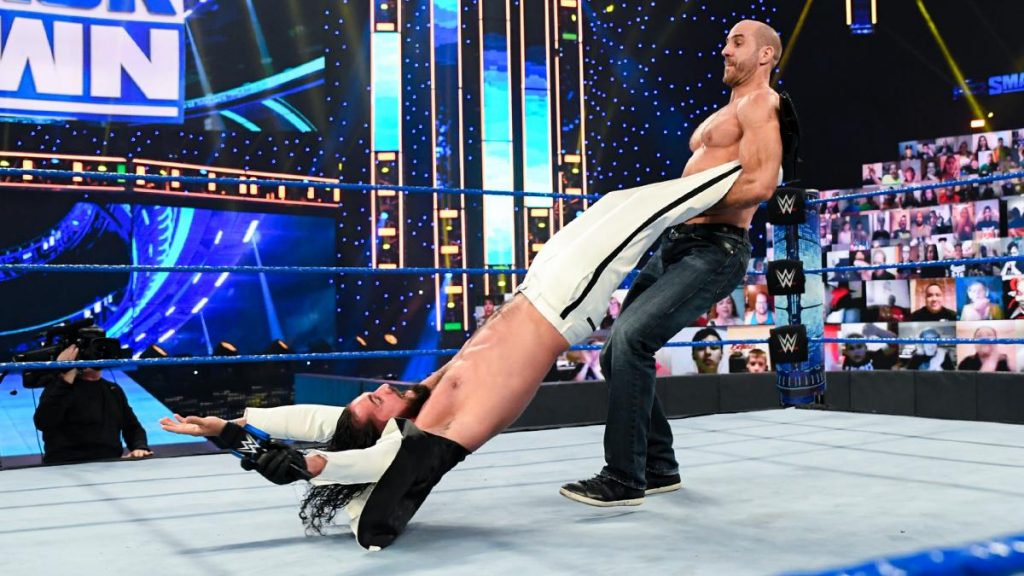 Reigns also needs a new rival given that Bryan has been banished from SmackDown. WrestleMania Backlash is only a couple of weeks or so away and there is no clear challenger for Reigns. Cesaro could step up to be that guy but he first needs to dispatch of Seth Rollins first.
More WWE news
Follow our dedicated WWE page for instant WWE news and updates