Francis Ngannou responded to Tyson Fury calling him out on Twitter for a fight
Francis Ngannou is all the rage in the UFC right now, at least in the heavyweight scenario.
The Cameroonian recently defeated Stipe Miocic at UFC 260 to become the heavyweight champion. And, he hardly had any trouble seeing off one of the greatest heavyweights of all time- Miocic.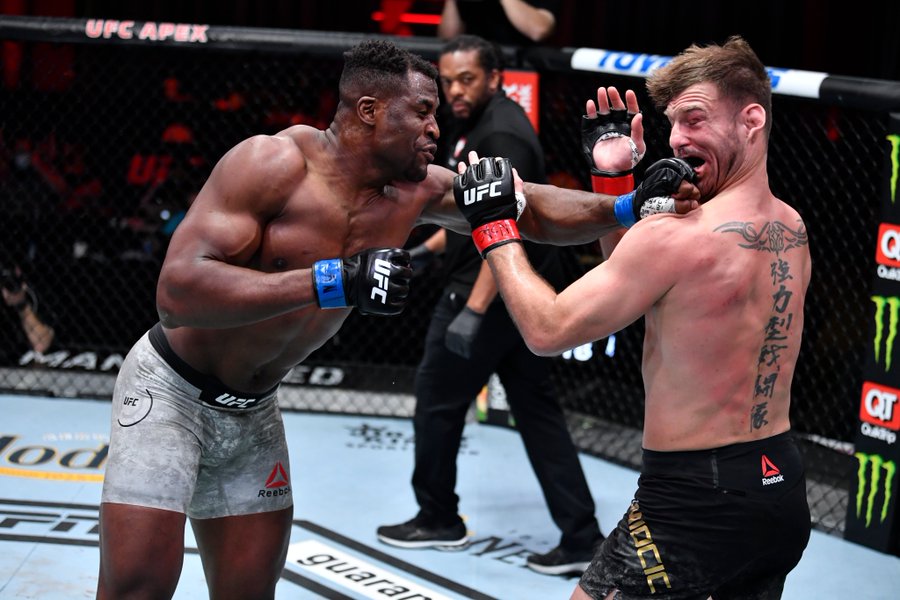 Soon after his victory Ngannou's popularity began growing in leaps and bounds. The spotlight was on him.
He was invited as a guest to Mike Tyson's Hotboxin' Podcast, and that was when heavyweight boxing champion Tyson Fury decided to call out the Cameroonian. He warned Ngannou that he would make light work of him, once he finishes Anthony Joshua (in their upcoming boxing bout).
Ngannou replied that he would body him, posting an image of Fury being bloodied in a fight against Otto Wallin (who was a massive underdog).
More recently, Fury called out Ngannou on Twitter, asking 'The Predator' to come and find him if he wanted some of his power and money. Fury revealed that he was ready to fight any time of the year.
"This is a message to Francis Ngannou and the UFC guys. Look, you want some of this Gypsy King money? You know where to come and find it. You want some of this Gypsy King power? I'll give it to you. Any time, any place, anywhere, seven days a week and twice on a Sunday, you big ugly dosser."
Ngannou wasted no time in replying to the Gypsy King. The Cameroonian didn't talk or write much, but he made sure that the message was conveyed. Ngannou tweeted that he would take care of light-heavyweight king Jon Jones first and then come after Fury.
Derrick Lewis confirms UFC has offered him to fight Francis Ngannou
It looks like Jon Jones might have to wait until he makes his heavyweight debut. Had Bones not been in a payment dispute with UFC President Dana White, the fight with Ngannou would have gone ahead.
But now, it looks like the fight has gone to Derrick Lewis. 'The Black Beast' recently confirmed in an interview with ESPN MMA's Ariel Helwani that the UFC has offered him to fight Ngannou in a rematch.
Lewis then said that he and his team were only waiting for Ngannou to confirm the date, before going on to add that August seemed to be a likely date.
When asked about Jones, Lewis said that the light-heavyweight GOAT 'is out of the picture'.
More UFC News:
Follow our dedicated UFC page for instant UFC news and updates