Number 2 ranked heavyweight contender Derrick Lewis has given his prediction for his title fight with Francis Ngannou
Lewis is just one step away from greatness, just like he was during 2018. But in his path stands a killing machine- Francis Ngannou. The 36-year old will be looking forward to summoning the spirit of UFC 226 when he takes on the heavyweight champion Ngannou.
Ngannou, only recently became the heavyweight champion, after defeating Stipe Miocic in a rematch at UFC 260. The Cameroonian's loss against Lewis at UFC 226, was a massive wakeup call for him, as he then went on a rampage against each and every opponent of his.
Between UFC 226 to UFC 260, Ngannou faced five opponents (including Miocic) and knocked them all out within 2 rounds. That's astronomical levels of scariness.
Lewis, who eased past Ngannou via. unanimous decision at UFC 226; a fight which many consider until today, as the most boring fight ever witnessed, is once again confident about beating the 'Predator'.
Ariel Helwani asked Derrick Lewis in an interview, to give his prediction for the rematch against Francis Ngannou.
Lewis predicted a first round knockout, even as an amused Helwani listened.
This is what Lewis had to say:
"I'll say the first exchange. First exchange, I'll knock him out in the first exchange. You know I almost knocked out Curtis in the first exchange too. But, he got on that bike and went away running."
Helwani then asked if Lewis felt that in his heart, and without hesitation he reiterated that he would knock Ngannou out in the first exchange, before going on to mention the way Ngannou came out against Jairzinho Rozenstruik, before knocking him out in a jiffy.
Francis Ngannou is a much-improved fighter since UFC 226
Even before UFC 260, when Ngannou beat Miocic, The Cameroonian was considered to only be a wild heaver who was solely dependent on his supreme genetical power to win fights.
But, Ngannou proved the world wrong, when he showed unbelievable takedown defense and grappling skills against Miocic at UFC 260. Daniel Cormier in the commentary box was left stunned, on seeing the Cameroonian defend Miocic's takedowns with ease.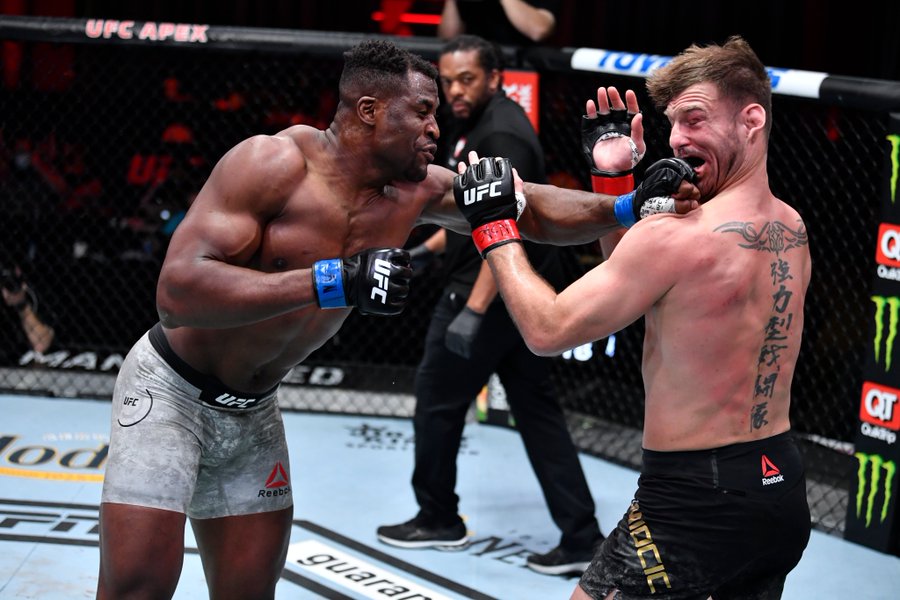 Even more impressive was Ngannou used Miocic's takedown to his own advantage, as he momentarily executed a brief ground-and-pound after defending the takedown.
Hence, Lewis must be wary of the fact that Ngannou has vastly improved since their first meeting at UFC 226. He might be underestimating the predator here.
More UFC News:
Follow our dedicated UFC page for instant UFC news and updates