Nyla Rose is one of the most famous names in women's wrestling as a whole and not just AEW, and here is his net worth, salary, and more
| | |
| --- | --- |
| Nyla Rose Facts |  |
| Birth Place | Washington D.C., United States of America |
| Father's Name | N/A |
| Mother's Name | N/A |
| Star Sign | Leo |
| Net Worth (2021) | ~$5million |
| Salary (2021) | $2million |
| Age | 38 |
| Date of Birth | August 3, 1982 |
| High School | T.C. Williams High School |
| Nationality | Czech |
| Wrestling Debut | December 8, 2012 |
| AEW Debut | May 25, 2019 |
| Finisher | Beast Bomb, Pow Pow Plunge |
| Achievements | AEW Women's World Champion |
| Spouse | N/A |
| Children | N/A |
| Nickname | Debbie Kong, Nyla The Destroyer |
| Social Media | Instagram, Twitter |
Nyla Rose is a trailblazer in the sport of pro wrestling. She is the first openly transgender women to sign a contract with a major American wrestling promotion, a milestone which she set back in February 2019 when she signed with All Elite Wrestling (AEW).
But that should not overshadow the fact that she is one of the top wrestlers in women's wrestling worldwide. As you would imagine, it was not an easy road to the top for Rose but she has overcome all hurdles and made a very big name for herself.
Rose is currently signed to AEW where she fights in the women's division. But that is not all that she has done. Rose is also a professional actress and she appeared in the 2016 Canadian TV show, The Switch.
Net Worth and Salary
Nyla Rose is said to have a net worth of approximately $5millon as of 2021. That, of course, can be attributed largely to her career as a professional wrestler for AEW. Her acting career would also have contributed to this.
Rose's salary is believed to be $2million and she was one of the highest-paid AEW wrestlers in the first year of the company. That figure would have changed by now considering the company's acquisition of some global superstars from WWE.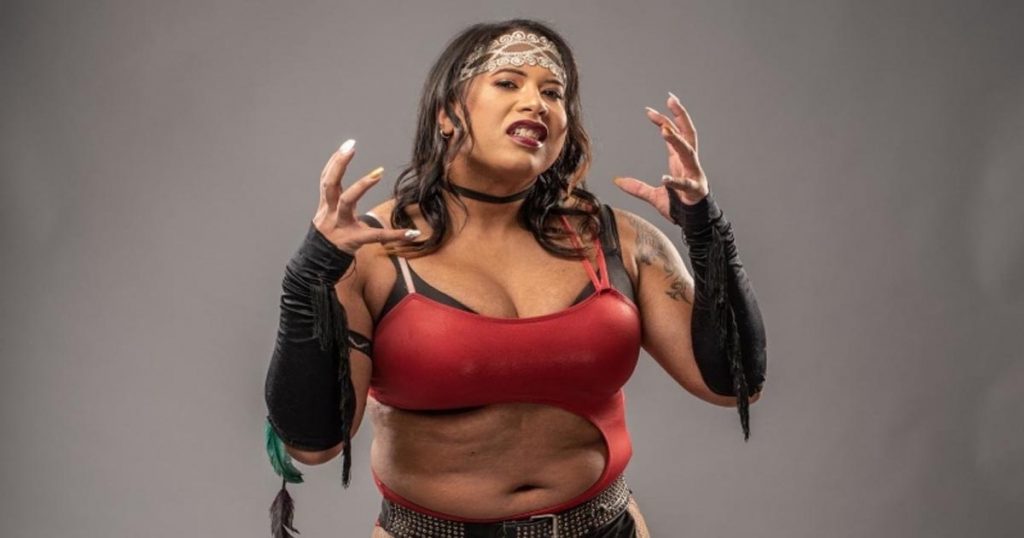 She still has a number of wrestling years left in her and would expect to further add to those numbers in the coming years.
Early Career
Nyla Rose fought in a number of independent wrestling promotions before her contract with AEW in 2019. She made her wrestling debut all the way back in 2012 as a 29-year-old. So, there is a chance that she actively pursued another career before that of which there is little to no information about.
She has become a title holder in almost all the wrestling promotions she has fought in. As per the records, Rose has fought in World Domination Wrestling Alliance, Warriors of Wrestling, United Pro Wrestling Association, and Covey Promotions.
She won at least one belt in all these promotions and was the WOW Women's champion 2 times and CP Women's champion thrice.
AEW Career
But it is her time at AEW that really put her on the map. Rose signed with the promotion all the way back in February 2019 when the promotion was just setting up. By doing that, she became the first openly transgender women contracted by any major American wrestling promotion.
Rose was one of the first stars to put pen to paper at AEW and has been a main roster mainstay ever since the company started airing its shows. She was also present at the promotion's inaugural event, Double or Nothing.
Her peak at the promotion back in February 2020. On the 12th February episode of AEW Dynamite, Rose defeated Rhio to win the AEW Women's World championship for the first time in her career and was the second holder of the belt in the company's history.
But later that year, she lost the belt to the current champion, Hikaru Shida, at Double or Nothing. Shortly after, she even introduced former WWE personality, Vickie Guerrero, as her manager.
Her most recent headline-grabbing participation in an AEW event was when she took part in this year's AEW Women's World Championship Eliminator Tournament. Rose went all the way to the finals, only to lose to Ryo Mizunami on March 3, 2021.
Family, Relationships, and Tattoos
Not much is known about Rose's close family. Rose is both Native as well as African-American, and her Native side is of Oneida heritage. As of now, there are no reports of her being in any committed relationship with anyone.
And her social media accounts also seemingly do not address this question. She does not showcase a lot about her private life and we should respect that.
As for her tattoos, she is confirmed to have a few of them on her arms and things. She has shared a photo of her thigh tattoo on Twitter as well as an arm tattoo that apparently translates from Japanese to 'General Tso's Chicken' in English.
More AEW news
Follow our dedicated AEWpage for instant AEWnews and updates