The frustrating result
Liverpool have nothing to fight for this season but a top-4 spot in the Premier League. The Reds are out of all cup competitions domestically and in Europe. They dropped out of the title race months back. All that remains is fighting for the glory, prestige and money that comes with Champions League football.
After being eliminated by Real Madrid in the UEFA Champions League quarter-finals earlier this month, the only way to qualify for the UCL next season for Liverpool is to finish in the top 4. And the Reds knew the task at hand when they faced Newcastle United on Saturday, 24th April.
But what followed was another disappointing draw. And it was similar to the draw they had against Leeds United earlier in the month. Liverpool took the lead but squandered 2 points at the end via a late, late goal. So, let's find out just how Jurgen Klopp's men wasted the chance to go into the top-4 last Saturday and now find themselves 4 points adrift of Chelsea in 4th spot.
How they set up
Liverpool went with an attacking 4-4-2 formation on paper, which featured Roberto Firmino and Diogo Jota up front. Mohamed Salah and Sadio Mane played as wide-midfielders. The four attackers have played together before, but not exactly in this formation. This was also markedly different from Klopp's trusted 4-3-3.
Newcastle United, on the other hand, went with their rejuvenated 5-3-2 formation which stresses more on the defensive aspects of the game. They have used this formation in their last 4 Premier League games and lost none so far.

But on paper, things were different. The average player positions in Image A clearly shows that Liverpool leaned more towards a 4-2-3-1 with Firmino dropping deeper to let Jota play further forward. Mane and Salah were the constant attacking threats as they stretched Newcastle's defence vertically and horizontally.
Tactical approaches
It was clear from minute one that Newcastle came to Anfield to frustrate Liverpool and aim to not concede by playing the low block. Their defensive approach becomes clear in Image A, where their players are seen playing way deeper than Liverpool's.
Furthermore, Newcastle often played a 6-3-1 formation, whereby a midfielder would drop back to make a 6-man backline, as evident in Image B. Now, Alan Saint-Maximin (black circle) was the furthest man forward while Joelinton (red circle) dropped to make a three-man midfield and make sure Newcastle defended in neatly constructed lines.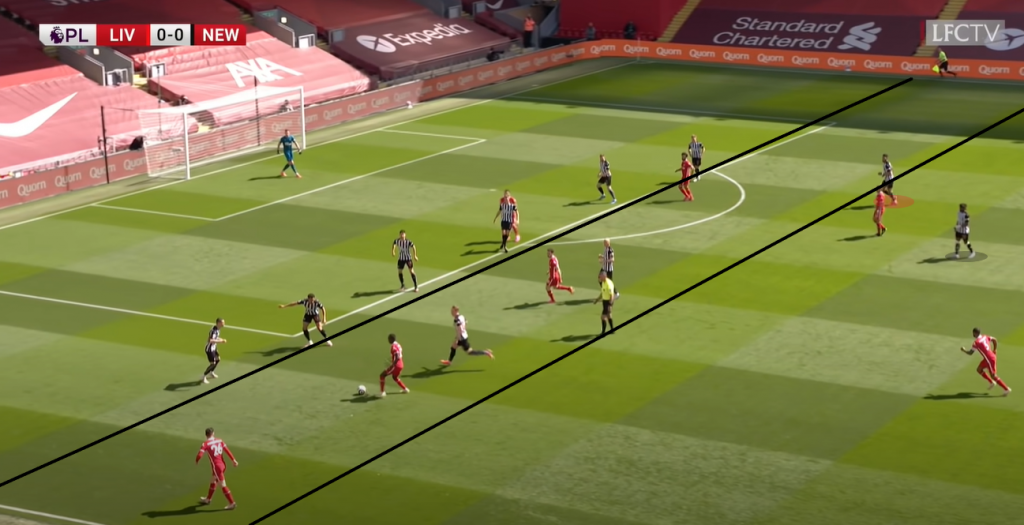 Liverpool, on the other hand, played with advanced full-backs to supplement the front 4 while Georginio Wijnaldum and Thiago Alcantara held the fort in midfield. Robertson and Trent Alexander-Arnold's attacking exploits are nothing new but they were really playing very far up the pitch, showing Liverpool's intent to kill the game as early as possible.
This, compared to Newcastle's 'wing-backs', makes for a stark contrast. Just look at the heatmaps of the four players mentioned here in Image C and the difference will become clear.
And it worked wonders for Liverpool, actually. The full-backs combined to provide a total of 5 key passes and 6 successful crosses. You can't really ask for more than that from two defenders (at least on paper)! Image D shows the stellar attacking game the two had for Liverpool against the Magpies.
The goal, and the squandered chances
To be fair, Liverpool dominated the game. A look at Image E is enough to show their dominance in attack. The Reds were in control of the game and had a staggering 68% possession in the match, making more than double the passes (793) than Newcastle (350). (h/t SofaScore)
They got their first goal via a miraculous Mohamed Salah moment in the 3rd minute of the game. Now, it was time to kill the game off and prevent a repeat of what happened against Leeds. That's what Liverpool wanted to do, and they had more than enough chances to do so, but the second goal never came.
As you can see, Liverpool had more than triple the amount of shots Newcastle had. They also had 5 big chances, but they missed all of those. Martin Dubravka was also forced into action 8 times as compared to 3 by Alisson Becker.
Image F further highlights their dominance. The Reds had a staggering 2.85 xG (expected goals) compared to Newcastle's 0.86. And their chances squandered inside the box makes for a really depressing viewing for Liverpool fans.
And they were being allowed to do so. Image G showcases the astonishingly high PPDA (passes per defensive action) by Newcastle, as compared to Liverpool. This means that Steve Bruce's side allowed the Reds to play approximately 37 passes before making a defensive action. Liverpool, on the other hand, pressed high, fast, and with intensity, and hence had a PPDA of just 6.76.
Substitutions
But Liverpool wasted all those chances and the scoreline was 1-0 for a long time. During this time, apart from a goal by Callum Wilson that was ruled out for handball in added time, Newcastle United did not look like they were ever threatening the Reds. It was Liverpool who were on the front foot.
But predicting Newcastle changing gears, Jurgen Klopp brought on James Milner for Diogo Jota in the 58th minute. This announced that Liverpool now wanted an added midfielder to shift to a 4-3-3 instead of a hyper-attacking 4-4-2. Newcastle responded and sensed the chance to capitalize.
Bruce brought on Joe Willock for centre-back Ciaran Clark. This substitution would go on to have a big impact, but it was only triggered by a baffling decision by Klopp to take off Thiago in added time for Curtis Jones. The Spaniard put in a man of the match display and was arguably the best player on the pitch for Liverpool, and Image H attests to that.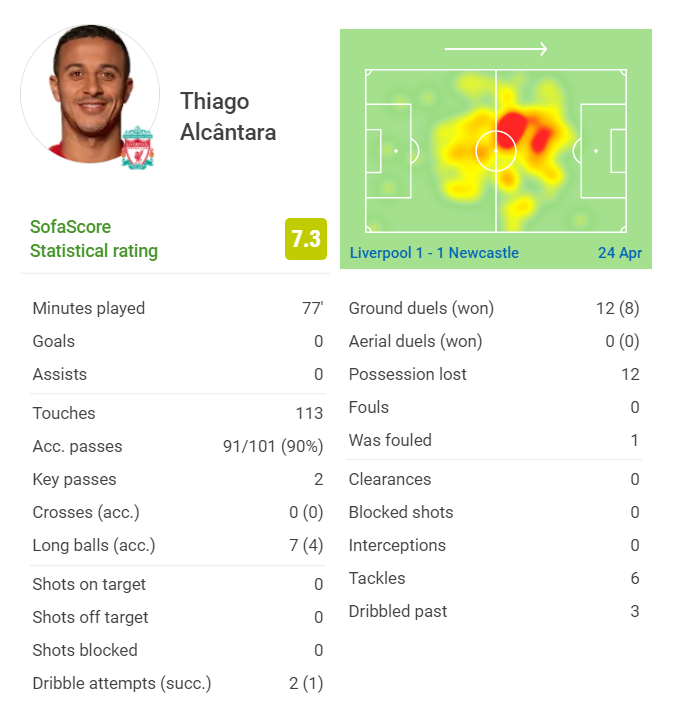 He ran the midfield but was subbed off, without any injury, just 13 minutes from time for a youngster, who hadn't kicked a ball in the Premier League in his last 5 matches before this. And this substitution went on to cost Liverpool in the sense that Klopp probably took the wrong midfielder off.
Wijnaldum should probably have been the one to make way, but the Dutchman was caught napping for Newcastle's added-time equalizer. Image I shows the complacency shown by Liverpool's midfielders to mark the substitute, Willock, inside the box, and allow him a shot after a long ball was played to him in the box.
As seen above, Wijnaldum (red circle) and Jones (black circle) have not paid attention to Newcastle's runners. Willock (yellow circle) has all the time in the world to get to the end of the second ball and shoot. The shot then got deflected and beat a hapless Alisson in the 95th minute of the game.
Verdict
And in all honesty, it was Liverpool who were inviting this pressure. Just take a look at Image J to show the passes made by both teams after Thiago was taken off. Newcastle had the most passes in Liverpool's defensive third, while the Reds were passing it around almost aimlessly in the middle of the pitch.
That really let Newcastle know that the Reds were now nervous. If the scoreline was 2-0 or more, this would probably not have happened. And had Thiago been on the pitch, maybe Liverpool could have had that impeccable control they had on the ball.
The Reds had no one else to blame for the defeat but themselves, a statement also endorsed by Jurgen Klopp himself after the game. (h/t official Liverpool FC website)
"Very. Very tough to take but there is nobody else to blame but ourselves. When you create chances like we created today and you don't use them then you keep the game open. That's what we did, but again, that's football – the oldest and most important football rule [is] you better use your chances when you have them because they will come back again.

That's what we didn't do and that's why in the end Newcastle deserve a point because they scored a goal that was disallowed and as far as I remember it was the first time we were lucky with VAR, to be honest, but we didn't even take that present. We gave them another one, they used that, so it's a 1-1."
The Reds are now 4 points behind Chelsea and have just 5 games to save their season. But if their finishing remains as bad as this, they are not getting anywhere near UCL next season.