Roman Reigns seems to be enjoying his win over Edge and Daniel Bryan at WrestleMania 37
Roman Reigns is without doubt the best heel WWE has at the moment and The Tribal Chief is doing a great job of it.
His body language is perfect and it is a bit of a surprise why WWE didn't pull this move a while back.
Nevertheless, Reigns looks the part and has dominated most of his rivals in the ring and outside of it too.
The Universal Champion had the odds against him at WrestleMania 37 but put on quite a performance. In the end, he pinned both Edge and Daniel Bryan and has been reveling in that moment for a while.
Reigns even showed off his latest shirt which took a bit of a dig at his rivals. This had the moment where Reigns was pinning both of them and also had a few tag lines to go along with it.
The Big Dog also seems to be enjoying being the Tribal Chief and claimed that this was the most dominant win in WrestleMania main event history:
"The most dominant victory in #WrestleMania main event history. Ever. #SmashEm #StackEm #PinEm"
While Reigns might have gotten the better of Bryan and Edge, he still has a big match ahead of him next week.
Daniel Bryan puts it on the line against Roman Reigns
Bryan and Cesaro teamed up this week as they went up against Jey Uso and Seth Rollins. Reigns was watching all the action but the night ended with a big match set up for next week.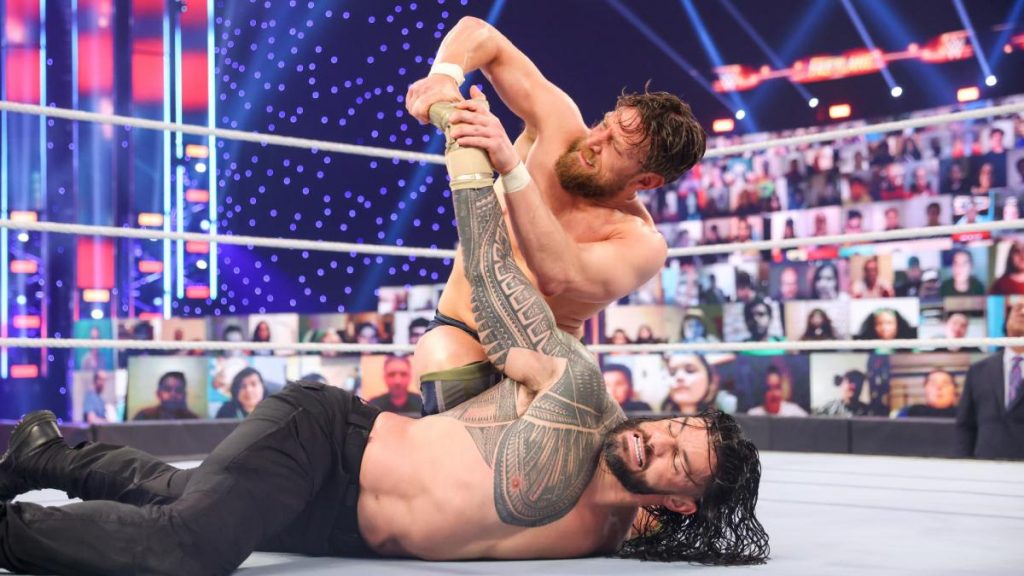 Bryan would get another shot at defeating Reigns but a lot would be on the stake. Should Bryan lose to Reigns, he would be barred from SmackDown.
This is a big stipulation for Bryan and it will be interesting to see how the match would go.
More WWE news
Follow our dedicated WWE page for instant WWE news and updates