The Rated-R Superstar made a comeback before WrestleMania 37 as Edge took on Roman Reigns and Daniel Bryan
Edge made a memorable WWE comeback at the 2020 Royal Rumble after 9 years out with an injury. And he only went and did it again the next year at the same PPV.
This time, he won. And as a result, Edge challenged Roman Reigns at WrestleMania 37 for the WWE Universal title.
Things took a turn when Daniel Bryan was inserted into the title picture to make the match a triple-threat fight for the belt.
'The Ultimate Opportunist' now knew he had to do something to stick out of the crowd, and in the process, give the fans a taste of the past.
This is when he decided to bring back 'The Rated-R Superstar' character that made him so popular ever since he used that name for the first time in 2006 after that moment with Lita inside the ring.
Edge reveals why The Rated-R Superstar made a comeback at WrestleMania 37
And he was talking to WrestlingInc (h/t ewrestling.com) when he revealed that Bryan's introduction made him want to bring back his old persona.
That was because Bryan's ability to the play the face and the underdog hero character to perfection. So he wanted to mix it up for the match and make it a good viewing for the fans.
"When you find out it's a triple threat, you go, okay, we both can't play the underdog hero. That Rocky vibe and both pull that off. If you look at the both of us, well, that's Bryan. That's his thing. No one does that better than him, and I'd like to think if I could come at it with that little 'Rated R' vibe back, that gives me an edge that I think our audience was ready to see."
Edge also thinks he proved a point to many who doubted him, and the fans who loved him, but probably thought that the veteran was past it.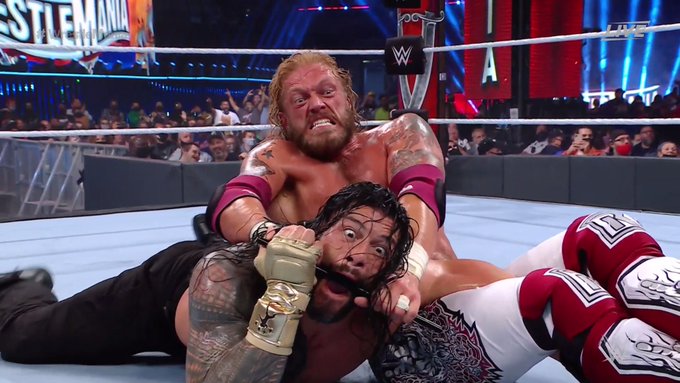 "I think we're past, and here's what's difficult because we don't have the audience to really know, but I think they were past this veteran who's coming back. Can he do it? He's questioning. They saw that with Randy [Orton], and that worked there. I thought it could continue to work, but I saw that it wasn't, and then you throw Bryan into the mix, okay, he's going to corner that market. Roman [Reigns] is cornering his market"
More WWE news
Follow our dedicated WWE page for instant WWE news and updates