Francis Ngannou's striking coach Dewey Cooper has revealed what the Cameroonian thinks of former UFC Lightweight Khabib Nurmagomedov.
Game recognizes game – Newly-crowned UFC Heavyweight champion Ngannou has a lot of admiration for Khabib, according to his striking coach Dewey Cooper.
The Cameroonian recently pulverized Stipe Miocic at UFC 260 in their rematch, to get his hands on the heavyweight title for the first time.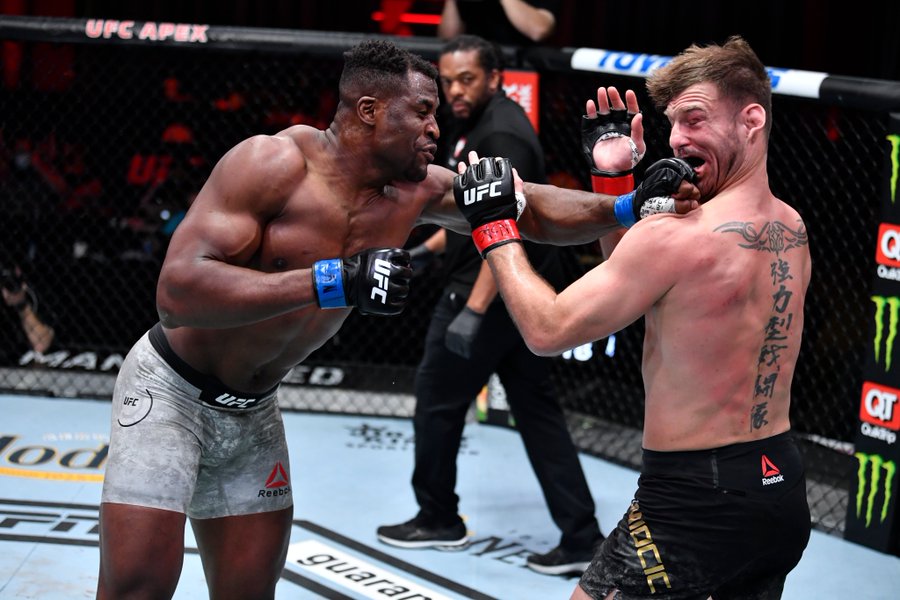 Elsewhere, Khabib Nurmagomedov officially announced his retirement from the sport of mixed martial arts, remaining undefeated (29-0) in his professional career. He is a man admired and respected all around the world, particularly for the love he has for his family.
In a recent interview with RT Sport, Ngannou's striking coach was asked about his opinion on the Dagestani great. With tremendous approbation, Cooper said that Khabib was the 'real deal'. He also had a few words about what Ngannou thought about the 'Eagle' as well.
Cooper said:
"Khabib is the king, Khabib is the king for sure. Deservedly so…went through demise and still conquered. Khabib is the real deal. He is the real deal for sure."
On what Ngannou shared about Khabib, Cooper revealed :
"When he fights, he always tells Khabib is different. Francis acknowledges and recognizes Khabib as a bad dude. He is a killer for sure."
The influence of Dewey Cooper has been immense
Francis Ngannou hired Dewey Cooper and Eric Nicksick of Xtreme Couture as coaches, just a couple of years ago. The two have been immense in the meteoric rise of the Cameroonian.
Since his unanimous decision loss to Derrick Lewis at UFC 226, Ngannou has just annihilated anyone who has come in his path inside the octagon. He has knockout all his five opponents he has faced, with 4 knockouts (barring Stipe Miocic's) coming in the very first round.
And in a recent episode of DC & Helwani MMA show, Ariel Helwani rightly pointed out to the influence both these coaches have had on Ngannou.
He said :
"Eric Nicksick of Xtreme Couture and Dewey Cooper…What those 2 guys have done with him over the past couple of years, nothing short of amazing, so they deserve a lot of credit."
More UFC News :
Follow our dedicated UFC page for instant UFC news and updates