Seth Rollins performed a unique 360 splash on Cesaro at WrestleMania 37
Seth Rollins vs Cesaro was one of the clashes that turned out to be just what people expected at WWE WrestleMania 37.
This might have come up just a couple of months back and didn't have a lot of backstory behind it.
However, the two put on quite a show at the Raymond James Stadium. Cesaro used a ton of his moves, including spinning Rolling 23 times.
There was also a fun moment from the Swiss star where he performed the UFO on the Messiah.
Rollins was in a world of trouble but the former WWE Universal Champion also had a few tricks up his sleeve.
Rollins tried his best to get a curb stomp for the win but performed a unique move from the top of the ropes.
The Messiah has used frog splashes in the past but this was a different move as he performed a 360 in mid-air and landed on Cesaro.
This was certainly something new from Rollins and many in the stadium were left in awe.
Cesaro gets his WrestleMania moment
Rollins came into this clash with a ton of WrestleMania experience, and he seemed set to get the win. However, Cesaro did his bit and picked up the win, something that he deserved.
The Swiss Superman might be one of the most underutilised talents in the world. However, this win was a huge moment for his career and he was emotional after the clash.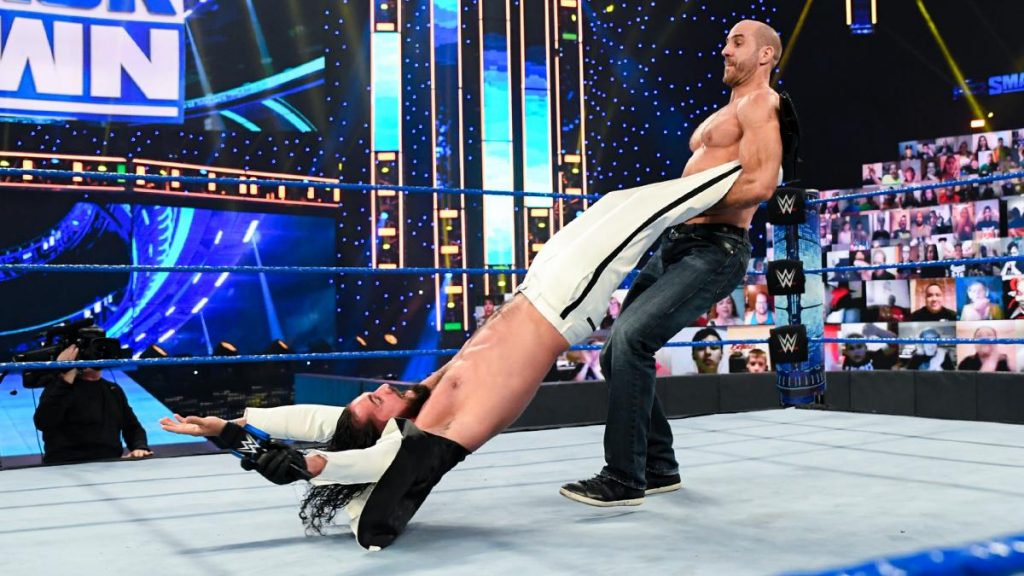 Cesaro is also extremely popular with the WWE roster and many celebrated this victory. Rollins, for his part, put on quite a show and he was the perfect opponent for Cesaro.
The Messiah and Cesaro produced one of the best matches from WrestleMania 37 night one. However, none of the other matches could be called as bad either.
It will be interesting to see what is next for Cesaro and Rollins. A continuation of the battle would be great too, given how the pair clashed Mania.
More WWE news
Follow our dedicated WWE page for instant WWE news and updates