Jon Jones could make an absolute fortune in boxing fights, according to WWE star Big E
Big E was talking to Ariel Helwani on ESPN MMA earlier this week. And the WWE star was asked to give his views on the Francis Ngannou vs Jones drama that has been going on recently.
Ngannou beat Stipe Miocic at UFC 260 to win the heavyweight belt. And since then, he is touted as the first fight for Jon Jones after he took the step up from 205.
But that fight has been difficult to set due to Jones vying for a big day, claiming that even $8-10million would be too little for a fight of this magnitude.
And Big E gave his two cents on the issue as he claimed that Jon Jones would be making 10 times that amount if he was fighting in boxing matches and should make at least 3-4 times more money than he is in the UFC right now.
"Pay the man his cheddar… I think from what I understand, fighter pay is still around 20% from the lawsuits and all that, which to me, is very, very low. And you think of a guy of Jon Jones' ability in boxing, he would be making 10s of millions, if not a $100million for a big fight. I feel for those guys in the UFC."
Big E shares his prediction for Jon Jones vs Francis Ngannou
And after giving his opinion on the fight purse, Big E got straight to talking business as he shared what he thinks would happen if the two fighters went head-to-head inside the octagon.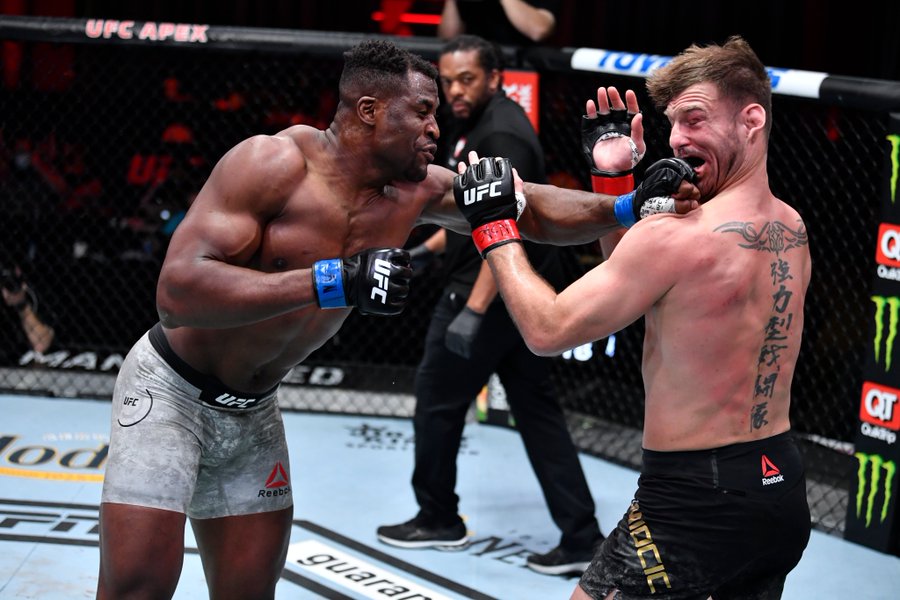 "If Francis can stop takedowns and takebacks, it's over, man. It's over… If this man can sprawl, it's over. I could be wrong here. But I like Francis."
Well, if only it was that easy. Jon Jones is one of the best wrestlers and his ground game is incredibly strong for someone at 205 (and at 265 now, but that remains to be seen).
The Cameroonian, on the other hand, is a force of nature. Even Stipe's rock-solid chin could not take the force of a few punches from him and Jones would know that he has to be careful.
More UFC News:
Follow our dedicated UFC page for instant UFC news and updates