The Rock was watching the UFC 260 Stipe Miocic vs Francis Ngannou clash
Many WWE stars keep a tab on the UFC and the biggest one from recent years, The Rock, also kept an eye on UFC 260.
The main event of the show was Stipe Miocic defending his UFC Heavyweight title against Francis Ngannou.
A lot of hype surrounded this fight and it lived up to expectations. Ngannou defeated Miocic with an incredible knockout in the second round and he finally won a UFC title for the first time.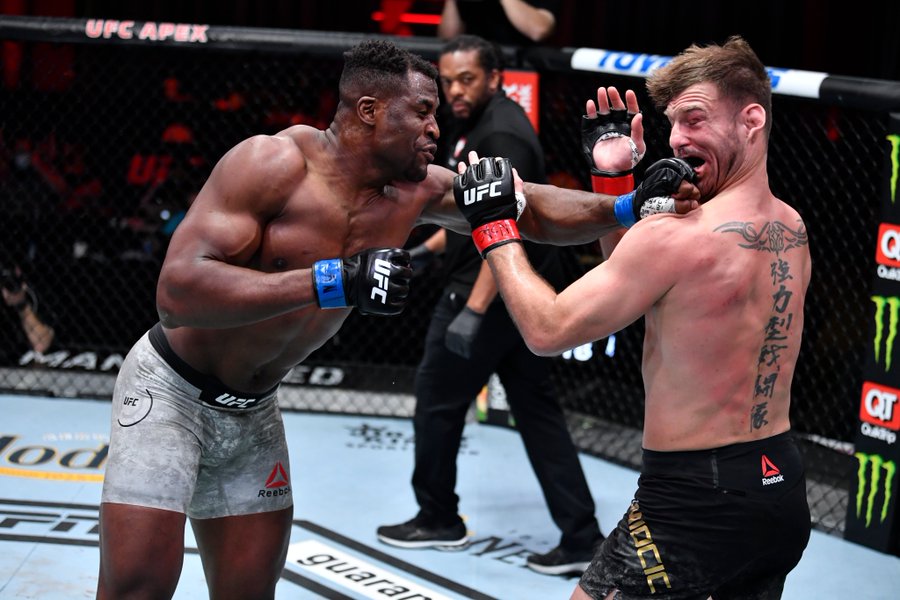 Miocic came into this clash as possibly the greatest UFC Heavyweight but Ngannou had learned from his mistakes in the past.
Miocic was on the receiving end of a brutal shot at the end and was transported to hospital for some check ups after UFC 260.
This was, however, a great moment for Ngannou who exorcised some of his previous demons and finally reached the top of the UFC mountain.
The Rock left impressed with UFC 260
The People's Champion was enjoying this main event and shared his thoughts on the same. Ngannou, obviously, got a lot of praise from the The Rock while there were some great words for Miocic too:
"Wow that was dominant.

What an incredible #goat run @stipemiocic had.

"Nothing but respect for that guy.

"A huge congrats to my brother @francis_ngannou.

"The era of the Predator begins. #WarriorMana #UFC260"
These were some great words for Miocic as the former champion now has to think of his next steps.
Ngannou, however, also is keen on defending his title several times in a year. He claimed he was going to be a fighting champion and it will be interesting to see who he fights next.
Jon Jones is being linked with the next fight against Ngannou. However, it would also be unfair to Miocic if he didn't get the rematch for the title next.
Miocic has overcome the odds in the past as he lost the belt to Daniel Cormier before getting it back.
The only problem is that Ngannou seems to be a dangerous man in the Octagon, and that spells danger for anyone facing him in the Octagon.
More WWE news
Follow our dedicated WWE page for instant WWE news and updates