Stipe Miocic was knocked out by Francis Ngannou at UFC 260 and an update was provided on the former champion
Marc Raimondi of ESPN shared an update from the UFC on Stipe Miocic after 260.
Miocic came into this clash as the Heavyweight champion as he took on Francis Ngannou. The pair had met nearly three years ago and it was Miocic who got the win in that fight.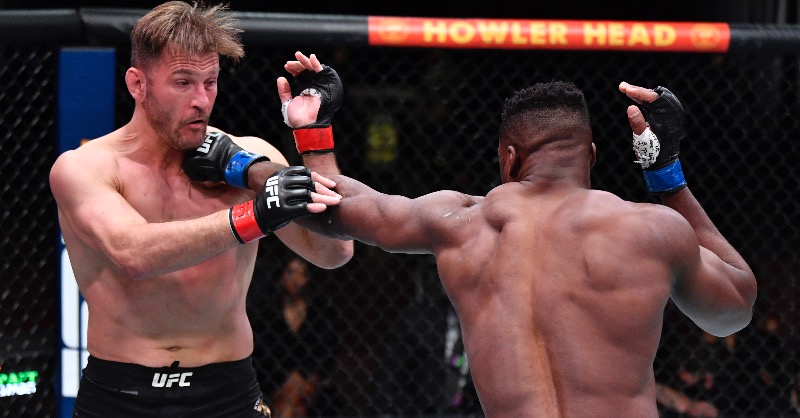 However, Ngannou learned from that experience and dominated his rival from the first minute. Miocic did have a couple of decent hits on Ngannou but the Africa-born star knocked out his rival in the second round.
There was concern for Miocic after Ngannou landed a vicious punch while finishing the fight. Herb Dean, the referee, was far from the action and by the time he came to save Miocic, Ngannou had also hit him with a hard punch.
Miocic needed a lot of medical assistance to get up. He was made to sit on a stool too and the commentators did not want him to stand up right after the KO.
Raimondi, of ESPN, tweeted that Miocic was being taken to a hospital for a precautionary CT scan:
Francis Ngannou produces a performance for the ages
Hopefully, Miocic is fine as he suffered some heavy punches that ended the fight. The UFC often takes their stars to a hospital for check ups after a fight.
Miocic was also able to stand and see Ngannou get the belt, and that is a positive for the former champion.
His leg also bent awkwardly after the punch and no update has been provided on that.
It will be interesting to see what is the next plan for Miocic. He will still go down as possibly the greatest UFC Heavyweight of all-time. However, this was quite a performance from Ngannou who dominated his rival.
The Cameroon-born star now seems keen on taking on all-comers and that includes Jon Jones.
Many have joked that Jones might not want to fight Ngannou next, but Bones slammed those thoughts.
Of course, Miocic should get a rematch for his belt, and that too could be a blockbuster event.
More UFC news
Follow our dedicated UFC page for instant UFC news and updates