Khabib Nurmagomedov was happy to see Francis Ngannou win the Heavyweight title over Stipe Miocic at UFC 260
The UFC world crowned a new champion in the Heavyweight division at UFC 260. Stipe Miocic came into this clash as arguably the greatest Heavyweight in UFC history.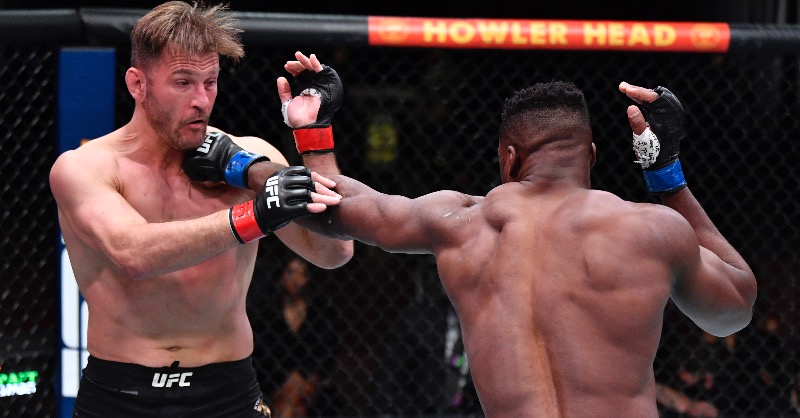 However, the American was picked apart by his challenger, Francis Ngannou. The Cameroon-born star surprised many with his ground work and wrestling. He also stopped Miocic from completing a takedown, and the difference in this clash was the power of Ngannou.
The 34-year-old learned from his mistakes that took place in his previous outing versus Miocic. Ngannou knocked the champion out in the second round and celebrated reaching the top of the UFC summit:
Ngannou seems ready for another match soon as he should face Jon Jones. He was open to fighting the former UFC Light Heavyweight champion too and it will be interesting to see how things take place if the pair meet.
However, a lot of big names were pleased with Ngannou's win including former UFC Lightweight champion Khabib Nurmagomedov.
Africa ruling the UFC roost
Ngannou was praised by Khabib for winning the title. The now retired UFC star is coaching and enjoying this role but he brought up an interesting fact after UFC 260.
"Congratulations Africa. Now you have 3 @ufc champions"
Khabib was referring to the two other UFC champions who were born in Africa. Middleweight champion Israel Adesanya and Welterweight Champion Kamaru Usman were both born in Nigeria.
Usman was there to help Ngannou prepare for this fight and the wrestling skills of the Cameroon-born star was proof that this was helpful.
Adesanya and Usman were extremely pleased that their 'brother' also became a champion. The pair posted several tweets and GIFs to celebrate this huge win too:
This was an incredible moment for not just Ngannou but all of Africa. Most of the UFC stars loved Ngannou winning the title but many also praised Miocic for how great he had been in his career.
It will be interesting to see what the future holds for Miocic but right now, it is Ngannou time.
More UFC news
Follow our dedicated UFC page for instant UFC news and updates