Liverpool need a new striker and Firmino's performance is the reason
Liverpool do not have a striker who scores a lot of goals. That has been a fact this season. Roberto Firmino, the club's No.9 all these years, has scored just 6 times in 37 outings so far this season in all competitions. He is not even among the club's top-3 scorers this campaign.
Now that is a dire statistic. And it is also hurting Liverpool at times. The onus of scoring is on the wingers and if they don't score, the club seems to run out of options. Here, we analyse if it's time for the Reds to ditch the idea of a false-9 and go all out for an out-and-out striker.
Plan B
The false 9
Firmino, in all fairness, has never been a target man for the club. Someone who can be described as the 'system' of the team, the Brazilian's role in creating chances for others, especially the wingers, has been seen as important enough to compromise on a high goal-scoring return.
His role in the team is best described by Sadio Mane this season. The selfless No.9 differs from other strikers in the sense that he likes to create rather than selfishly go for goal on occasions.
"If it weren't for him, we [Salah and Mane] wouldn't score as many goals as we scored. Brazil is very lucky to have Firmino."
This worked for Liverpool in the past few years. And Klopp himself acknowledged Firmino's role in the team at the start of this season.
"A football team is like an orchestra, you have different people for different instruments. Some of them are louder than others but they are all important for the rhythm. Bobby plays something like 12 instruments in our orchestra. He's very important."
But this is not the case anymore. The Reds need goals up front and it is worth sacrificing this 'false 9' for that.
A lack of goals
Compared to other elite strikers in the Premier League, Firmino is seriously dropping off. He has just 6 goals in the league, and 44 players have scored more than him in the Premier League this season so far.
Now those are not good numbers. Now add his numbers in Europe. He is yet to score in the UEFA Champions League this season in 7 appearances. He is even shooting lesser than his attacking teammates. Out of Reds' top-4 forwards, he ranks last in Sh90 (shots taken per 90 minutes).
But this lack of goals can be overcome by his creative input this term, right? Wrong.
A lack of creativity
Firmino has never been a potent goal-scorer, nor did Liverpool wanted him to be. By Klopp's comments above, it became obvious that his role was more than scoring goals. And by this, it mainly meant creating chances for others.
But by that logic, his creativity is not warranting people to ignore his lack of goals. This is proven by his numbers this season. Never mind a comparison with other players in the league, Firmino is not even among the top-three creators for Liverpool this season.
Let alone top three, he is ranked 8th in the Reds squad for both KP90 (key passes per 90 minutes) and xA90 (expected assists per 90 minutes) in the league so far. The latter stat is more shocking considering he trails Joel Matip, a central defender. (Image below)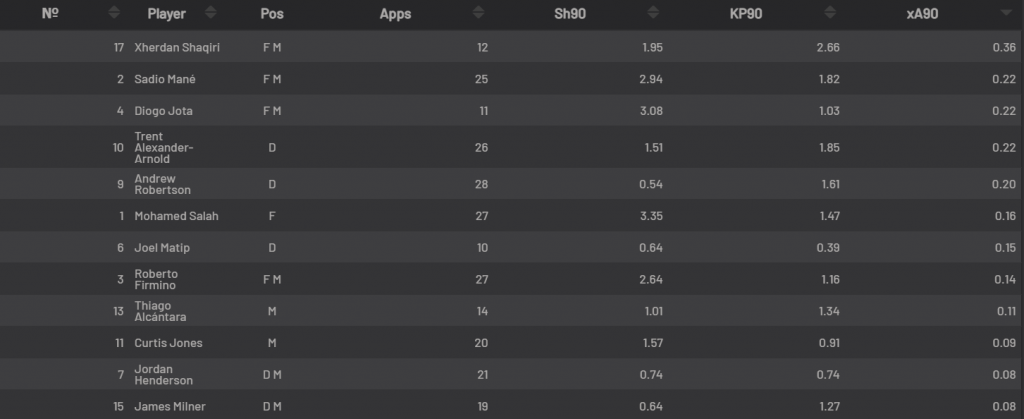 And this is a Liverpool side that isn't even playing well this season. Firmino's poor creative stats are coming in a season when the Reds are outside the top-6 in the league.
A personal decline
And Firmino is just not himself as well. It's not the role that is becoming outdated or invalid, but the Brazilian's form has dipped. Just compare his Premier League numbers from the last few seasons to this year's stats.
The image above highlights the problem. Firmino is creating lesser, shooting lesser, and scoring lesser. That is the problem. And it is affecting Liverpool directly.
Overdependence on wingers
Firmino's lack of attacking output is putting serious strain on the wingers, Mohamed Salah and Sadio Mane. The two may have won the golden boot in the 2018/19 campaign, but they were well supplemented by Firmino, who scored a total of 16 goals that season in all competitions.
He even had 27 goals and 16 assists in the season prior to that, racking up 13 goals in Europe, alongside Mane and Salah who both scored in double digits too. But the wingers are now overburdened, especially Salah, who has taken much of the scoring burden on his shoulders.
The Egyptian winger has 17 goals in the league this season. The next top scorer is Mane, with 7. Moreover, just 3 of Firmino's goals this season have either put Liverpool level or ahead on the scoreline. That's a worrying stat for a striker.
The Reds are just not winning games this year and when they need their striker to score or create, he is failing. He is now 7 games without a goal in the league, 6 of which Liverpool have lost.
No excuses
It's not that he cannot get goals and assists playing as a false-9, nor that his role is so convoluted that it transcends the metric of goals and assists. He has done it in the past and Firmino's numbers above prove that. And so does another striker's – Harry Kane.
Harry Kane has assumed a role where he plays deep. Kane drops down in order to create for his teammates. And he is doing a very good job at it. Not is he just assisting, but he is scoring a bucket load too.

It becomes more evident when seeing their average positions when they played each other in January this year. Liverpool won 3-1 and Firmino scored. But in the image below, Firmino (9) and Kane (10) are visibly playing deep.
So now that their similarity in role is established, let us compare their numbers. And there is a massive difference.
The image above highlights how superior Kane is in scoring and creating chances. And as hard statistics are concerned, the difference is even bigger.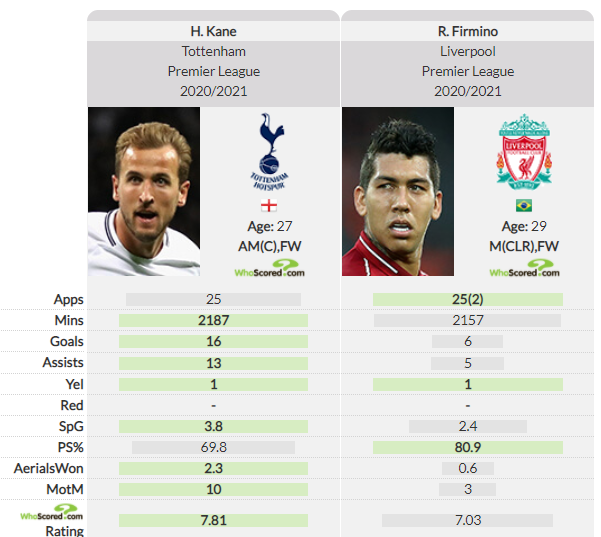 So if Kane can do this, why can't Liverpool go for a player who can play a role similar to Firmino's and also help out in the goal-scoring department?
Verdict
And so it becomes clear that now is the time for Liverpool to get a striker up front. Salah has a lot of goals but is unable to carry the team on his back singlehandedly.
Firmino is not helping them out. And with Divock Origi as the club's only other striker on paper, the club needs to sort out the situation up front. The Belgian has never scored more than 7 goals in the Premier League and has made a total of 13 league starts for Liverpool since the start of the 2017/18 season. It is clear Klopp does not see him as a goal-scoring solution for the long term.
If the same happens next season and the wingers cannot replicate the elite form that they have shown in the past few years, then the club would benefit a lot from a striker who is a consistent goal threat. And if it is a striker that creates like Firmino, it would be an added bonus.