Anthony Martial was signed from AS Monaco back in 2015 for a fee that could have cost Manchester United up to £61.5million. Now that is a hefty price to pay for a 20-year-old. His role at Monaco was that of a striker, as he played a majority of his games in that position during his last Ligue 1 season.
But Louis van Gaal evidently wanted to play him down the left-hand side. This could have been a ploy to fit Martial in a team that already had Marcus Rashford and Wayne Rooney. But nevertheless, that meant the French youngster was played at left-wing a lot of the times in his first season in England.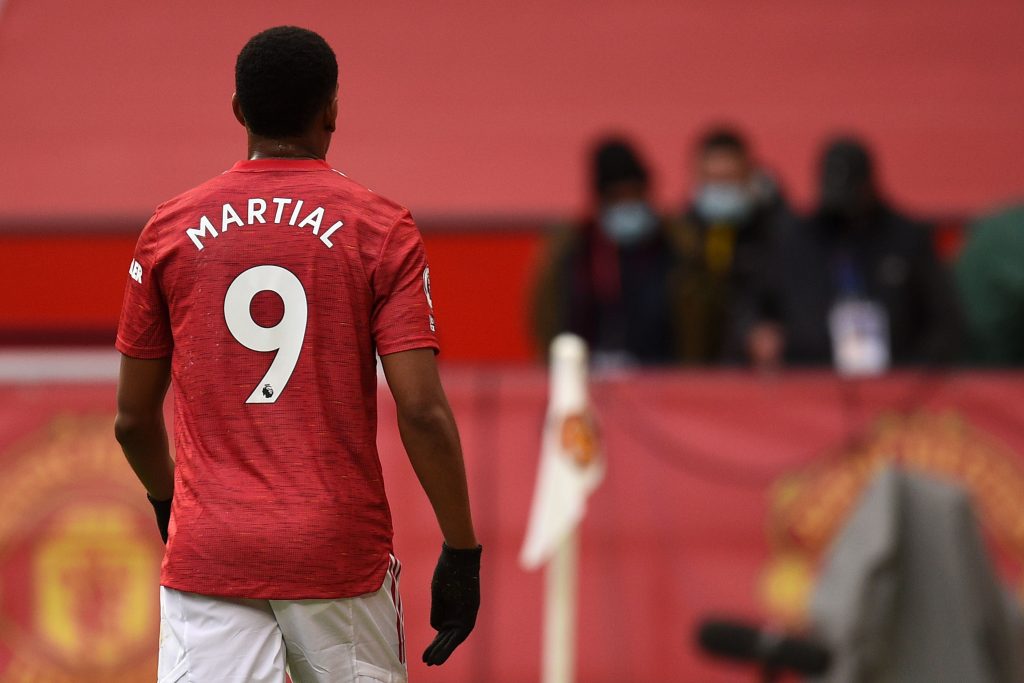 By the following season, he was an established left-winger. This trend largely continued until the 2019/20 season, when current manager Ole Gunnar Solskjaer deployed Martial as an out-and-out striker. And the Norwegian has continued to do the same this campaign as well.
What are the numbers?
Martial did well during his first campaign as an out and out striker, and scored more than 15 league goals for the first time in his career. The signs were encouraging for Solskjaer to start Martial in the same position but it is something that is just not working out.
The Frenchman is doing poorly this season. Martial has scored just 4 goals in the Premier League so far in 21 games. That is pretty poor for a No.9 of any team, let alone for someone who is employed at an establishment like Manchester United.
His decreasing numbers are best evident in the image below. He is taking fewer shots per 90 minutes, and with that, his xG90 (expected goals per 90 minutes) is also on the decline when compared to last season in the Premier League.
But what is more telling is his poor conversion of chances that he gets inside the box. Last season, he scored 13 chances from his 50 shots inside the box. This season, that number has fallen to 1 goal in 27 shots (refer to the image below).
This clearly shows that he is not the man in form that he was last season and that United do not have a potent, goal-scoring No.9 in Martial.
Comparison
A good way to see if Martial can stick around for United at No.9 is to see how he is faring with No.9 of other Premier League clubs. And truth be told, he is severely lacking in a lot of important attacking statistics.
In the image above, it is evident that Martial's numbers are lacking when compared to other top forwards in the league, except Gabriel Jesus. And a club like Manchester United should always have a striker who is among the goals. Strikers like Ruud van Nistelrooy, Robin van Persie, and Dimitar Berbatov were almost always in and around the golden boot conversation.
Setting aside comparison with other strikers, he is not even one of the best attacking players in his own side in the league so far. He seems to be missing more chances when compared to last season, and he is missing them closer to goal, which is a worrying sign for any team (refer to the image below, keeping in mind this season is yet to get over).
A new solution?
So it is clear that Martial is experiencing a goal drought. And United are looking for ways around that. And before we talk about what they should do next season, we should see if they should stick with him for the rest of this season.
In the image above, it is clear that United are already looking for ways around playing Martial as a striker. Edinson Cavani and Marcus Rashford have been used as strikers in his place, and Martial has himself played as a winger a few times this season, a position did not play in once during the 2019/20 PL campaign.
This shows Solskjaer's receding faith in him. And it becomes evident that United need a solution up front. The last time a United player won the Premier League golden boot was all the way back in the 2012/13 season when Robin van Persie netted 26 times to win them their last Premier League title.
Bruno Fernandes has 15 goals so far in the league this season but he is a midfielder and it remains to be seen if he can continue rescuing United with his goals. A top club needs a striker who is regularly among the clubs and strikes fear in the heart of the opponent, and Martial does not look like that at the moment.
Verdict
Long story short, United should start looking for solutions if they want a striker that can get them 20 goals in a league season, something that Martial has never achieved in his career so far. With just 4 goals this season so far, it is still a big possibility that he won't even touch double figures.
With Edinson Cavani already 34 years old with a contract that expires soon and Marcus Rashford majorly playing on the wings, United would be shrewd to get a striker in the summer window; someone who can compete for the golden boot.
And it is exactly what they have been linked with doing. The club is looking to bring in a centre-forward in the summer. If this report by The Sun (h/t Eurosport) is true, then they would be wise to do so.
(PS: This article was written before Manchester United's 0-0 draw against Crystal Palace in March 2021)