Who is he?
Donyell Malen is a 22-year-old striker from the Netherlands. He was let go by Arsenal in the summer of 2017, when PSV Eindhoven's development team snapped him up. And that is something that the Gunners would be regretting considering what has transpired since then.
While the Gunners are struggling in the Premier League for goals this season, scoring just 34 times in 26 games, Malen is scoring for fun in the Eredivisie. Moreover, he is doing it at such a young age. We shall now look at the numbers behind the youngster's success.
Talking numbers
Malen has been unstoppable this season, just as he was last season. The striker has 14 league goals in 17 starts this season for PSV Eindhoven. Malen also has 6 league assists to his name.
Looking at the image above, it is impressive to see what he is doing at this age. He is scoring every 119 minutes for his team and gets almost 7 of every 10 shots on target. This is directly helping PSV too, who are second in the table, just 6 points behind leaders Ajax.
His xG90 (expected goals per 90 minutes) of 0.67, as shown in the image below, is also something to note. And as shown, he is leading in almost every important attacking stat for his team.
Looking at his heatmap, it is clear that he is not a one-dimensional striker too. He covers a fair bit of grass in the attacking third, where he tends to drift to the left-wing. And his involvement inside the box is there for all to see.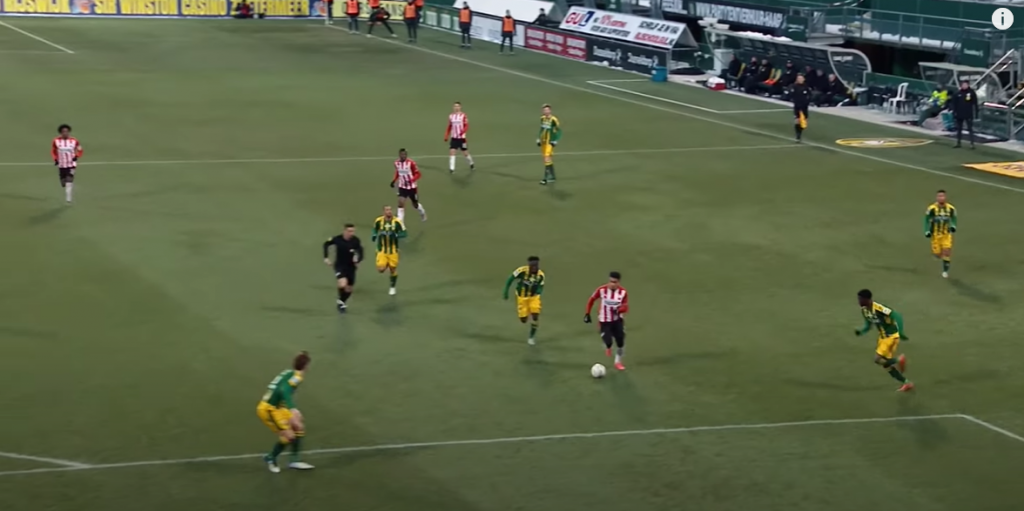 And he scores all kinds of goals. His dribbling skills, long shooting, heading ability, and close-range finishing is perfectly visible in the compilation video of his first 50 goals for PSV Eindhoven, which was uploaded by the club's social media account on YouTube.
And this is no fluke. Despite being hit with an injury last season, Malen still scored 17 goals and bagged 9 assists in 25 matches for PSV in all competitions. This means a goal involvement every 80.11 minutes for his team.
Comparing the numbers
Now that we have established the cold, hard numbers behind the brilliance of Malen in the Netherlands, let us see how he fares compared to some of Arsenal's players this season. To begin with, his 14 goals in 23 league games is already 5 more than the Gunners' top scorer in the league so far, Alexandre Lacazette, who has 9 goals in 22 games.
Moreover, Malen's 6 assists in the Eredivisie are already two more than Arsenal's top providers in the league, Willian and Emile Smith Rowe. He is leading in other attacking aspects too. The difference is clear when we compare Image B (below) with Image A.
Malen is leading in all those numbers, and by some margin. And this is a 22-year-old striker we are talking about who is arguably not yet in his prime age.
Verdict
Arsenal would undoubtedly be kicking themselves for letting someone like Malen go, especially considering he has been scoring regularly. While they are struggling for goals, Malen is setting the Eredivisie on fire.
Big names like Pierre-Emerick Aubameyang and Alexandre Lacazette are yet to reach double figures in the league this season, while youngster Gabriel Martinelli is yet to score for the senior team in his 8 matches this campaign.
On top of that, Arsenal's main men are not getting any younger. Lacazette will turn 30 this year while Aubameyang will be 32 by the end of this calendar year. This is not a cause for concern at the moment but it is inevitable that Mikel Arteta would have to start thinking for the long-term.
And had they kept Malen, maybe that would not have been a potential problem for the London side.
(PS: This article was written before PSV Eindhoven played Fortuna Sitaard in March and Arsenal's 1-1 draw against Burnley)