Conor McGregor has spoken about a trilogy with Dustin Poirier but another clash could be a blockbuster for the UFC
The UFC is still trying to solve the next fights for Conor McGregor and Dustin Poirier. The pair met a couple of weeks back and it was McGregor who was on the end of a beating.
However, McGregor wanted a third crack at Poirier right after the fight. The score between the pair is 1-1 and there are some rumblings that this clash could be for the UFC Lightweight title.
Poirier also seems keen on a rematch but Joe Rogan and Brendan Schaub had different plans. The pair were speaking on the Joe Rogan experience and were discussing the future of both UFC stars.
While Rogan understood the lure of McGregor vs Poirier 3, he also brought up a huge plan that could send the UFC world crazy:
"Covid restrictions get lifted, Dublin, Ireland, soccer stadium."
The UFC hasn't seen too many fans in the US while things have been better with Fight Island. A packed stadium in Ireland would be something incredible and that would be a huge boost for McGregor and the UFC.
However, Schaub was quick to add that McGregor couldn't fight for the title. That would be between Poirier, Justin Gaethje, Michael Chandler and Charles Olivier.
Nate Diaz in the house
The other trilogy that McGregor could do is against Nate Diaz. Diaz hasn't fought since losing to Jorge Masvidal in 2019 but he seems keen on making a return again.
Rogan was onboard with this clash and explained just why it could work for the Irishman:
"Conor vs Nate Diaz is an excellent option. It doesn't offend anyone, like myself, who are purists.

"You give him some time off, doesn't anyone. Nate isn't the kind of kicker that Dustin is, he is much more of a boxer, it falls into Conor's wheelhouse more.

"Nate is also insanely durable and Nate also has a finish over Conor, Conor doesn't have a finish over Diaz."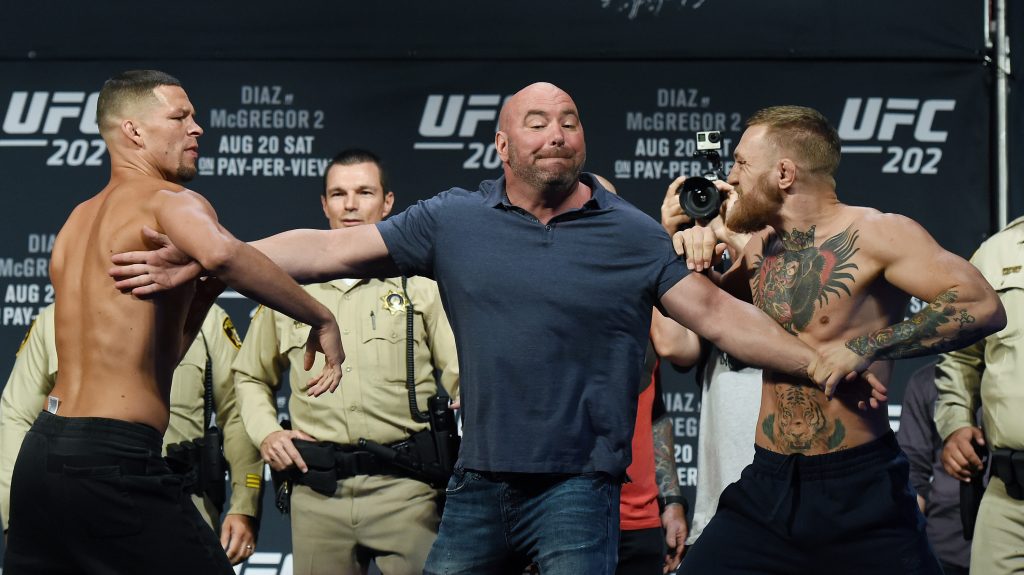 This would be a blockbuster fight too, even if it isn't for the UFC title. Even if the fight wasn't in Ireland, Diaz vs McGregor 3 would be a sell out in the PPVs and this could be a fight for the UFC to make if McGregor doesn't get a crack at gold.
More UFC news
Follow our dedicated UFC page for instant UFC news and updates