Tito Ortiz is known for his MMA days and has a huge net worth but he is also involved in a lot of politics
| | |
| --- | --- |
| Net Worth (2021) | $20million |
| Last fight earnings | $200,000 |
| Age | 45 |
| Date of Birth | 23 January, 1975 |
| MMA record | 20-13-1 |
Tito Ortiz is one of the names that is synonymous with the UFC. He is considered as one of the earliest stars in MMA and he helped the UFC grow during its initial stages.
Ortiz is a former UFC Light Heavyweight champion but has since moved into politics. The 45-year-old has appeared in wrestling company TNA during the 2000s.
Ortiz is the son of Joyce and Samuel Ortiz and has three older half brothers from his mother's first marriage.
The 45-year-old had a tough childhood with his parents being addicted to heroin. Ortiz was also involved with street gangs and also took drugs.
His life changed when he moved to Huntington Beach with his mother and he started wrestling during his sophomore year in Huntington Beach High School.
Net worth and salary
Tito Ortiz is one of the richest MMA stars in the world thanks to his fighting days and has a reported net worth of $20million in the year 2021.
While Ortiz hasn't fought in the UFC or Bellator in recent years, he still had some huge payouts during his time in the companies.
His last fight against Chuck Liddell saw him earn a salary of $200,000. Ortiz was regularly paid six-figure sums in the UFC and his biggest payout was the win over Ryan Bader at UFC 132 which earned him $520,000.
MMA record
Tito Ortiz has an MMA record of 20 wins, 13 losses and one draw so far in his career. While the 45-year-old is still contracted with Combate Americas, he is concentrating on his other ventures at the moment now.
Ortiz made his MMA debut in the UFC with a win over Wes Albritton at UFC 13 in 1997. He then lost his next match to Guy Mezger before going on a three fight win streak.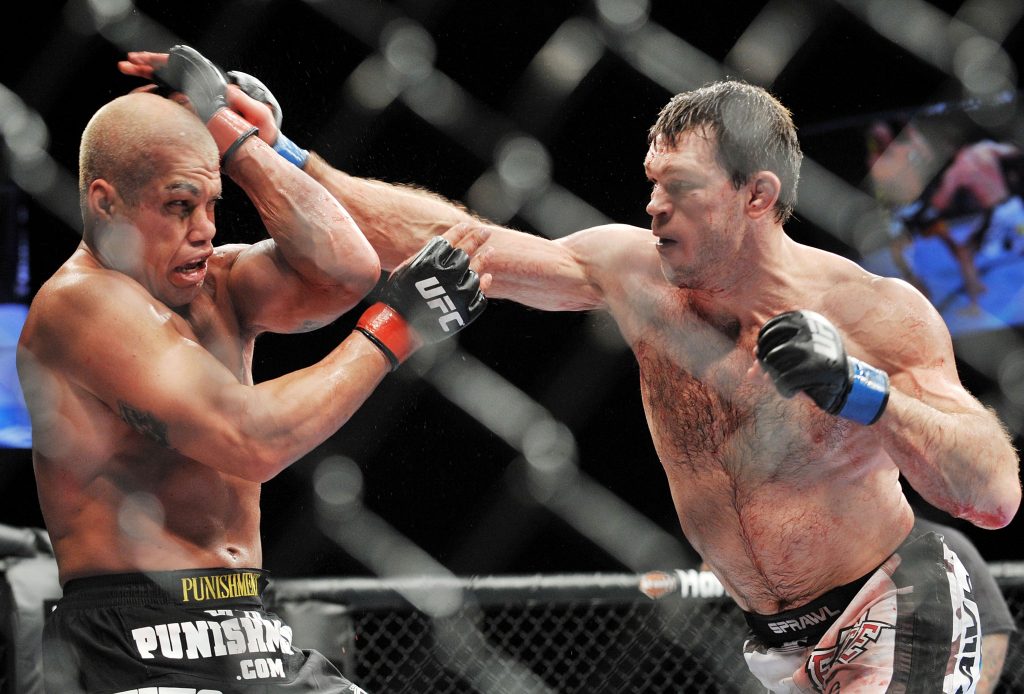 He lost to Frank Shamrock at UFC 22 for the Light Heavyweight title but won the gold in his next outing against Wanderlei Silva.
Ortiz then beat big names such as Ken Shamrock, Evan Tanner and others before losing the title to Randy Couture.
Ortiz racked up a 15-4 record before going on a bit of a lull. He lost seven of his last nine fights in the UFC before going to Bellator.
He held a record of 3-1 in Bellator before facing Chuck Liddell at Golden Boy Promotions and has had one fight at Combate Americas where he defeated former WWE star Alberto del Rio.
Family and relationships
Tito Ortiz has been married in the past with his first wife, Kristin, for five years. They divorced in 2005 but have a son, Jacob.
He then began dating former adult star Jenna Jameson and even refused to attend a US Marine Corps birthday ball when they didn't want Jameson to attend as his guest.
However, Ortiz then split up with Jameson in 2013 but she gave birth to a set of twins, Jesse Jameson and Journey Jett.
Ortiz has full custody of the twins and he is now in a relationship with model, Amber Nichole Miller.
Political career
Ortiz has also moved into politics and recently ran for a city council seat at Huntington Beach. He was then elected as one of the winners of the open seat in 2020 and became the Mayor Pro Tem of Huntington Beach in 7 December, 2020.
However, his political career hasn't been without its incidents. Ortiz is a big supporter of Donald Trump and used the "Make Huntington Beach Safe Again" slogan for his campaign.
Media and business ventures
Tito Ortiz is an extremely popular star thanks to his MMA days and has appeared on several TV shows, music videos and movies.
Ortiz has appeared on CSI: NY, Hell's Kitchen and MAD TV, to name a few shows. He has also acted in movies such as Cradle 2 the Grave and a few more.
The former UFC Champion also loves to play Poker and has ranked in several tournaments. Ortiz also is the CEO of Punishment Athletics, which makes MMA gear, and owns an MMA gym in Huntington Beach.
More UFC news
Follow our dedicated UFC page for instant UFC news and updates