Ian Heinisch spent time in jail over drug-related charges but turned his life around with a lot of determination and hard work
Ian Heinisch was the latest guest on the Blood, Sweat and Tears podcast. The 32-year-old will be fighting Brendan at UFC Fight Night 182 and he is keen on putting on a good show.
The Hurricane, as Heinisch is called, has been the focus of his rival after a war of words. However, Heinisch isn't concerned about that and was certain that all this talk revolving around him was "fear" from his rival:
"I am focussed on winning, he is focussed on me. That is OK. This Saturday, no more talking it is time to throw down."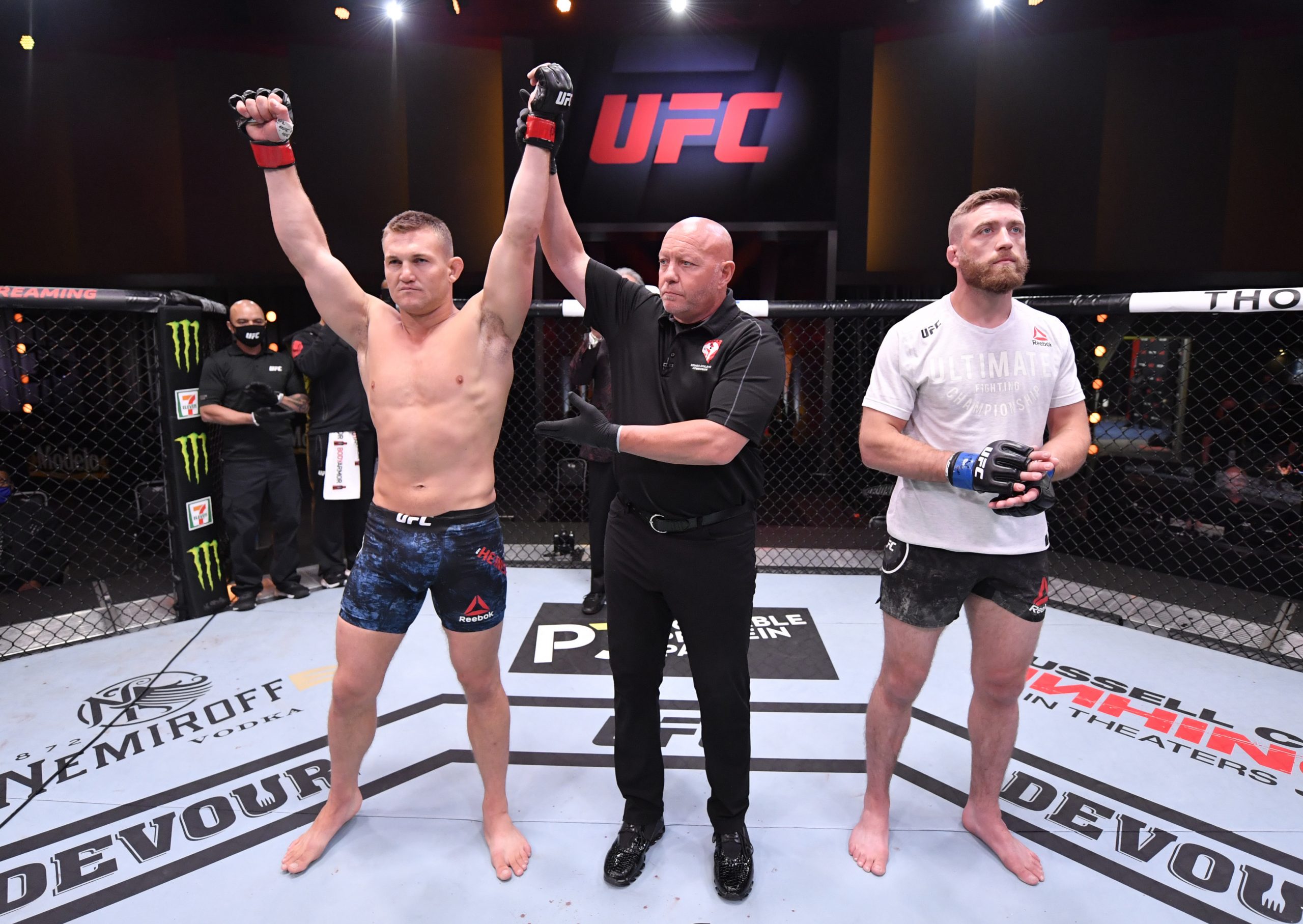 The Hurricane also added that he was keen on breaking his opponent twice:
"I am going to break him in the stare down and then I am going to break him in the cage."
Heinisch, however, also lauded his rival's abilities. He believed this was going to be a good fight and brought up just how tough Allen is from a previous fight:
"I like the matchup. All the crap talk aside, I like the matchup. He is aggressive, he is going to come forward hard.

"He broke his face in his last fight against a debut guy. The dude caught and broke his orbital and he doesn't want to run into the right hand, doesn't want to run into the left."
A crazy journey into MMA
Heinisch spent time in prison before he rekindled his love for MMA. He was training in wrestling when he was a youngster but drugs got the better of him. Heinisch added that he restarted his MMA journey when he was released from prison at the age of 26, and there are talks of a possible book deal in the future too:
"That's the goal I believe in my destiny. There will be a book, there will be a movie. It is in the process of trying to sift through the right people and get it.

"We have already had offers and deals but I want to come out my way and want it to be told how it really happened, so it is not that easy to navigate through Hollywood these days, especially with Covid."
Heinisch added that he was hopeful that his story would inspire people and he was enjoying every day of his life.
The American's story is one of the great ones in the UFC and it is incredible how much Heinisch has achieved so far in his short MMA career.
Heinisch has already proved the doubters wrong by featuring in the UFC but he seems keen on doing more. He might be 32 but his drive and willpower are more than enough to keep pushing him towards the top.
This was an exclusive interview from Blood, Sweat and Tears. For more exclusive interviews and content please follow the link. 
More UFC news
Follow our dedicated UFC page for instant UFC news and updates