Glover Teixeira tested positive for Covid-19 but he will face Thiago Santos at a later date
Another UFC star, Glover Teixeira, recently tested positive for Covid-19 ahead of a huge main event.
The Brazilian was to face Thiago Santos in the main event on 12 September. However, the fight has now been shifted to October 3 which had the main event of Holly Holm taking on Irene Aldana.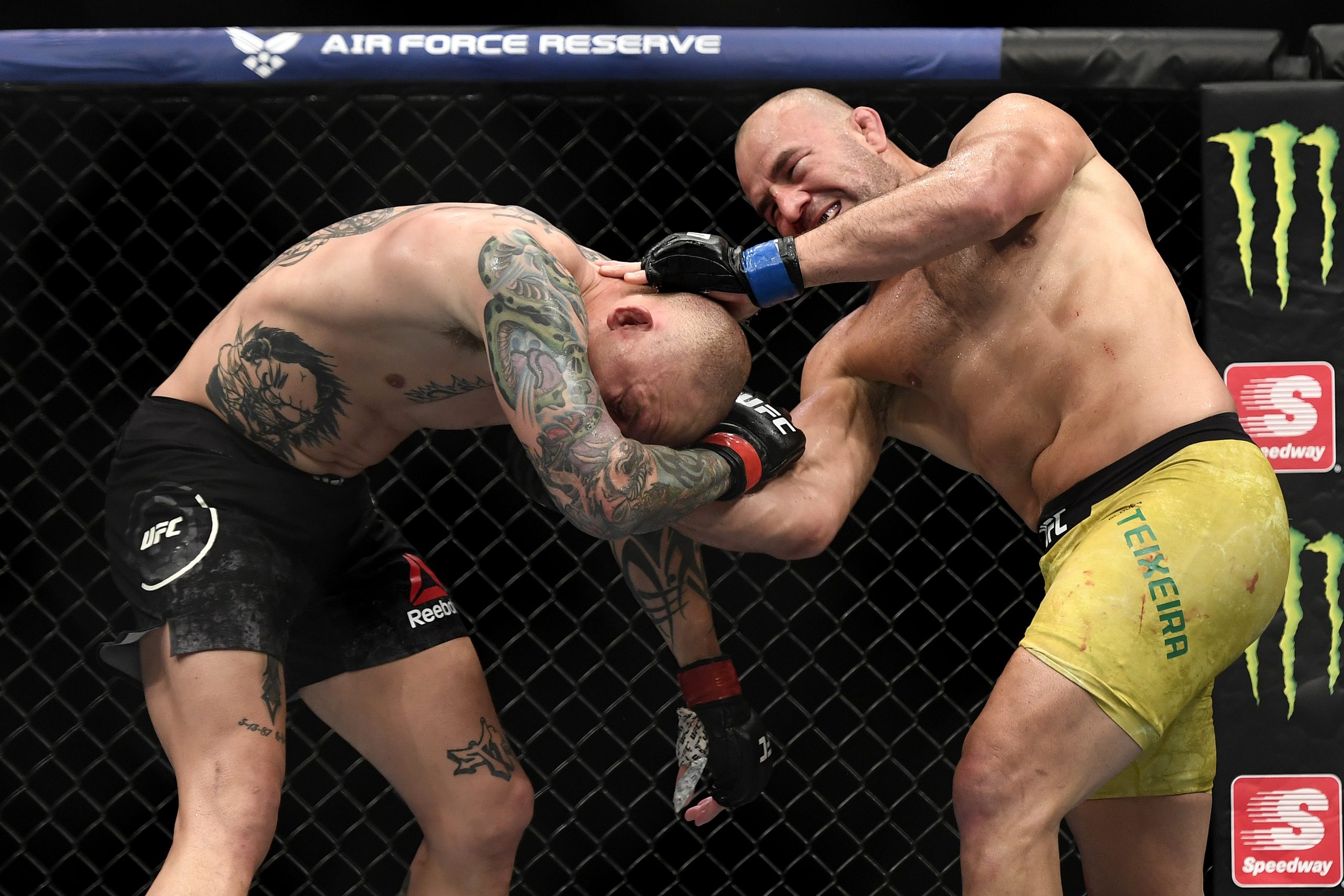 Ariel Helwani tweeted an update on Teixeira testing positive and added that the Brazilian had no symptoms.
Plan is to move Santos/Teixeira to 10/3 in Abu Dhabi. That show already has a main (Holm/Aldana) so it wouldn't be a main event and would now be a three-rounder.

— Ariel Helwani (@arielhelwani) September 3, 2020
While this isn't a huge blow for Teixeira, it could have been worse for him. Gilbert Burns had tested positive for the virus ahead of his title fight against Kamaru Usman.
The Brazilian had to be replaced on short notice but he too will get his title shot against Usman later on.
A big fight in the Heavyweight division
Glover vs Santos would certainly have led to a future title fight for the winner. The Light Heavyweight title is vacant with Jan Blachowicz taking on Dominick Reyes soon.
The winner of that fight would have face the winner of Glover vs Santos, and it will be interesting to see how both clashes go.
Teixeira has been incredible since his loss to Corey Anderson in 2018. He has won four fights since then and last defeated Anthony Smith in impressive fashion.
That was a bit of a surprise but it proved that the veteran Brazilian still has a lot in his tank. Teixeira holds an MMA record of 31 wins and seven losses but has never won the top prize in the UFC.
The news of the fight being shifted was a bit of a shock for many but some believed that Teixeira should be tested again since there have been many false reports.
Others, however, wished him a speedy recovery and wanted to see the Brazilian in action soon.
i assume they make sure it isn't a false positive, big bummer, crazy they won't keep it open in case he tests negative

— PS4: 🤝 (@AyoItsDad) September 3, 2020
No UFC fighter that has tested positive for COVID-19 has actually had symptoms

— Luke Rogers (@lil_Rogers) September 3, 2020
THey need to retest it could be a false positive

— IV-VIII (@omar_ortiz21) September 3, 2020
Damn… I hope he, his family and his team are OK 💯

— Joaquin Martinez (@951Murrieta) September 3, 2020
iHope Glover stays as healthy as he can.

— Steven Natalino (@TheFlyingNat) September 3, 2020
many of these tests are false positives

— m0neytrigz @ Coindaily (@m0neytrigz) September 3, 2020
False positive? Get tests again

— Mr. H (@tddboi91) September 3, 2020
Unbelievable

— Heavy Christ ✝️✝️ (@HeavyChristler) September 3, 2020
WTF

— leangod (@comezathine) September 3, 2020
More UFC news
Follow our dedicated UFC page for instant UFC news and updates