WWE Raw Results and Grades: With Extreme Rules around the corner, WWE was setting up a lot of its rivalries and heating them up too.
The one match that was advertised saw Bayley take on Asuka in a Champion vs Champion clash. However, there was a surprise for The Role Models as Asuka brought in some unexpected help.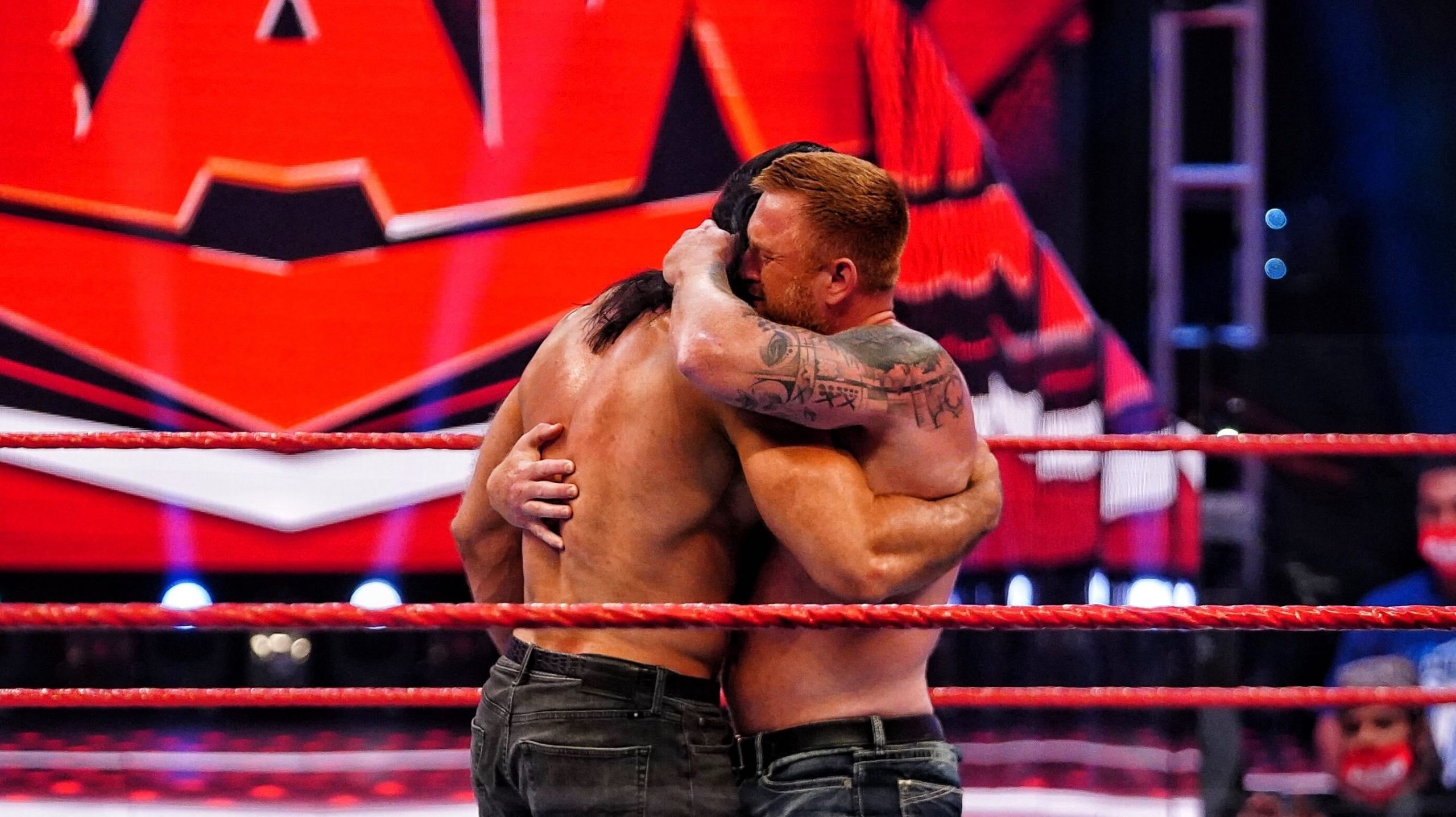 Drew McIntyre and Dolph Ziggler also have a huge clash at WWE Extreme Rules and this is where we start off the Raw results and grades.
McIntyre gets a huge surprise
The WWE Champion started off the show and claimed that any stipulation Ziggler took for their match would not be a problem for him. Ziggler appeared with former 3MB member Heath Slater and it was Slater who challenged McIntyre to a match.
Oh, it's like THAT, @HEATHXXII?!#WWERaw @DMcIntyreWWE pic.twitter.com/wtLL5pmK9j

— WWE Universe (@WWEUniverse) July 7, 2020
The Champion didn't want to accept but Slater slapped him and had also said that McIntyre wasn't there for him when he was released by WWE.
However, McIntyre got an easy win via a claymore before Ziggler attacked Slater. The Champion then returned to save his friend and the pair hugged it out.
McIntyre beats Slater
Grade B
The match was nothing but a squash but it was fun to see Slater back and deliver a killer promo. WWE could have given him more to do in the clash, but at least Slater got one more chance to shine on WWE.
Banks faces a surprise opponent
Bayley and Banks put on another great promo before Asuka brought in Kairi Sane, who seemingly had left WWE.
A match between Banks and Sane was set up and it was the Japanese star that had a lot of the going.
2️⃣ for the price of 1️⃣ INSANE ELBOW.#WWERaw @KairiSaneWWE @WWEAsuka pic.twitter.com/33jECCakoK

— WWE (@WWE) July 7, 2020
However, just as it seemed she was going to win but Bayley interfered. Sane did get the win in the end via DQ and she even ensured the Role Models couldn't attack Asuka.
Sane beats Banks
Grade A
The promo, again, was hilarious and fun and the match was great too. It is unlikely we will see more of Sane in the future regarding her desire to leave WWE, but she did get a decent send-off.
Owens and Mysterio team up
Kevin Owens brought out Seth Rollins for the KO show but the Monday Night Messiah only wanted to face Rey Mysterio at Extreme Rules.
One word to describe this. ⬇️ #WWERaw pic.twitter.com/cBolZtcRKC

— WWE (@WWE) July 7, 2020
Mysterio came out and accepted the challenge and a tag match was set up. Rollins and Murphy were to face Mysterio and Owens with the winner deciding the stipulation for Mysterio and Rollins match.
⚡️⚡️⚡️⚡️⚡️⚡️⚡️⚡️⚡️⚡️#WWERaw @reymysterio pic.twitter.com/F6NIiZFkDM

— WWE Universe (@WWEUniverse) July 7, 2020
Dominik, Rey's son, was attacked by Rollins as his eyes were raked, but it was still the face pairing of Mysterio and Owens who got the win.
Mysterio and Owens beat Murphy and Rollins
Grade B
Mysterio chose and eye for an eye match at Extreme Rules. The match between the quartet was great and so was the segment between Rollins and Owens. It will be interesting to see what an eye for an eye match is, but it won't be fun.
MVP and Lashley continue to roll
MVP got a shot at the US title at Extreme Rules and he presented a new version of the belt too. Bobby Lashley and MVP teamed up later to face Cedric Alexander and Ricochet.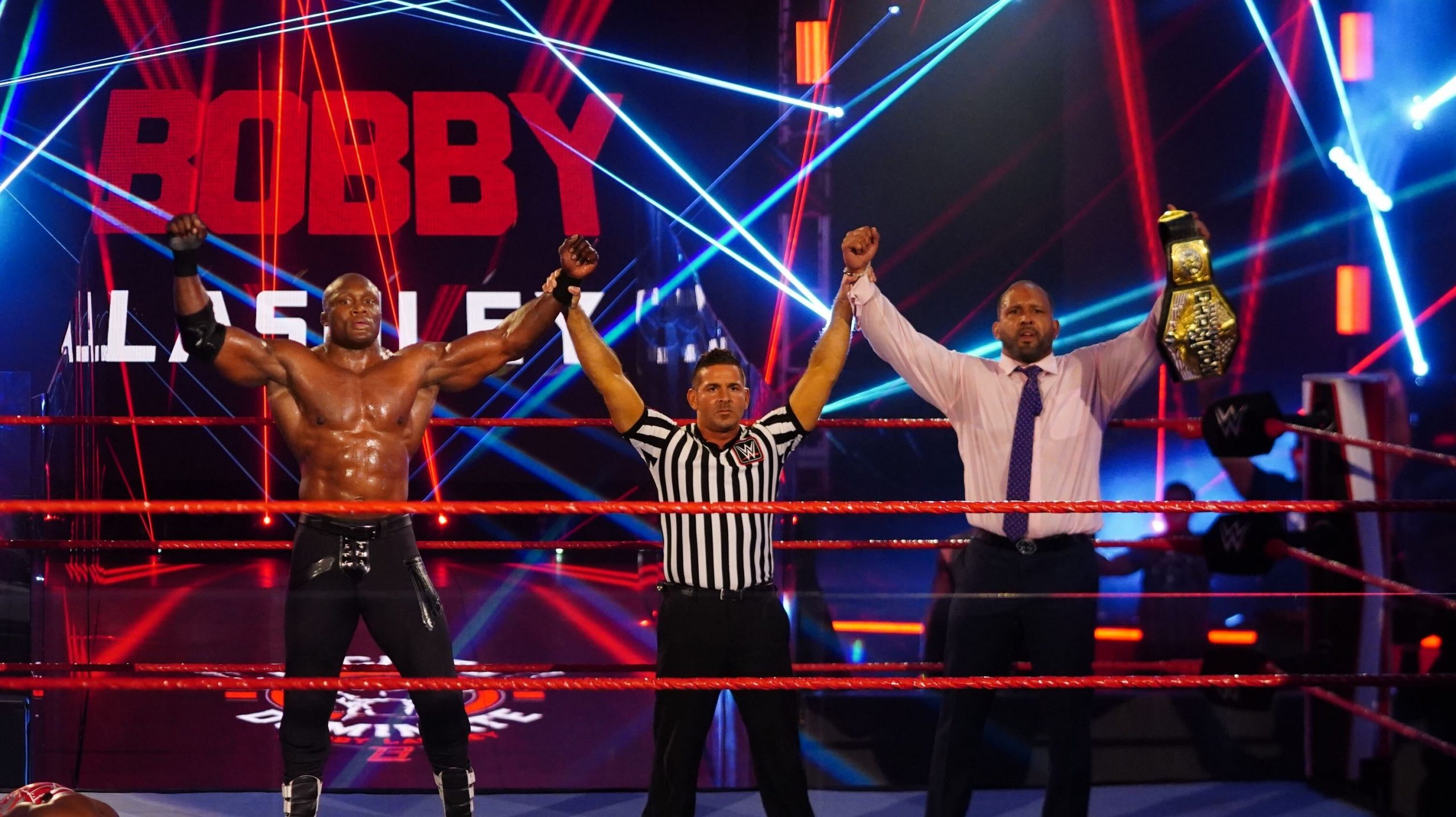 Lashley and MVP continued their dominance as a team and picked up the win.
MVP and Lashley beat Alexander and Ricochet
Grade C
While MVP on the microphone is gold, this segment of him presenting the title didn't make sense as he wasn't the champion.
We have ourselves an impromptu tag team match as @KingRicochet & @CedricAlexander take on @fightbobby & @The305MVP! #WWERaw pic.twitter.com/2zFRACEzPm

— WWE (@WWE) July 7, 2020
The match between the quartet also didn't have a lot of heat, despite Lashley attacking the pair last week.
A big teammate for the Raiders
Big Show teamed up with the Viking Raiders to face off Randy Orton, Andrade and Angel Garza. Andrade and Garza still had some tension between them and it was Orton who shouted the pair to get their act together.
NOT THIS TIME.#WWERaw @WWETheBigShow @RandyOrton pic.twitter.com/POQ6567GJh

— WWE (@WWE) July 7, 2020
However, it was Orton who picked up the win after hitting an RKO on Erik.
He DID warn you, @AngelGarzaWwe…#WWERaw @RandyOrton pic.twitter.com/D3Usmglf4w

— WWE Universe (@WWEUniverse) July 7, 2020
Orton, Andrade and Garza beat Erik, Ivar and Show
Grade B
The match wasn't all that great as it was standard fare but it was interesting to see Orton talking and getting Andrade and Garza into sync.
Riott vs Kay
Ruby Riott and Billie Kay faced off in the ring and it was Kay who had the better of the early going. Riott then had control of the match but Peyton Royce interfered to help Kay get the win.
Kay beats Riott
Grade D
WWE might be teasing a reunion of Riott and Liv Morgan but they have to speed it up. Making Riott lose for a second straight week is alright but they need to do more with her rather than lose matches all the time.
Main event madness
Nikki Cross came out to join the commentary team as Bayley took on Asuka in the main event.
Sane and Banks were also in the corners of their respective teammates, and it was Asuka who got the win.
GUESS WHO'S BACK.#WWERaw #ChampionvsChampion @NikkiCrossWWE pic.twitter.com/Jetg1yOLyP

— WWE (@WWE) July 7, 2020
Cross provided a distraction which allowed Asuka to take advantage. Sane then took out Banks who tried to interfere.
Asuka beats Bayley
Grade A
This was a great match between the two champions and Cross also added some fun and excitement with her antics.
Cross causing a distraction was great too, and it will be interesting to see how both the women's title clashes go.
WWE Raw TV viewership and ratings
Even with a huge main event, the Raw TV viewership ratings fell down to 1.687million on average for the three-hour show compared to 1.735m from last week, according to Showbuzz Daily (h/t ProWrestlingNet).
The first hour brought in 1.697m viewers, the second got 1.752m while the final hour got 1.612m.
More WWE news
Follow our dedicated WWE page for instant WWE news and more Raw results and grades