WWE SmackDown Results and Grades: One of the big talking points ahead of this SmackDown episode was AJ Styles defending his Intercontinental title against Drew Gulak.
Matt Riddle was also to speak after his debut win on WWE SmackDown, and that is where we start off this results and grades piece.
Riddle's interview
Michael Cole was interviewing Matt Riddle as the Original Bro shared a crazy story about why he doesn't wear shoes when performing, and this included frostbite.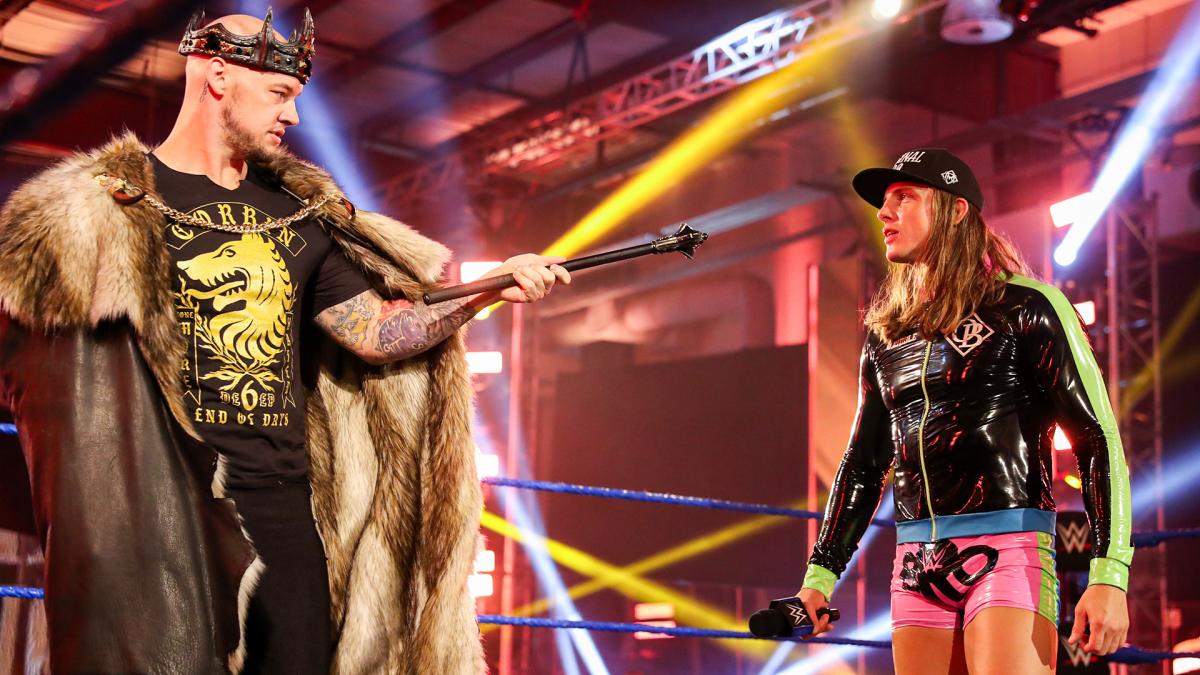 Baron Corbin came out and suggested that no one likes Riddle and somehow set up a match against John Morrison.
Grade C
Riddle is great on the microphone but this segment didn't seem natural and the story about frostbite was certainly not needed.
Corbin seems to be the GM of the show, it seems, as he can call matches when he wants.
Morrison vs Riddle
Morrison was in the ring with his partner, The Miz, coming out too. While Morrison and Riddle showed off their arsenal, it was Corbin who almost cost Riddle the win.
🤯 🤯 🤯 🤯#SmackDown @TheRealMorrison @SuperKingofBros pic.twitter.com/iT2XmNQUx2

— WWE (@WWE) July 4, 2020
However, The Original Bro picked up the win via a roll-up. AJ Styles then attacked Riddle before Gulak made the save.
Riddle beats Morrison
Grade B
This was a great match between the two and it didn't need Corbin to have a say in how it went. Also, it was a little strange why Styles would attack Riddle, unless he wanted revenge for losing to him a couple of weeks back.
Gulak vs Styles
This was for the Intercontinental title and Gulak had a win under his belt against Styles too. However, this match was more or less all Styles as the Champion kept hold of his crown.
Phenomenal.#SmackDown #ICTitle @AJStylesOrg @DrewGulak pic.twitter.com/4hfky29Wcj

— WWE (@WWE) July 4, 2020
Styles beats Gulak
Grade C
This should have been a close encounter, especially with Gulak being trained by Daniel Bryan. However, WWE wanted to showcase Styles as the dominant champion, and that worked.
The Roles Models star
Sasha Banks and Bayley came out to hype themselves after appearing on all three brand recently. They even claimed that the Undertaker had called them up and praised them for some great work.
😎 😎 😎 😎#SmackDown #RoleModels @itsBayleyWWE @SashaBanksWWE pic.twitter.com/ypn0PBi93s

— WWE (@WWE) July 4, 2020
Alexa Bliss and Nikki Cross interrupted the pair with Bliss slapping Bayley. Banks then confirmed a match between Bayley and Bliss.
Grade A
While the need for setting up the match wasn't required, the promo from Banks and Bayley was excellent. They have been amazing on WWE in recent weeks, and were at it again.
Bliss vs Bayley
Bliss and Bayley went at it but it was the SmackDown Women's Champion that gained control early on.
Things are breaking down at ringside!!#SmackDown @NikkiCrossWWE @SashaBanksWWE pic.twitter.com/SDXGXc5RZi

— WWE (@WWE) July 4, 2020
However, Banks interfered in the match and Cross took her out. Cross then also attacked Bayley and the match was called off.
Bayley beats Bliss by DQ
Grade C
As stated, the need for the match wasn't needed. All it did was show that Cross is a proper threat for Bayley's title at Extreme Rules. That could have been done in other ways too.
Kingston vs Nakamura
Shinsuke Nakamura was in action against Kofi Kingston as the New Day seem to have proper rivals now.
Art.#SmackDown @ShinsukeN pic.twitter.com/LHgJJOrAtP

— WWE (@WWE) July 4, 2020
It was Nakamura who got the win over the former WWE Champion as he and Cesaro celebrated.
Nakamura beats Kingston
Grade B
WWE also announced a tag team clash between the New Day and Nakamura & Cesaro. This was a decent way to ensure there is heat in the rivalry, and it will be interesting to see how this match goes.
A toast to Hardy
Sheamus wanted to raise a toast for Jeff Hardy and the Charismatic Enigma came out to see a table filled with alcohol bottles waiting for him.
Hardy called Sheamus out but the Celtic Warrior was at his home as he raised a toast. Sheamus then reminded Hardy of his alcohol problems with a bartender coming out and offering Hardy a drink.
👏👏👏👏👏#JeffHardyToast #SmackDown @JEFFHARDYBRAND pic.twitter.com/ZZ4EwFMk0C

— WWE (@WWE) July 4, 2020
Hardy took the drink to his lips but threw the drink at the bartender before smashing the glass on his face. He then hit a Swanton to end the show.
Grade Z
Mocking Hardy's substance abuse history is a low for WWE and they keep targeting him with this. This segment achieved nothing and it is horrible that WWE keeps doing this.
More WWE news
Follow our dedicated WWE page for instant WWE news and updates