WWE WrestleMania 36 results, winners, grades and reaction Day 1: The two-day WrestleMania 36 got off with some incredible matches, in an empty arena.
However, many titles were on the line and breaking the Show of Shows into a two-day event made a lot of sense.
WWE needed to hit the ball out of the park after all the problems with the coronavirus and location-related issues, and here are all the results, grades and reactions from the first day of WrestleMania 36.
Drew Gulak vs Cesaro
As expected, there was a kickoff match between Drew Gulak and Cesaro. The main story was Daniel Bryan facing Sami Zayn during the latter part of WrestleMania for the IC title.
The match featured some incredible locks and holds between the two technically gifted stars. Gulak has had problems with the trio of Zayn, Shinsuke Nakamura and Cesaro, and focussed on the arm of his rival.
However, it was Cesaro who picked up the win despite Gulak dominating the same.
Cesaro beats Gulak
Grade B
This was a decent match to kickoff WrestleMania 36 as both stars are great workers in the ring. There could have been son shenanigans if Bryan or the rest came to ringside but nonetheless, this was a fun way to start off the evening.
Women's tag team title clash
Alexa Bliss and Nikki Cross got their chance to win the Women's tag team titles against The Kabuki Warriors.
Kairi Sane and Asuka dominated most of the match but the pair of Bliss and Cross stayed in it.
…and this too! 🤯🤯 @KairiSaneWWE #WrestleMania pic.twitter.com/Qf1YizZWdy

— WWE (@WWE) April 4, 2020
The challengers were the ones who picked up the win after hitting Sane with their finishers and reclaimed their titles.
Cross and Bliss beat The Kabuki Warriors
Grade B
Another solid match to get the real WrestleMania on the road. The quartet looked good and this felt like a proper tag match with several ins and outs of the ring.
Rob Gronkowski also made his appearance before the start of the match and Stephanie McMahon also addressed the watching WWE Universe about the circumstances leading to such a different WrestleMania without actually mentioning the coronavirus.
Elias vs King Corbin
Corbin might have thought this was a walkover after he threw Elias from a high spot two SmackDowns ago.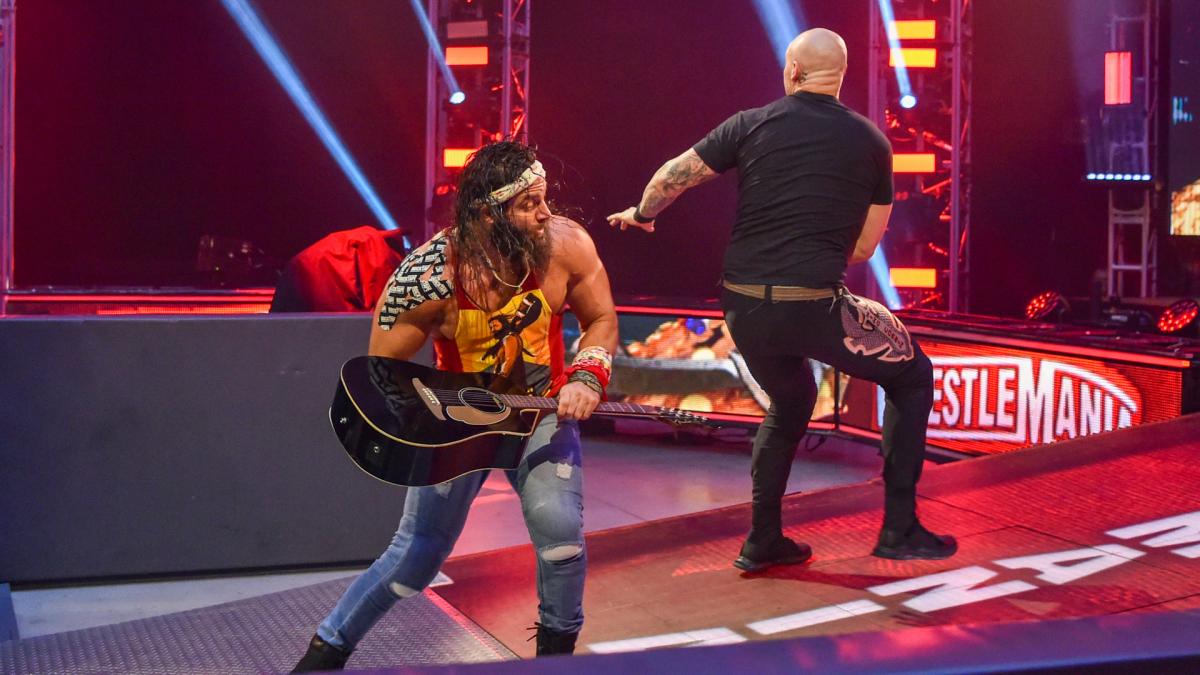 However, Elias came out and smashed a guitar on Corbin's back. He beat the King down before the match had even before and continued the onslaught after that too.
Corbin did get some offence in but Elias picked up the win after a roll-up which didn't please the King.
He is a 𝓻𝓾𝓽𝓱𝓵𝓮𝓼𝓼 and 𝓿𝓲𝓬𝓲𝓸𝓾𝓼 king. #WrestleMania @BaronCorbinWWE @IAmEliasWWE pic.twitter.com/Pu6KCgWfly

— WWE WrestleMania (@WrestleMania) April 4, 2020
Elias beats Corbin
Grade B
The heat for this rivalry never really set leading to WrestleMania, that was the only reason for the B grade.
Apart from that, the match was great and both stars brought their A-game to WrestleMania.
Raw Women's title match
Shayna Baszler got her shot at Becky Lynch's crown after attacking her several times on Raw.
The match was a brutal affair as both stars started strong by throwing punches left, right and centre. The pair just kept on throwing shots at each other, and it was no surprise, given the hate between them.
In the end, it was Lynch that picked up the win despite a great showing from Baszler.
Wait. @QoSBaszler is rattled?

Things aren't looking too good for The Queen of ♠️. #WrestleMania #WomensTitle @BeckyLynchWWE pic.twitter.com/enWzeWDE7D

— WWE Universe (@WWEUniverse) April 5, 2020
Lynch beats Baszler
Grade B
Another solid match from WWE as both stars showed off a stiff style and pummelled each other. Lynch might have come out on top, but it will be interesting to see if Baszler gets another shot.
Intercontinental title match
Daniel Bryan faced off against Sami Zayn and knew he could win the title from Zayn.
Zayn came out with Cesaro and Nakamura while Gulak was in Bryan's side. The match started off with Bryan trying to chase Zayn and getting him into the ring.
Zayn tried a lot of underhand tactics to stay the champ and even tried to give Bryan a countout win, which would not hand the title over.
"YOU'RE THE NOBODY! YOU HAVEN'T EARNED ANYTHING!" @WWEDanielBryan with the trash talk! 😮#WrestleMania @SamiZayn pic.twitter.com/K72wf4VDvK

— WWE (@WWE) April 5, 2020
However, Bryan got him back in the ring before looking good to win the match. Cesaro and Nakamura interfered later on as Zayn took advantage of the situation to keep the title.
Zayn beats Bryan
Grade A
It would have been great if Bryan picked up the title but otherwise, this was a solid match at WM. The three men outside the ring did their bit while Bryan and Zayn put on an excellent match.
Triple threat ladder match for SmackDown tag team titles
Only one man per team was allowed to feature in this match so we had John Morrison defending his title against Kofi Kingston and Jimmy Uso.
It would have been great if all six men were involved, nevertheless, all the three have taken part in such matches before and put on another great show.
O.M.G.#WrestleMania @TheRealMorrison @WWEUsos pic.twitter.com/JghB1wncvZ

— WWE WrestleMania (@WrestleMania) April 5, 2020
There were several high spots in this clash which were incredible, and in the end, it was Morrison who kept hold of the titles for him and the Miz.
IT'S OFFICIAL: This match is INSANE. 🤯🤯🤯🤯#WrestleMania @TrueKofi @TheRealMorrison pic.twitter.com/EuqrXDknzd

— WWE (@WWE) April 5, 2020
Morrison beats Uso and Kingston
Grade A
WWE kept knocking things out of the park and this was another fantastic clash. There was some editing done as WWE used the lack of a crowd to ensure the safety of some moves, however, this was another top-quality match.
Owens vs Rollins
This rivalry had been simmering ever since Rollins took over the Monday Night Messiah tag.
The match started off with both stars hitting each other as hard as they could. However, Rollins caused a DQ but Owens wasn't having any of it.
He challenged Rollins to a No DQ match and finished off his rival with a couple of dangerous spots in the end.
OH MY MESSIAH!!!! 😱#WrestleMania @WWERollins @FightOwensFight pic.twitter.com/pKxa9daB7P

— WWE (@WWE) April 5, 2020
Owens beats Rollins
Grade B
The match continuing after the DQ made sense but they could have kept the DQ right from the start. Also, it was surprising how no one else was there around the ring, which Rollins could have used.
Nevertheless, the pair put on a great show and the ending of the match was certainly quality too.
Universal title match
WWE made a last-second switch by replacing Roman Reigns with Braun Strowman to face Goldberg.
Reigns was pulled out to the Coronavirus pandemic and Goldberg started off this match like a house on fire.
ICON. LEGEND. HALL OF FAMER. CHAMPION.#WrestleMania #UniversalTitle @Goldberg pic.twitter.com/AgYaTIFDrz

— WWE (@WWE) April 5, 2020
He hit Strowman with multiple spears and almost picked up a quick win. Strowman then reversed a jackhammer to hit Goldberg with several powerslams and became the new champion.
MONSTER of the UNIVERSE. #WrestleMania #AndNew @BraunStrowman pic.twitter.com/kxUZv8ANZg

— WWE Network (@WWENetwork) April 5, 2020
Strowman beats Goldberg
Grade C
This match had no storyline behind it and could have been made a week or so back. The match itself was nothing great as Goldberg cannot wrestle for a long time in the ring, and it will be interesting to see what WWE does with Strowman as the new champion.
Boneyard Match
This was never going to take place within the confines of the arena and we cut to a graveyard where AJ Styles first made his entrance in a hearse.
The Phenomenal One came out from a coffin and laughed while Taker came out in his Deadman persona riding a bike.
The match itself was like one of the old edited ones and it was a great showing. Taker was hit several times by Styles and was even surrounded by several men as Luke Gallows and Karl Anderson came out to help Styles.
It seemed that Taker was going to be buried under a lot of dirt before he used his supernatural powers to destroy Styles.
"This is what you asked for, right?" – #Undertaker@AJStylesOrg #WrestleMania #BoneyardMatch pic.twitter.com/moGhONZeWH

— WWE (@WWE) April 5, 2020
Styles tried to talk his way out of the burial but Taker didn't listen and the Deadman dumped a lot of dirt on his rival to end the match.
Mission accomplished. #WrestleMania #Undertaker #BoneyardMatch pic.twitter.com/yiwtUNoWUE

— WWE WrestleMania (@WrestleMania) April 5, 2020
Taker beats Styles
Grade A
This was the perfect way to deal with the match given that Taker also cannot spend a lot of time wrestling in the ring.
Further, the edits and setting for the match were perfect and we could not have expected anything more from WWE.
Styles used every trick in the book to win, however, Taker used his powers to stay one step ahead at the end.
More WWE news
Follow our dedicated WWE page for instant WWE news and for WrestleMania 36 Day 2 results, winners, grades and reaction