UFC president Dana White recently confirmed that the UFC 249 venue and location is almost finalised
UFC 249 is the one big event that everyone has been looking to, but its venue and location had to be changed due to the coronavirus.
The original location for UFC 249 was Brooklyn, New York. However, due to the spread of the coronavirus, the New York governor passed an order restricting events in the region.
Dana White, the UFC president, has been adamant that the fight would go on but was unsure about where the clash could take place until last week.
However, he spoke recently and provided a positive update on UFC 249 but was coy about the venue and the location:
"Trust me, Khabib has been telling me every day, 'Send location,'

"I have it. It's 99.9 per cent. On April 18, we are having this fight."
The UFC boss also provided a bigger boost by adding that it would be a full fight card, but there would be some difficulties too:
"Full card. We're going to face some problems, I'm sure. There are always problems with every card we put on, and with this situation, you expect there will be more, but we will still find a way to promote these fights. We always do."
He was speaking later with Yahoo Sports and was again adamant that UFC 249 would go ahead as planned.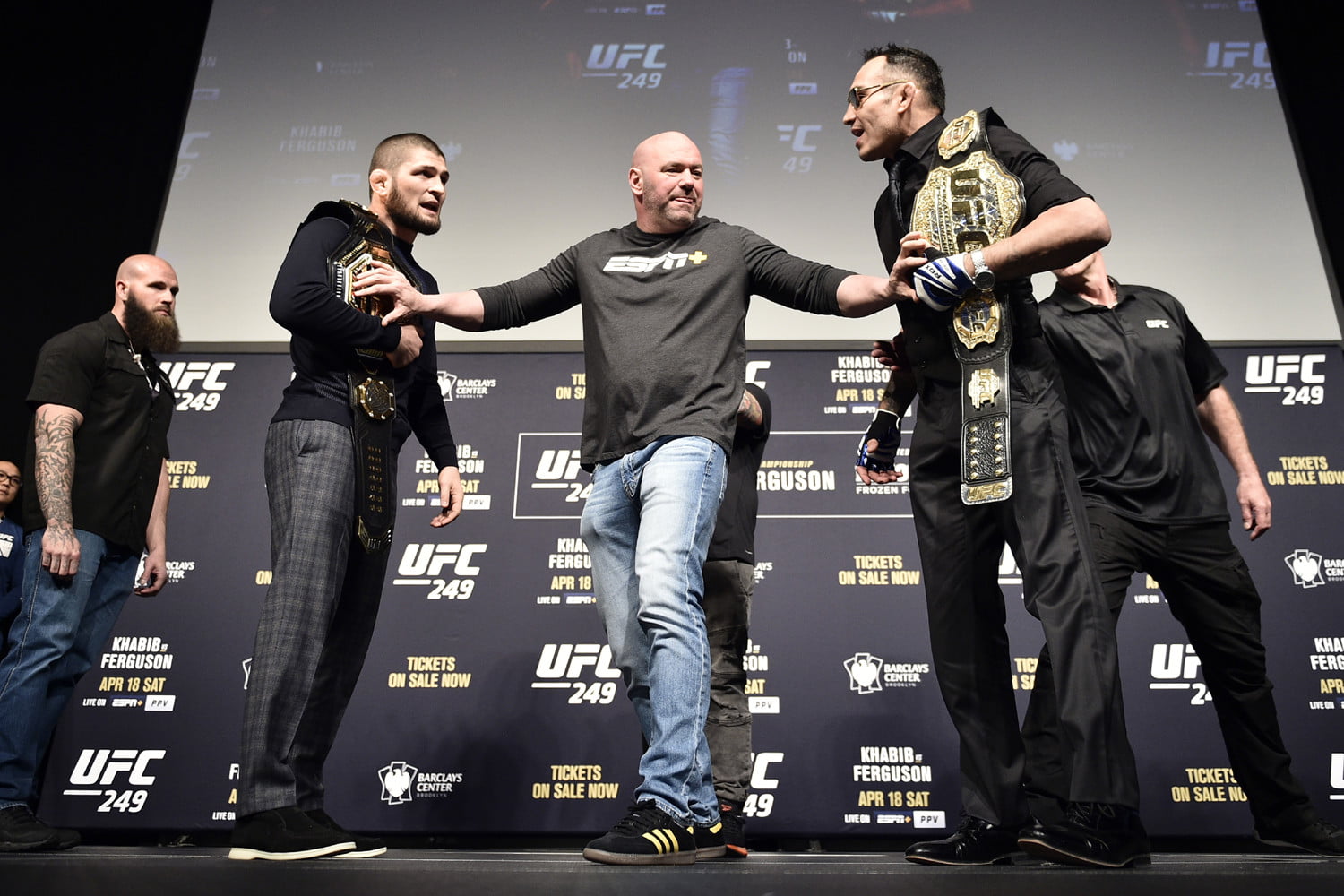 Not going to share details
During this interview too, White was asked if he knew where the fight would take place. However, the UFC boss wasn't going to spill the beans:
"I do, but I'm not ready to tell you yet."
The UFC 249 location has been a hot topic for a while and White's constant calls to hold the event could be a great move or a foolhardy one.
The US seems out of the question to host UFC 249 and White has around a month to find that venue too.
White claims he is 99.9 per cent sure of the location, and it will be interesting to see in which country he can hold the fight.
We must remember that there will be no fans in the stadium due to the coronavirus pandemic. But there are a few countries that are dealing with the issue better than others.
Some outlets have floated China, the UAE and even Mexico as possible locations for the fight. The UFC has held events in all these countries previously, but the health and safety of all involved are important.
The UFC has been lucky that none of their fighters have caught the virus. That hasn't been the case for stars in the NBA or the world of football.
White needs a home run after three UFC events had to be postponed after UFC Brasil. Khabib Nurmagomedov vs Tony Ferguson is a fight for the ages and is the main event for UFC 249.
Hopefully, White wasn't bluffing to keep people interested as most live sports events have been suspended.
More UFC news
The UFC could be a glimmer of hope for sports fans across the world. However, 18 April seems to be too far a date, at the moment.
Follow our dedicated UFC page for instant UFC news and updates